Supporter
Join Date: 24th May 2013
Location: Germany
Posts: 352
Thanks: 124
Thanked 87 Times in 68 Posts
Gauges in 1.8 - Oil temp and pressure
---
Hi,
I have a problem in fitting oil pressure and temperature sensors in my 1.8 Type S, i really hope you can help me, Ive searched for an answer but cant find anything ...
Because there is so little space around the oil filter i couldnt install the adapter plate, even after cutting it...
Here is the picture of the plate which doesnt fit: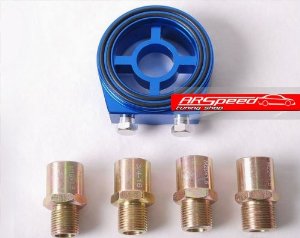 How it is possible to install the sensors for oil temperature and pressure on the 1.8?
Thanks in advance
Cheers
Adrian
---
Last edited by Winni; 6th February 2015 at

22:59

.
Car: Civic Sport Plus
Join Date: 31st March 2009
Location: Lj
Posts: 708
Thanks: 49
Thanked 106 Times in 100 Posts