Join Date: 4th April 2016
Location: doncaster, uk
Posts: 19
Thanks: 0
Thanked 0 Times in 0 Posts
questions about 2007 civic with built in satnav
---
Hi I have been thinking about getting a 2007 civic with the built in satnav
I have looked on youtube and can not seem to find the info I want.
I see there is a button on the steering wheel with a phone on it, is this just for the voice commands to the satnav or can you answer phone calls from your phone?
also is it worth getting the sat nav version because even updated to latest maps it looks very basic but then its from 2006-2007 so I guess that's why
just the satnav on my phone the view is more of a street level view but on the civic it looks like it just stays at a ariel view looking down...or does this chance when you start driving?
many thanks
Administrator
There are potentially 2 buttons on the steering wheel. One for the satnav/climate control/etc and the other for hands free calls.

I find the OEM satnav works well, it isn't fiddly and is easy to use on the move. I've tried fancier versions and they've all been too fiddly to use on the move.

The OEM satnav stays in plan view, you jist zoom in/out to the desired scale.

The hands free doesn't read your mobiles phone book unfortunately. So you enter your key numbers into the vehicle independently.
Administrator
Here's the 2 different talk buttons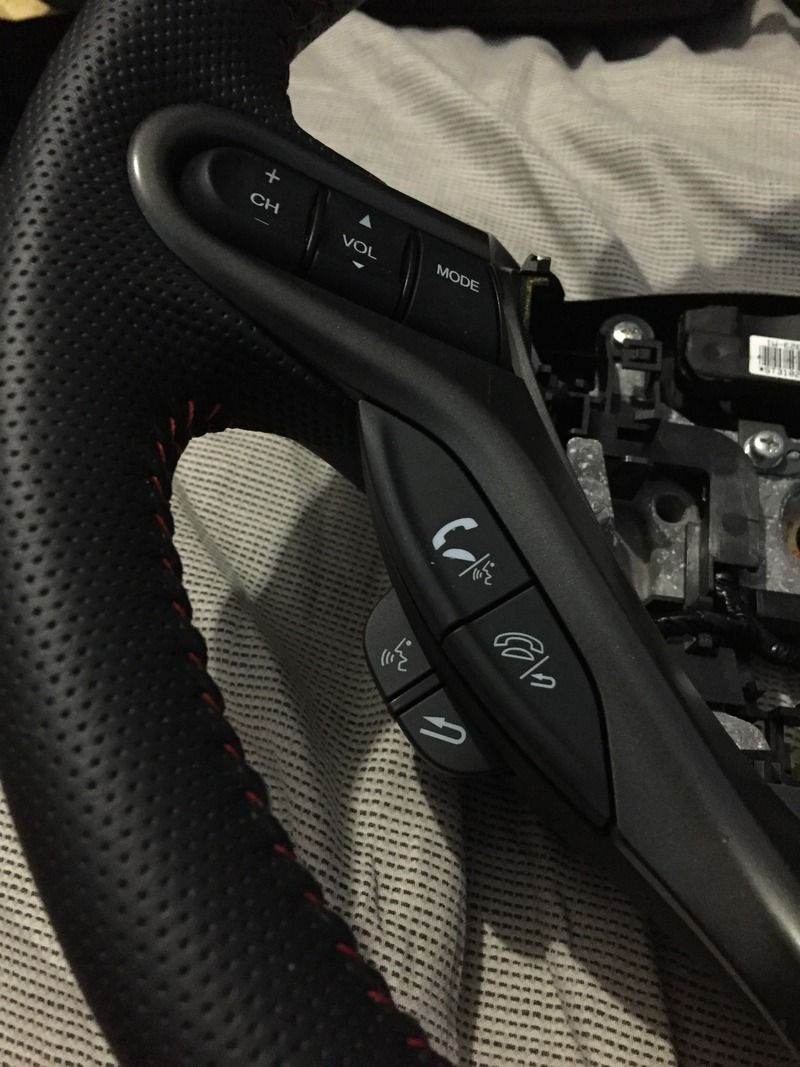 ** Thread starter **
Join Date: 4th April 2016
Location: doncaster, uk
Posts: 19
Thanks: 0
Thanked 0 Times in 0 Posts
thanks for your reply and pic

oh I think the civic sat nav should be ok for me then, tbh I'm used to more upto date looking satnav device like whats on my note phone, but I suppose long as the civics maps are upto date it should be find.

tbh the call feature I would only use if someone was calling me so as long as when I call comes to my phone I can answer it using the steering wheel button that should be find...so does the car have a microphone then so I can talk to them handsfree?

I'm pretty dumb when it comes to cars...other tech I'm good at.

Also does the car have Bluetooth so it can connect to your phone to be able to use the handsfree feature?

if it does have Bluetooth can u use it for music from your phone? I know they have the AUX button on the dash but they don't seem to have the AUX socket so I was going to fit one of those boxes you can get to play music from my phone which I suppose would be better.
Administrator
No probs.
Some models come with BT handsfree, they'll have the top button the wheel. It links to your phone and has a built in mic, mutes the radio/etc.
Connectivity on early 8th gen Civic's us limited as standard but there are plenty of aftermarket options to get music from your device to the car. Check Xcarlink, etc.
Habe a look at the Civinfo Wiki for more info
I'm just down the road nr Tuxford if you a demo...
Join Date: 8th October 2015
Location: DUDLEY
Posts: 5
Thanks: 0
Thanked 0 Times in 0 Posts
If you haven't already got one, just be careful. I've got a 57 plate EX with satnav built in, and it started failing just after the warranty ran out, and it's not worked properly since. Mine has sometimes worked for a while and then just packs up, so make sure you get some kind of warranty - even if it's 3 months - before you buy or you could be looking at a large bill. I haven't looked recently, but no one had heard of my problem when I asked about it on this forum.