Join Date: 7th February 2009
Location: London
Posts: 40
Thanks: 2
Thanked 0 Times in 0 Posts
NAV Update on 03/2013 Civic EX
---
Hi,

My 2 local dealers are struggling with this. My nav unit says map updates and shows a usb symbol but 1 dealer states updates are via dvd the other via sd card. However on googling I find that the 2012 -2013 had a usb port in the glove box for the updates from a yellow usb stick? If this is correct where do you get the usb sticks from as my dealer doesn't have a clue.

Unfortunately I don't have the car at present to confirm anything
Administrator
Your 2 local dealers are ?
They should be fully aware that it is a DVD update and AFAIK there is no socket in the glovebox, never seen one in mine.
Here is the outline process for the 2013 Premium Audio system:
http://www.civinfo.com/forum/4754041-post24.html
** Thread starter **
Join Date: 7th February 2009
Location: London
Posts: 40
Thanks: 2
Thanked 0 Times in 0 Posts
ok thank you but why is there a usb symbol on the map update option under info then?
Administrator
No idea.
I've got exactly the same car (year, month, spec) and I've not had any map update nags for years so I can't remember what it showed.
I presume you do have the Premium Audio, like mine ?
First picture under 'In car entertainment'
http://www.civinfo.com/forum/garage....ehicle_id=2922
Hi, I just registered because I can't find any concrete info on this, so sorry for reviving this post.

I also want to update the satnav on a 13 plate Civic EX with the "Premium Audio" System.
In the System information, it says:

Database EUROPE Version IT202.01.04
Software Version 1.13.0000

Kremmen, the link you have given seems to be broken but I assume it takes you to the sticky at the top of the forum about a gracenote update? I think something has changed because it takes you to the Here page, where if you put the car details in, it says to go to the dealer.

I can see in that guide that you at some point downloaded that zip file (Honda_AL_EU_Nov2014_V3.ZIP). You wouldn't happen to have the latest version of that?

Thanks
---
Last edited by derekblankmccoy; 21st April 2018 at

23:00

.
Administrator
Hi

I haven't tried that link for ages. I'm not surprised it's dead, I'll try again tomorrow on the PC and update the post.

The map update is dealer only and is circa £170 but the Gracenote update is free but all that updates is the music database so when you insert a CD it can display track info.
Administrator
Ok thanks for clarifying that. And to be 100%, this is the headunit in question: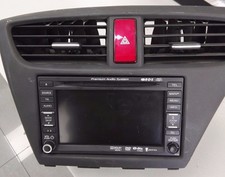 The Gracenote thing now makes sense, it's just that it was a bit confusing. The sticky says to go to the Navteq site with a link to "NAVTEQ - Maps for your Navigation System". Furthermore, the Gracenote site that exists now which you have linked to earlier mentions "Nokia Here" at the bottom of the page, further confusing things as to whether its maps or audio. But thanks for clarifying.
So at that price, it makes no sense to update what is at best a mediocre headunit. It's almost like they are purposefully trying to make people look for an aftermarket solution, which is what I'm thinking of doing. I'll start a new post fo that, thanks for the info.
---
Last edited by derekblankmccoy; 22nd April 2018 at

16:05

.
Administrator
The BIG issue with going 'off piste' is trying find and connect a unit that integrates with the headunit to display the Honda info, connect to the various steering wheel buttons, etc, etc.

The 8G had a dedicated solution but I'm not sure I've seen a 100% 9G solution, but check back as there may be a post I missed.


FYI the latest Gracenote version I have in stock is November 2014.
That is 'Honda_AL_EU_Nov2014_V3.zip' so the US versions probably won't work.