Join Date: 31st January 2014
Location: Surrey
Posts: 3
Thanks: 0
Thanked 0 Times in 0 Posts
Hello From Surrey (Gatwick Area) - Saving an EK4
---
Hi all,
I am new to the forum but not new to Honda of the scene; I return as a previous long standing member of CivicLife and a couple of forums before it
. Sadly I no longer own a Honda and haven't for a few years but I am in the process of taking on a project with the aim to save an ageing great from the scrap heap.
I've owned two Civic's myself, the first being a ChargeSpeed EG5 ESi which was perhaps my favourite, but also an EK4 VTi which remained untouched.
Both went off to happy homes...I hope.
We also have a family owned EK4 VTi in Supersonic Blue which started life brand new with my parents and then as it aged was handed down to my sister. This car has remained untouched but now, as a 14yr old car (MY00) its age is catching up and requires a small overhaul on some wear and tear items.
My Sister, being a rather spontaneous type and annoyed with a groany wheel bearing decided to dump the car and buy a new one with plans for a scrap company to take it away and crush it. I recoiled in horror at this point, thought back to my teens and have decided to buy it from her and have cancelled the crusher.
In the coming weeks I'll be working hard on her starting with a deep clean and detail and then at my expense replacing a majority of the suspension bushings regardless of state, brakes, wheel bearings and whatever else.
I'd really love to keep this car and turn it into a fun trackday toy but the plan is most honestly only to save it from death, return a great car to former glory and release it to a new owner who, like my a few years back, will love it to death and put their own mark on it.
I have a question mind. Is there a market for these cars still or is all the attention on cheap EP3's? I'm considering my options when it comes to picking the right media to advertise the car, whether that be AutoTrader for Joe Public, PistonHeads or a forum for the enthusiasts.
I see a few EP3's and FN2's around this way and although I drive the Devil, give me a wave
BMW 135i with a few extra parts - 440bhp/512lb-ft
Civinfo's Bulb Supplier
Join Date: 2nd February 2007
Location: Kent, UK
Posts: 13,427
Thanks: 553
Thanked 1,431 Times in 1,328 Posts
Hello and welcome to
Love the 135i always had a soft spot for them.
Banned
Join Date: 22nd November 2011
Location: Glasgow, UK
Posts: 7,705
Thanks: 296
Thanked 1,378 Times in 1,315 Posts
Hi and welcome
That 135i is stunning. Any more pictures of it?
Administrator
Car: Jaguar F Type V6S
Join Date: 25th August 2009
Location: Wirral
Posts: 15,491
Thanks: 3,573
Thanked 4,052 Times in 3,479 Posts
** Thread starter **
Join Date: 31st January 2014
Location: Surrey
Posts: 3
Thanks: 0
Thanked 0 Times in 0 Posts
Thanks
.
I have a few extra pics which I've attached below.
It's the twin-turbo model (as opposed to twin-scroll single) and contrary to popular belief, the turbo's are of equal size rather than staggered. The result being low lag and consistent boost build rather than the power step sometimes experienced with little and large.
I've thrown a few things at it but ultimately it's pretty much where most people would be happy from the get go. 'Standard equipment' includes Brembo 6-Piston calipers and a fully forged engine. Still, I'm not most people so...
- Turbo-back Exhaust System
- Large(er) FMIC
- Mapping to suit
- Bilstein B12 Suspension
- M3 Underpinnings (bushes, arms, ARB's) + Geo
There are a few things to do still such as a trip to Litchfield Imports next month for some fine tuning, a mechanical LSD (eLSD is actually very good so this is a WANT rather than NEED I guess), some wider wheels to accept a wider tyre at the rear and then that's probably it for a while. New direct-swap turbo's with a TD04L turbine wheel will net around 550bhp but interim Meth is always an option for another 30hp.
It doesn't need any more though, it's quite 'thrilling' to drive at the best of times.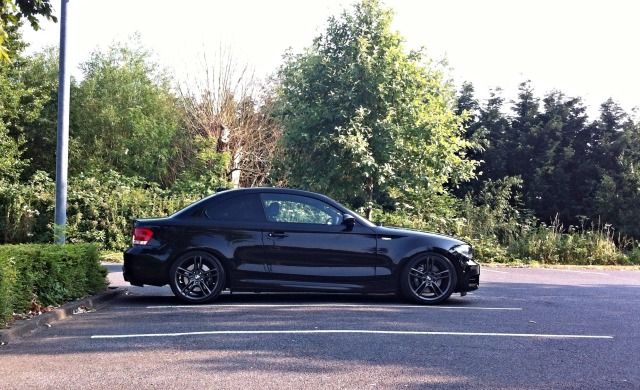 ---
Last edited by Cozy; 31st January 2014 at

12:51

.
Supporter
Car: 58 DB CTR
Join Date: 22nd May 2012
Location: London, UK
Posts: 69
Thanks: 8
Thanked 17 Times in 16 Posts
Hi cozy.
Fair play saving an EK. Absolutely love em! Had to sell mine when I bought my FN2. Still miss it! The thought of a B16 being crushed.....well!
EK' still seem to get a lotta love. Just go to any jap show/meet (not that you would in a Beemer!) and they'll be loads of em boosted, slammed and stanced.
IMO I think you'd be better off advertising it on forums. Personally didn't have any joy on Auto trader. Sold mine on e bay in the end.
Sent from my iPhone using
Tapatalk
Darren
Car: 2012 2.2idtec polished metal
Join Date: 28th December 2013
Location: Wigan, UK
Posts: 188
Thanks: 24
Thanked 45 Times in 42 Posts
Hello and welcome, really nice Beemer guy
SHOCKD
Car: BMW 116i 2.0
Join Date: 4th November 2012
Location: Newcastle, UK
Posts: 4,351
Thanks: 208
Thanked 669 Times in 632 Posts
Hello and welcome to
mate!
Lovely car mate big fan of them
Redline Monster
Car: 2010 1.8 SI Milano Red
Join Date: 31st July 2013
Location: Sheffield
Posts: 1,573
Thanks: 91
Thanked 242 Times in 236 Posts
mate &
to
Supporter
Car: 2007 CW FD2 Type R
Join Date: 15th July 2013
Location: Cumbernauld, UK
Posts: 1,333
Thanks: 362
Thanked 298 Times in 262 Posts
Welcome buddy, all the best for your project
Car: 2013 Civic 1.6 Sport, Milano
Join Date: 16th May 2013
Location: Beveren, Belgium
Posts: 815
Thanks: 65
Thanked 110 Times in 101 Posts
Welcome

Greetings,
Dark Flemish
** Thread starter **
Join Date: 31st January 2014
Location: Surrey
Posts: 3
Thanks: 0
Thanked 0 Times in 0 Posts
Thanks all. I have the EK in storage now and errr, it needs a clean. Work starts in two weeks