Badge
---
Had my car for less than a week and my type r badge at the gear stick was a bit rough looking. I don't think I would be able to replace it as it has my number on it. Looks worse than it does in the pic.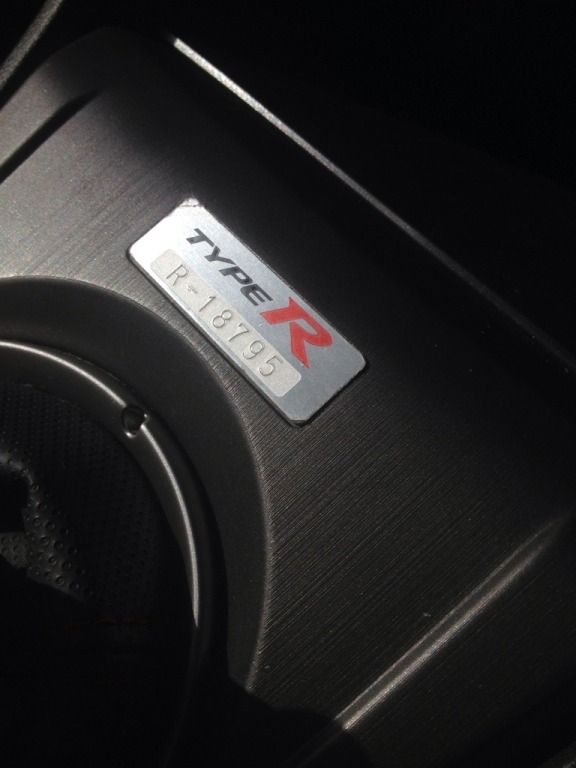 On closer inspection, I peeled off the plastic and I now have a brand new looking badge. Result
Honda nut
Car: Mugenised CTR Milano red gt
Join Date: 12th April 2012
Location: cambridge
Posts: 2,793
Thanks: 1,226
Thanked 698 Times in 639 Posts
haha I did the same mate !
regrets his username
Car: 1.6 focus RS
Join Date: 6th April 2012
Location: Cornwall
Posts: 7,964
Thanks: 1,661
Thanked 1,457 Times in 1,217 Posts
I was about to say it looks like the plastic covering then got to your 2nd photo, the same covering is also on the type r door sills as well
Supporter
** Thread starter **
These little things make a big difference IMO
Ill need to check the sills later
Supporter
Car: type s gt
Join Date: 25th December 2011
Location: Glasgow
Posts: 621
Thanks: 18
Thanked 43 Times in 43 Posts
Supporter
Join Date: 9th March 2012
Location: Derbyshire
Posts: 1,079
Thanks: 54
Thanked 111 Times in 98 Posts
Haha I did the same aswell. Mine still has the plastic on the type r cills.
Graham
jonnie
Car: 09 ctr milano red
Join Date: 19th April 2012
Location: yorkshire
Posts: 472
Thanks: 164
Thanked 143 Times in 133 Posts
gutted as mine is chipped round edges
think i might buy the js racing gear change badge to cover it.
Carbon Addict :)
Car: '59 CTR GT Milano Red
Join Date: 8th December 2012
Location: Nr Stirling
Posts: 1,434
Thanks: 302
Thanked 289 Times in 260 Posts
Quote:
Haha I did the same aswell. Mine still has the plastic on the type r cills.
Graham
+1
My '59 Type R still has the plastic on the Cills