Discussion Starter
·
#1
·
Hello folks! The Type S project is now over and after many months of waiting I have a new toy to play with
.
Here's some pics of the car at the docks ready for shipping. Comes with the Japanese unit but I have no idea what it says and doesn't pick up many radio stations and no UK maps, bit disappointed but the previous owner has some great Jap beats stored inside lol. Will need to get that sorted out!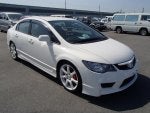 Arrived in UK prep and added some mods
. New Rays 57 Extreme Gram lights with the red centre caps wrapped with Goodyear Eagle F1 and the Cusco roll bars from the group buy over at the FD2 forum.
After a bit of play, 30 quid lighter and a very clean windscreen lol I managed to drive back home without stalling hahaha. I would have liked a bit more time getting more pictures and a good clean but I had to go to Sunderland to watch them play Man U :facepalm:
I have a few small things on order at the mo. Ordered a Civinfo sticker
, some stickers, oil cap and wheel nuts.
Future plans:
New head unit- I have no idea which one and listening to Jpop and some weird Jap dance tunes is ok... for now.
Mugen Front lip- The wife will disapprove but it's subtle so she will never know lol.
FEEL'S or Mugen bonnet- Bit harder to hide from the wife...
Mugen deflectors- Not very keen on the ones I have on at the mo and they look a bit old at close up.
Coilovers- I had my heart set on the KW V3 but they have discontinued them
. So I am on the lookout but currently find the 'hard' suspension ok.
Thanks for looking