·
Civinfo's Bulb Supplier
Ok guys,
I promised I would get some pics up after my big clean weekend so here they are. More pics will follow when I find a nice place to take some out door shots. All in all it took me 6 hours.
For any one wanting some Collinite 915 Wax I have some for sale just click this link:
http://www.civinfo.com/forum/sale-wanted/19216-collinite-915-marque-d-elegance-wax.html
BEFORE WASH (DIRTY)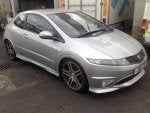 AFTER WASH, RINSE, AND DRY WITH MICROFIBRE
AFTER FULL CLAY TREATMENT
ANOTHER CLAY SHOT!
THEN AFTER ANOTHER RINSE AND DRY, AUTOGLYM SRP ALL OVER USING ORBITAL
DRESSED TYRES, THEN APPLICATION OF COLLINITE 915 BY HAND AND BUFFED OFF (HARD WORK)
SOME MORE PICS