Discussion Starter
•
#1
•
I bought my Type S back in 2009 totally standard and here's a quick timeline showing how it has developed into what it is today.
So in early 2009 it looked like this:
Just a regular standard 2003 CL9 in Graphite Grey with a smidge over 62k on the clock when i bought it. It stayed this way for over a year while i began stock piling parts. Initially my plans were to get some wheels and lower it as it is a family car and i needed to transport my kids in safety and in an element of comfort too, lol.
So the parts purchases began and in April 2010 the whole lot got fitted in one day for a total transformation. It rolled in looking like the above, and rolled out looking like this: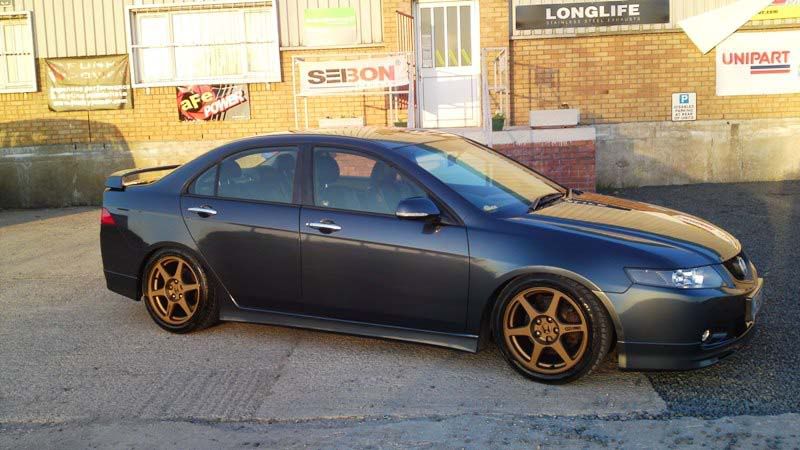 Included in the new parts were a set of BC Racing Coilovers, Skunk2 Front Camber Arms, J's Racing Roll Centre Adjusters, Ingalls Rear Camber Kit and a set of Oz Bronze Evo 8 wheels. The cars handling was transformed! It also took me about 3 days to sort the damping rate after i had the alignment done on a proper hunter machine, took a while but i found a setting comfortable enough yet still stiff enough to hit them corners hard, lol!
Queue the first photoshoot about a week after the first total transformation: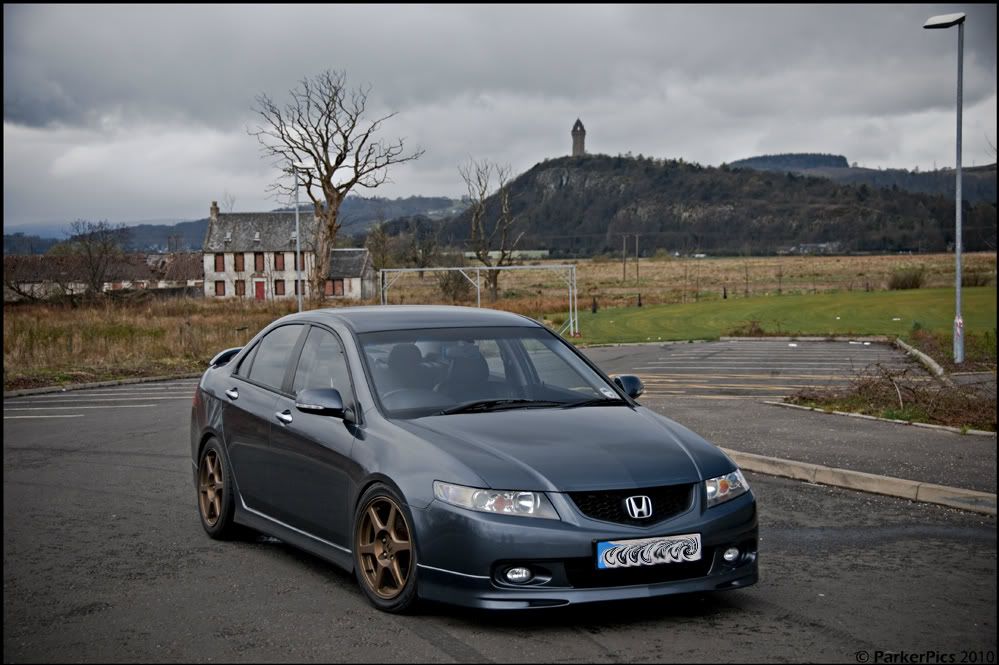 Spanktastic!
After shelling out loads on all these parts i refrained from spending more, i did snap up some euro r power folding mirrors and a set of evo brembos to use in a potential bbk set up. The brembo's ended up being a failure and i didnt go ahead with them, but with some perserverance I got the power folding mirrors to work remotely so that was a plus!
For the rest of the year i just enjoyed the car as it stood, i knew someway along the line i'd need to address the braking aspect as the car handled so sweetly it'd be a waste not to track it. Come the following year I had an itch to get on track as i had driven the Funky Power track DC2 a couple of times the previous year so wanted to do the same with mine. Around April 2011 i got that chance! I had the car fully serviced and changed the gearbox fluid too. I still hadn't addressed the braking aspect so decided to go on with stock brakes just to shakedown the suspension and see how it faired. Im not an idiot though so i did change the brake fluid for some Super Blue ATE high temp dot 4 so at least the fluid wouldnt boil after 2 laps, lol. At the same service i had my progress rear anti roll bar fitted to beef up the suspension even further.
The tracknight itself was really good fun! I was getting about 6 laps in before the pedal really started to sink to the floor, but overall i got about 4 sessions in over the 2 hour time limit. So in the end i did a good 25 odd laps in including a few extra cool down laps right at the end. The car handled perfectly but i knew with hardcore brakes it'd be even better.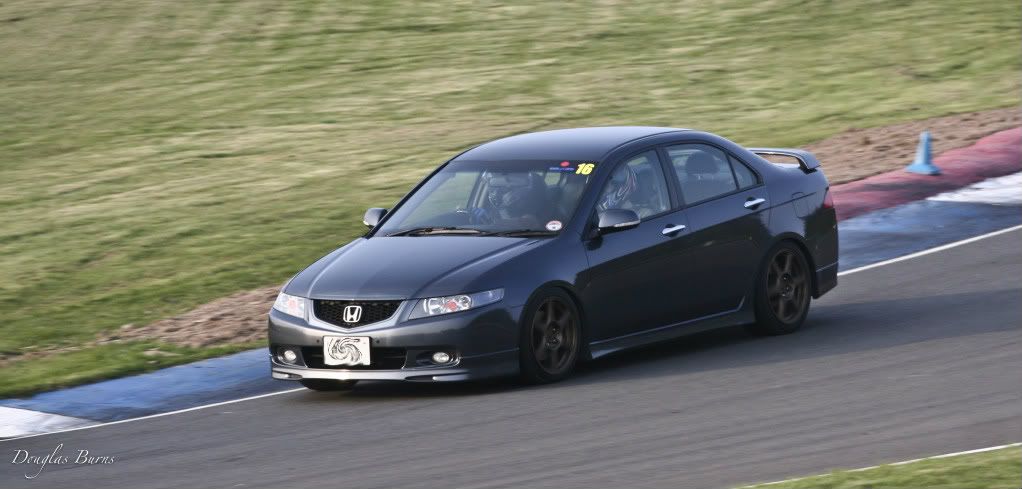 Rollin with the big boys!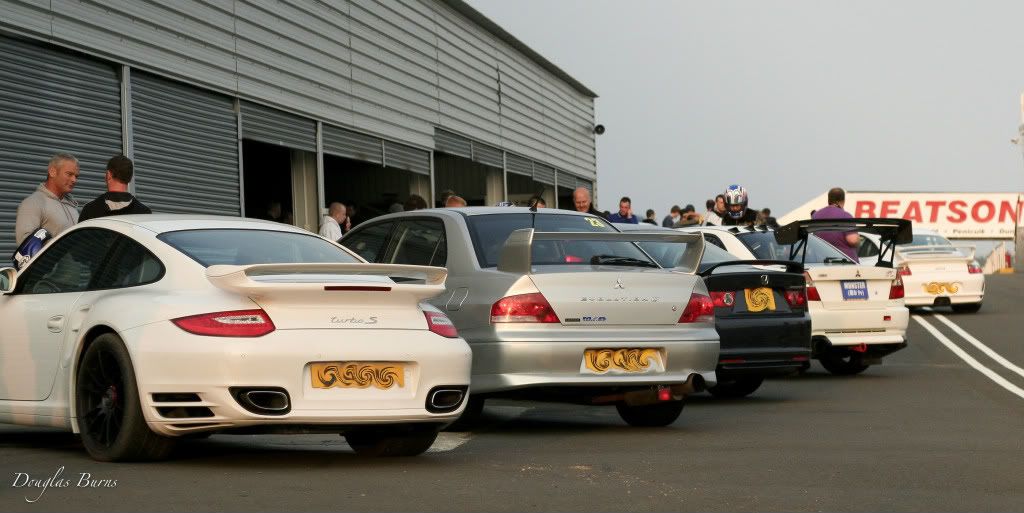 Following knockhill and the way the cars rear end would slide on the exit to the chicane i deceided to try adding a big wing to help with downforce. It just so happened that i managed to talk a fellow accord forum member into selling me his as he was going for more of a ViP look. So after a heavy negotiation i ended up buying this:
A genuine Mugen DC5 GT Wing! It'd still need colour coding but that was for later. At least now some sort of downforce had been purchased, lol
By June 2011 i'd managed to punt the brembos/discs and pads i'd bought to try a custom bbk on my car to fund a set of Ksport 8 pot calipers. These weren't in uk stock so i'd have to wait a few weeks apparently for them to come from the manufacturer in taiwan. About 4 months passed before i lost my rag and cancelled the order. I ended up digging further into my pocket and putting an order in for some Stoptech 4 pot calipers instead. Unbelievably these only took a week to come from the states!
I had wanted to change my colour scheme as quite a few people from up these ends had chosen Oz Bronze as their wheel colour of choice in 2011, including a supercharged DC5 and a supercharged EP3. I went with a really rich red colour for the stoptechs as i was sure it would look cracking with the new wheel colour choice. That sealed the fate of the oz bronze wheels and instead another custom blend was mixed but this time we tried to replicate Volk Magnesium Blue. In the end Oz Mag Blue was born, tbh i've only ever seen one set of real volk mag blue wheels and i think the colour isnt that far off so we succeeded there with this colour too. Of course I had to get more wheel stickers made up.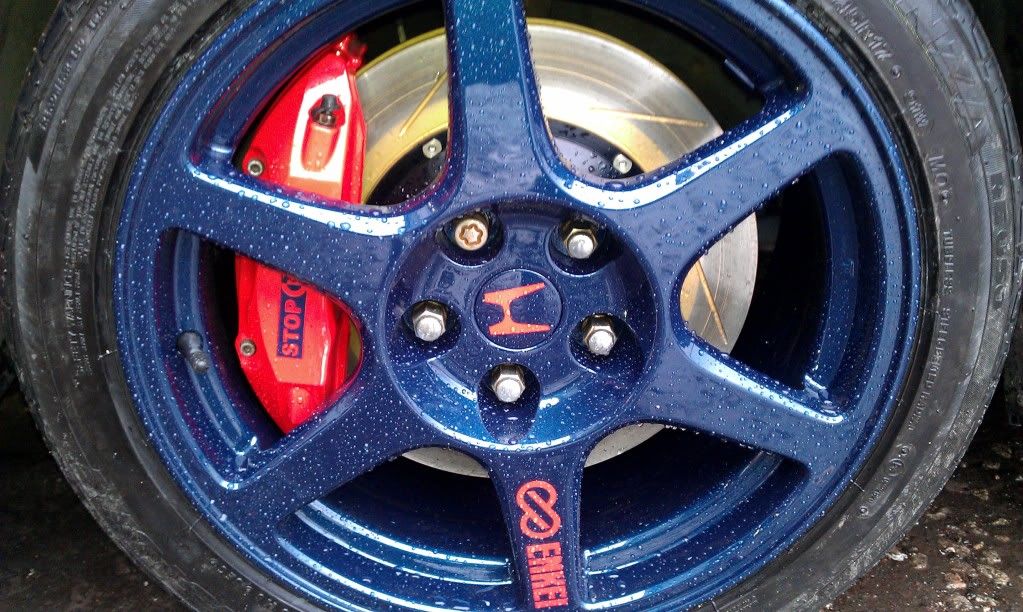 This is where i got a bit mad and at the end of last year i got the spoiler painted and fitted. Got a new custom 2.5" bore exhaust made up and had plans to make a rear diffuser of some kind as there was no way i could afford a real j's racing diffuser. It was all about the track look now!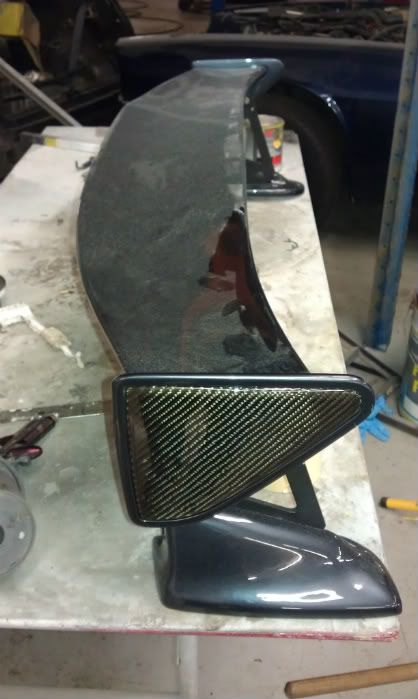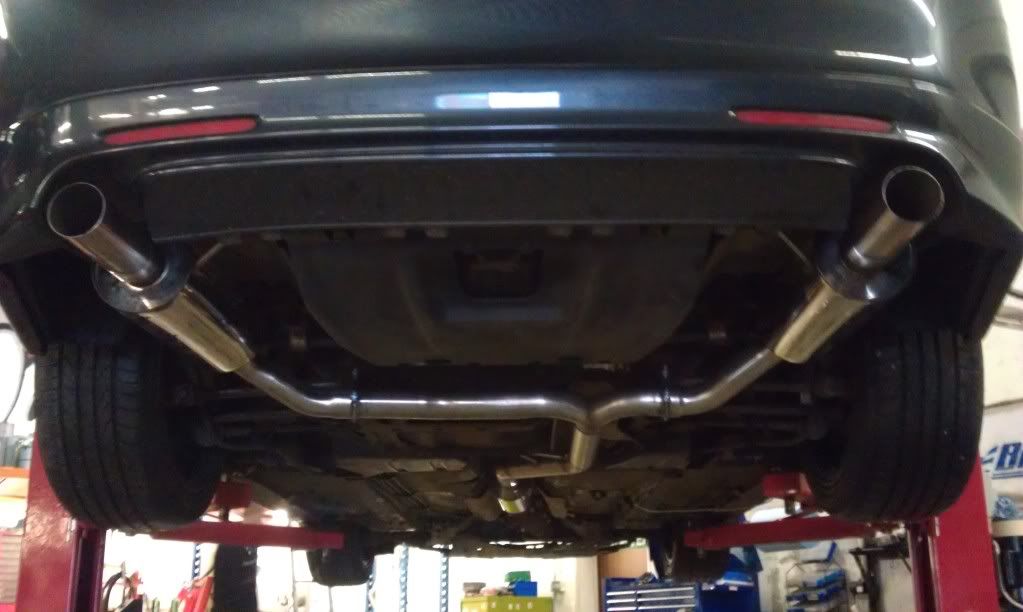 and both together: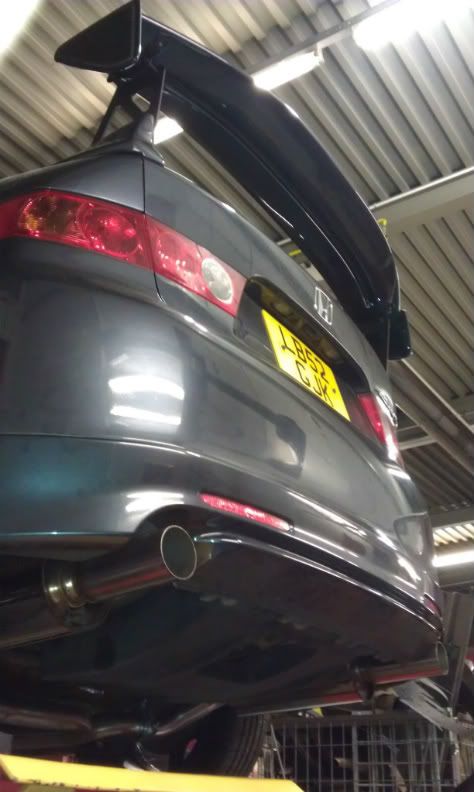 Pretty racy looking, it'd look a lot more crazier once the mock up of the diffuser was first tried on!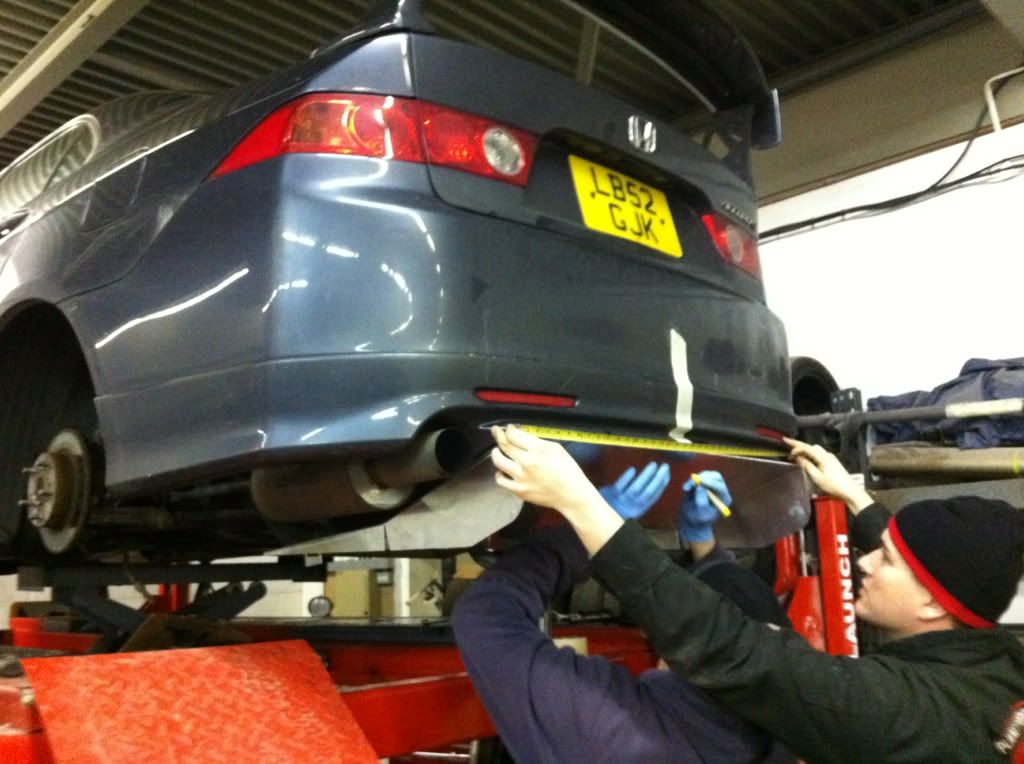 The diffuser was made from 3mm aluminium and bent to spec. Once mocked up it was sent away to be powder coated in black for a stealth look rather than a flashy colour. Its only been a few weeks since i've had this finished and fitted now.
Ive yet to fit these custom aluminium ARC Style front bumper winglets:
The front end just needs a splitter of some sort and some canards then i think the track look will be complete. Im also gonna get a tow strap should i venture into the gravel the next time at knockhill, lol!
Here's a sneak peak at total transformation stage 2: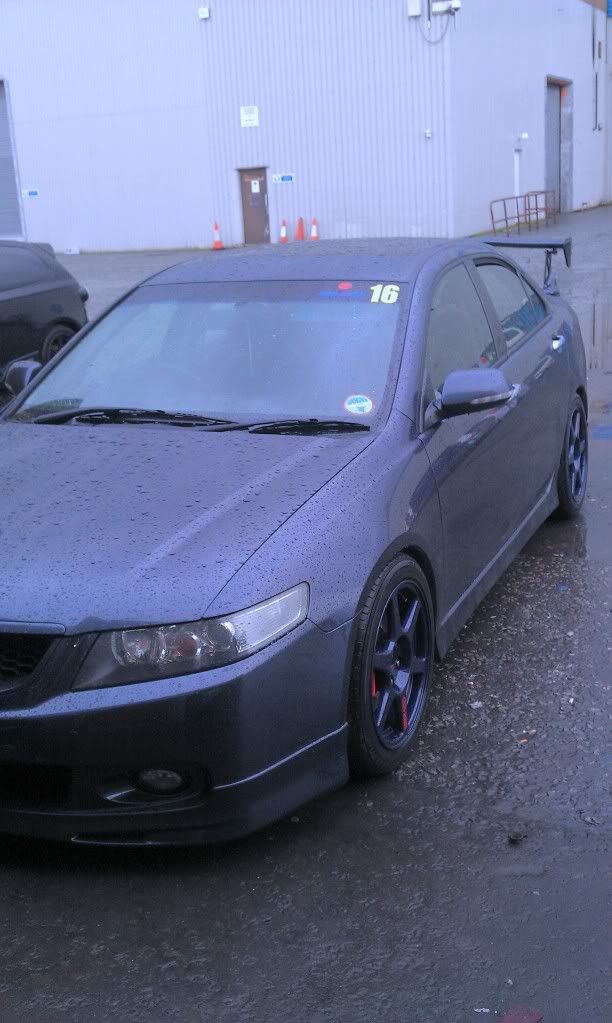 That pretty much brings me bang up to date as to how the car looks now. Although there was another photoshoot last week so i'll include a couple of photos: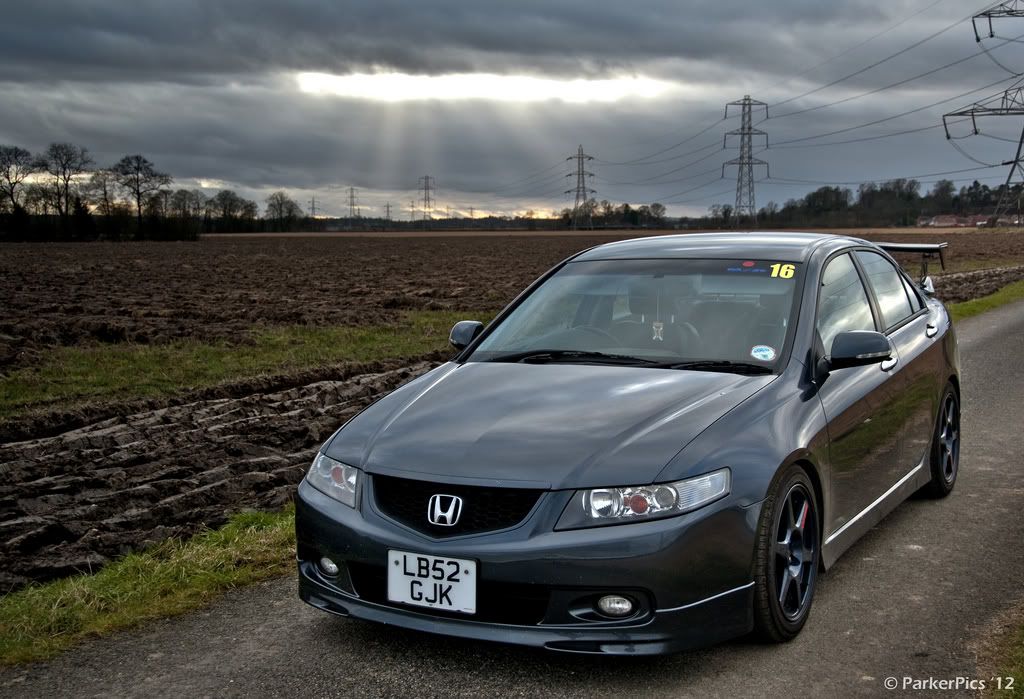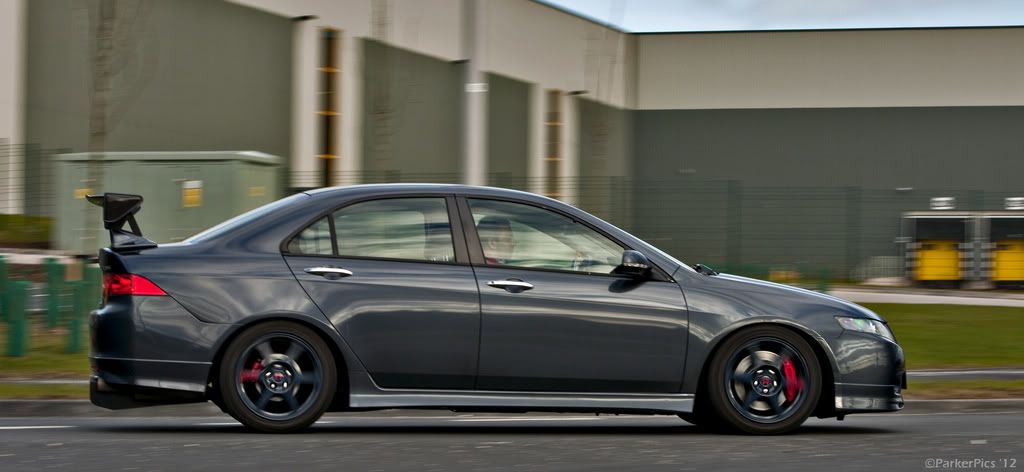 Tada! lol!
Thoughts and comments appreciated, what do you guys think?