Discussion Starter
•
#1
•
Hey guys, and gals. I haven't posted on here in a while, but I wanted to share my latest mod with you, because I'm sure it could be done with your cars as well.
For quite some time, myself and some other members of 8thcivic.com have been discussing using cowl induction on our Si's to get much colder air into the intake. Each of us that has done a custom setup has gone a slightly different route, but we've all come to the conclussion that this is the best mod you can do next to a race header.
Before this intake, I was using a Fujita SRI, which we all know suffer greatly from heat soak. Using a Scangauge II to monitor intake air temps, average IAT with the SRI at highway speeds were anywhere from 15 to 25 degrees over ambient air temps. With the custom cowl setup, IAT at highway speed are anywhere from 1 to 8 degrees above ambient air temps. Of course, these temps spike up dramatically when stopped at a light, because cowl induction need the car to move to generate the colder outside air.
Here are a few pics of the setup that I'm using:
In this pic, you can see I'm using gold foil heat wrap (not cheap by the way, but you can completely cover the airbox with about $70 worth)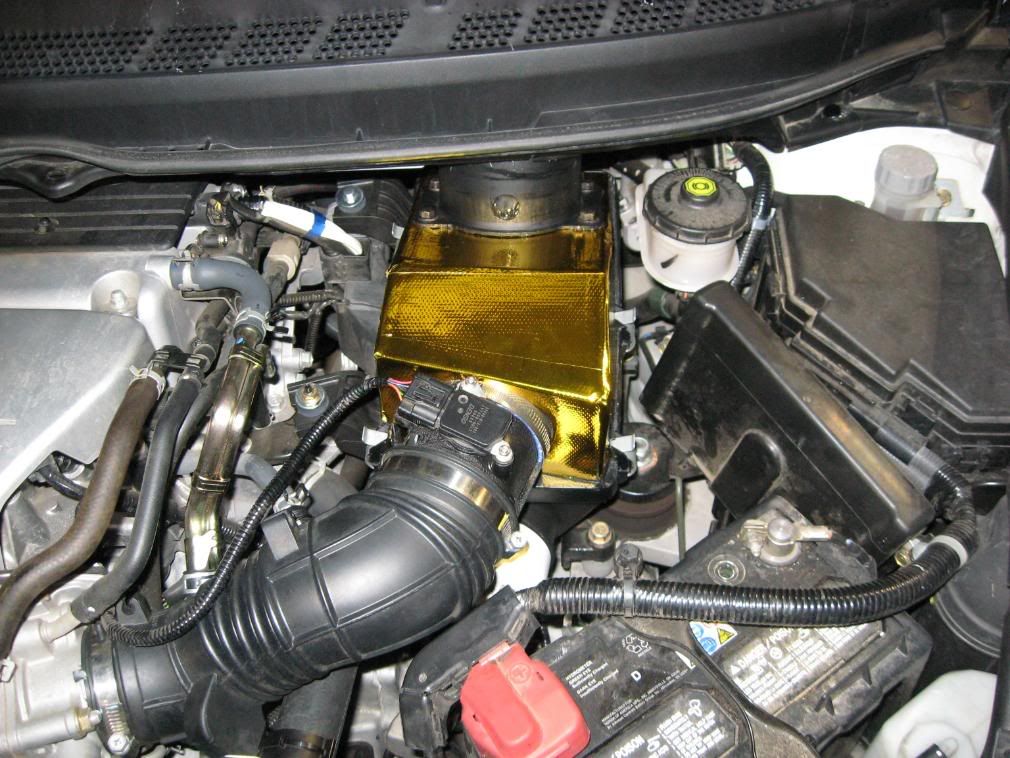 You can also see that I have the lower air hole capped off. Currently, I'm only taking air through the cowl, but will probably use the lower air port a little further down the line.
Here you can see the the hole that was cut into the metal shelf to get the cold air from the cowl area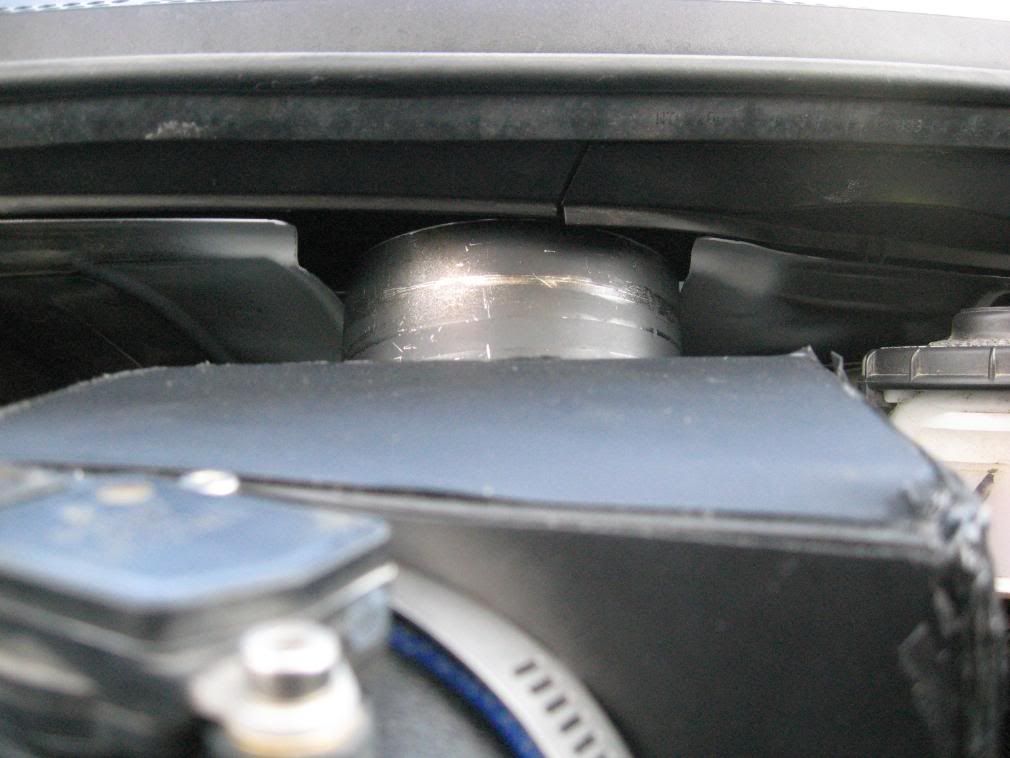 This project has been a very slow work in progress, and I'm still not done. I'm currently trying to sculpt a shape out of styrofoam that I can make a fiberglass scoop out of that would come through the cowl, and face the windshield.
I've driven a few different 8th Gen Si's, all using different intakes, and I would be willing to bet cold hard cash that this style intake is better than any production model, including the Gruppe M which uses a similar principle.
Here is the original thread that started it all at 8thCivic.com. It's very, long, but very informative, and worth the read. If you don't have ADD, and can make it through the entire thread, it would be well worth the read.
Cowl induction for cold, ram air for the Si? - 8th Generation Honda Civic Forum
Here is the completed intake thread, from the OP (NitrousG35), of the previous thread. I give many, many props to Nitrous/Bill for starting this discussion on the 8th, and opening my eyes to a better intake alternative, than just using a "filter on a stick". This thread is actually much shorther than the original thread, so if you DO have ADD, and just want the Cliff Notes, click on this thread.[smilie=tongue.gif]
Cowl Induction is done, finished, finis, Woot Woot! - 8th Generation Honda Civic Forum
I know there are a number of things that I've left out with this intro to cowl induction, but please feel free to throw out any questions, comments, and complaints you may have. The only thing I'm trying to do is share the knowledge I gained, and give you guys a better intake option than a "filter on a stick"