Discussion Starter
•
#1
•
Hi everyone, just my project thread here. Im really loving the car, as my first diesel its really impressed me. Originally it was just going to be a tool for a year on the motorway but its quickly grown on me !
My last car was the tasty mazdaspeed rx8 you see below but due to my 140 mile uni commute next year it would just be cruel to my wallet and the car to put it through it especially at 18mpg on v power lol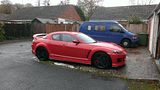 the time came for something a little more sensible so have already had a play in a type r decided on a civic diesel for looks and economy.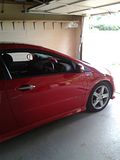 as soon as i spotted the gp kit on it i knew i wanted it but when i saw the reg it sealed the deal
( slob ) the body kit.....its a bit of a patchwork quilt but that will be sorted at a later date.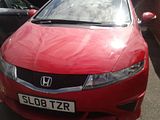 very sensible and standard..............which didnt last long
First thing i changed was the rear light, i managed to pick up pretty much the whole rear end of a type r for 120 so sold the rest on but kept the light for myself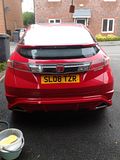 next was the wheels. I found some JR3 with some decent tyres on flea bay so snapped them up and after some custom spigot rings they were on and looking fine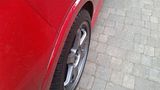 you can really see the colour difference in that pic :s
Also added a cheeky red badge to the grill so it matched the back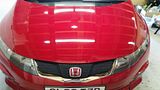 thats pretty much how she sits for now.
Ive got a few spare type r spoiler in the garage and a seeker style lip for one has already been ordered.
Plans are spray that gloss black and do the rear diffuser and front splitter at the same time sometime in august then the only other thing i fancy is a mugen grill but that will be when one pops up
Plans for the future are bbk, ive been reading somewhere about a dc5, 350z, s2000 mutant hybrid settup which looks funky. After that i will start thinking about power......already priced up a beefy clutch and a stage 2 from Celtic. plan will be to wait til my current one dies then dive into the deep end! Comments or criticism welcome , looking forward to getting to my first civic meet sometime soon hopefully !