Hello!
Since it is mandatory in my country to drive with lights at daytime, I produced a circuit for this purpose.
It all started with my 7gen Civic and its LED indicators for A/C that were invisible at day. I made a circuit that turned on the lights without the car knowing they were on, hence diodes stayed bright.
But it is so much simpler for the 8gen Civic, since it has somewhat different wiring and the, before the mod, unusable feature named AUTO lights.
All the circuit does is open a MOS-FET transistor after 8 seconds from ignition II being turned on, and the wire responsible for light is being grounded. Excatly what the original switch does. And as a dessert, when it becomes dark, the sensor on the windshield switches on the night setup of the dash lights.
So you just keep the switch in AUTO position and forget about it. In adition, if you turn of the lights, or rotate to the parking lights position, the circuit turns off and the lights are according to the switch position.
Instalation is simple:
-a customized fuse to deliver voltage on ignition II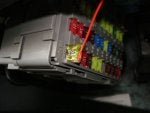 -4 wires soldered to original pins in the lightswitch connector: 12:black-ground, 11:grey-parking lights, 10:brown-lights, 9: pink-OFF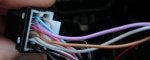 -PCB with elements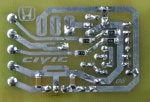 Any suggestions, questions or remarks welcome.
Andrej