I know most people have seen pretty much all of the pics and know the spec of the car as it stands but it will be nice to have everything in one place and it would be rude not to take advantage of a build threads area
So here goes....
Car: 2007 FN2 Type R GT
Colour: Deep Pearl Bronze
This is how it looked on a very wet day when I picked up the car..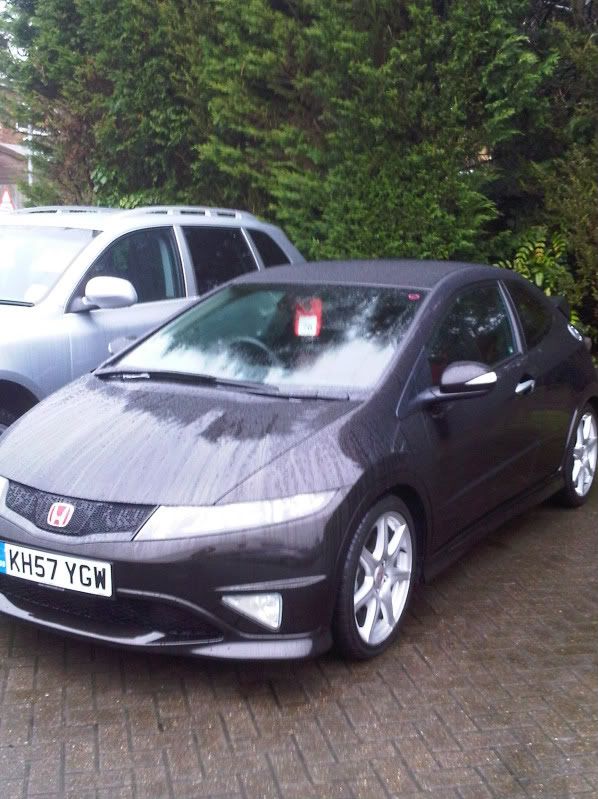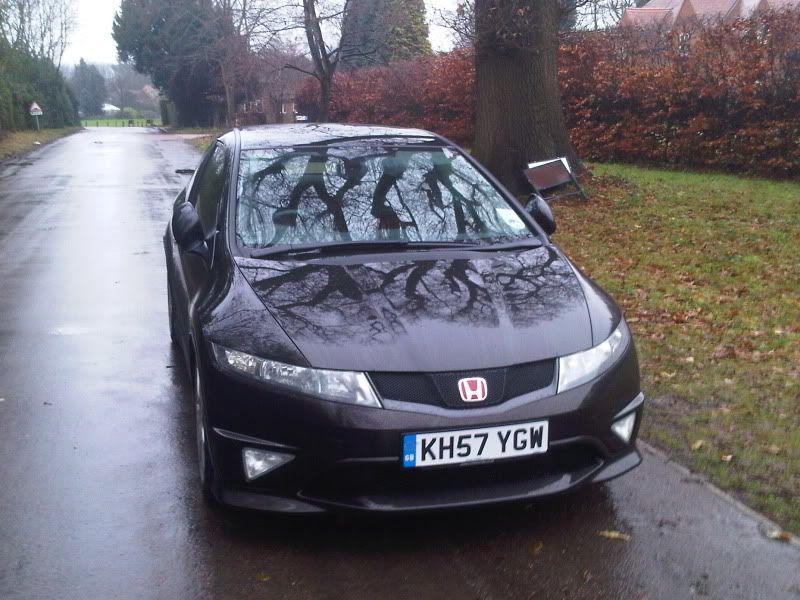 Mods started small..
Spoon Res Covers:
Js Racing Oil Cap:
Js Racing Rad Cap:
Tried out the JDM stickers on the rear winow look.
Now after a little while I decided that the split rear screen of the FN2 doesnt suit stickers on the rear so I removed them. On a side note since I put the stickers on there, my rear demister is alot slower now.
I took advanttage of a discount offer from Touge to get both the Js Racing front strut brace & C pillar brace. Which as far as I know are still both pretty rare in the UK in an FN2 fitment.
But more of them later, I had also ordered an oem EURO badge as as we know the FN2 is sold in Japan as the Type R Euro. I do get asked why I have a Euro badge on a Japanese car by people that don't know which can be amusing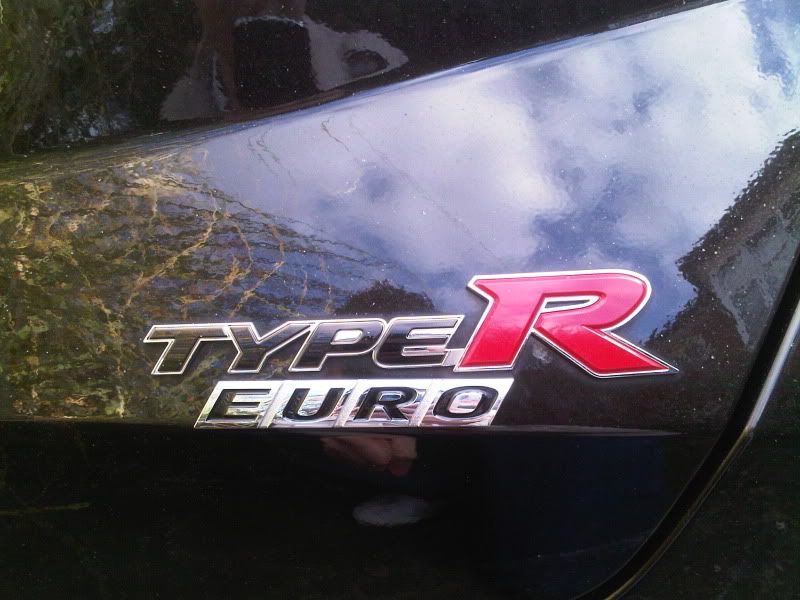 I did try and be as exact as i could with the placement of the badge so it actually looked like it had been put on by a Honda tech in a factory and not me.
I started to do some research on the forum to see which filter/exhaust combo was best for noise & gains but was workable with a budget. Dan at SRB Power provided the HKS Racing Suction kit (which was a complete pain the backside to fit)

This sounds amazing in Vtec but isnt loud at all on normal driving. On the plus side the intake pipework always polishes up well and adds some nice bling factor to the engine bay.
Whilst my brother & I were working on fitting the RSK we took the opertunity to fit the Js braces. The C Pillar brace went in quite easily, once I had the mounts the right way round lol
As you can see it just bolts into the seatbelt mounts and yes the rear belts are still fully functional
The front strut brace is more complicated and requires removing the scuttle panel.

Although I've had the brace in and now a few times now, Im getting quite quick at installing/removing it
Next up was a spot of paintwork under the bonnet. K and the boys at Xquisite did me proud with the job they did.
Not bad considering all I told him was that I wanted a bronze/caramel colour
.
As you can also in that picture I added a Tegiwa Imports CF plug cover. Now I know theres been discussion on whether Tegiwa are good by offering discount tuning products or just offering basically counterfit goods. My opinion is mixed but seeing as its just a plug cover and it sits quite far back under the scuttle panel I was happy to go with it. Besides spending £60 on that rather £250(ish) on a Spoon or £350(ish) on Mugen one left extra £££ for other mods.
After Id had the paintwork done I had two minor problems. First off the Spoon Res Covers clashed really badly with the freshly painted rocker & inlet covers. So after a bit of net surfing I got some PasswordJDM ones which are different to all the Spoon/Mugen ones you see but still just as cool.
The other minor problem I had was the Js Racing gold on the strut brace mounts did'nt go with the new paintwork so out that came and off to Xquisite for a colour match but that didnt go so well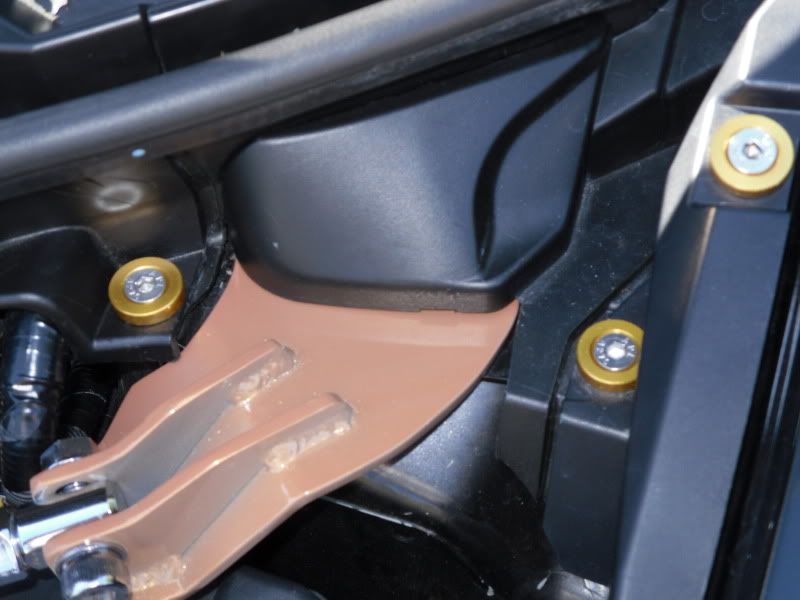 This has since been rectified.
As you can also see in that picture I had purchased some Tegiwa stainless bolts & gold washers. These have since been removed as all the plastic trim around the FN2 engine bay doesn't lend itself to anything but the or plastic clips. They weren't ever really secure and so only lasted a few days before being removed and put in an envelope in my wardrobe. But if you don't try, you don't know.
Now the best exhaust to compliment the RSK was always going to be a Miltek cat back, so I got on the blower to ABP and got one ordered.
This was a lovely windy day outside my mates garage fitting it.
Now I've done about 1500-2000 miles with it on, it's well and truely bedded in. Its lovely at idle with a purposefull purr and screams like a banshee when you give it some.
Now for some pics of the car after a detail...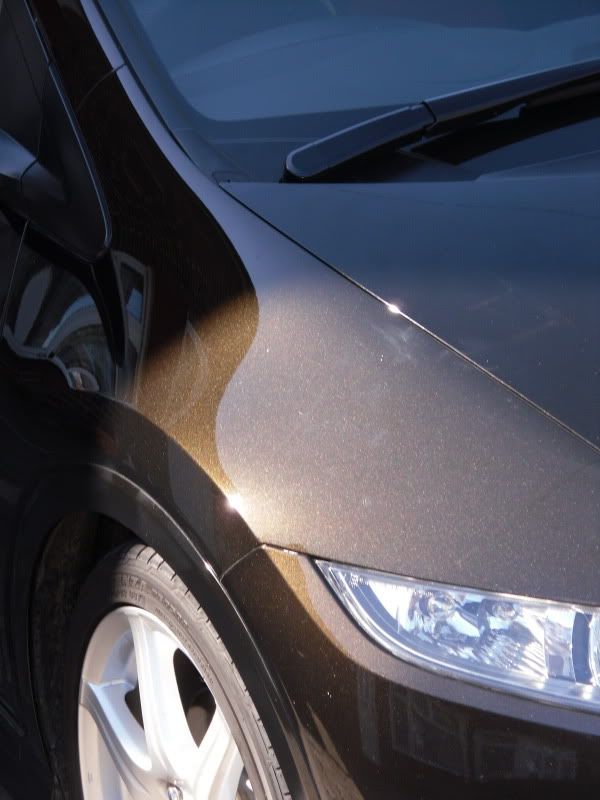 I always wanted my oe wheels painted. The only other wheels Id have are either some jdm splits or some CCWs from the states and both are £2500+ so painting the wheels the same colour as the engine bits worked in my mind.
The wheels in oven after 3 coats of paint and 2 coats of laquer (one more coat of laquer was added afterwards)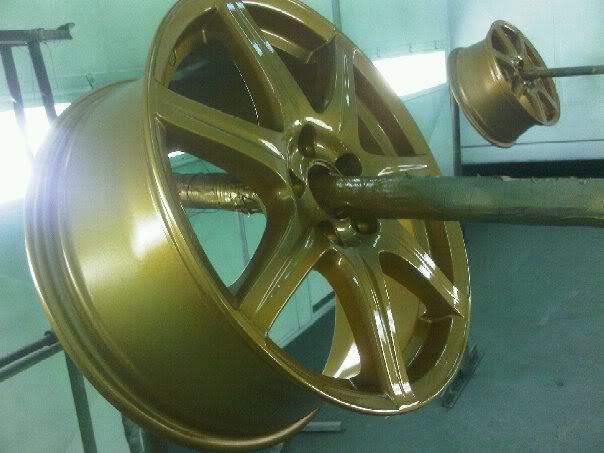 Then on the car...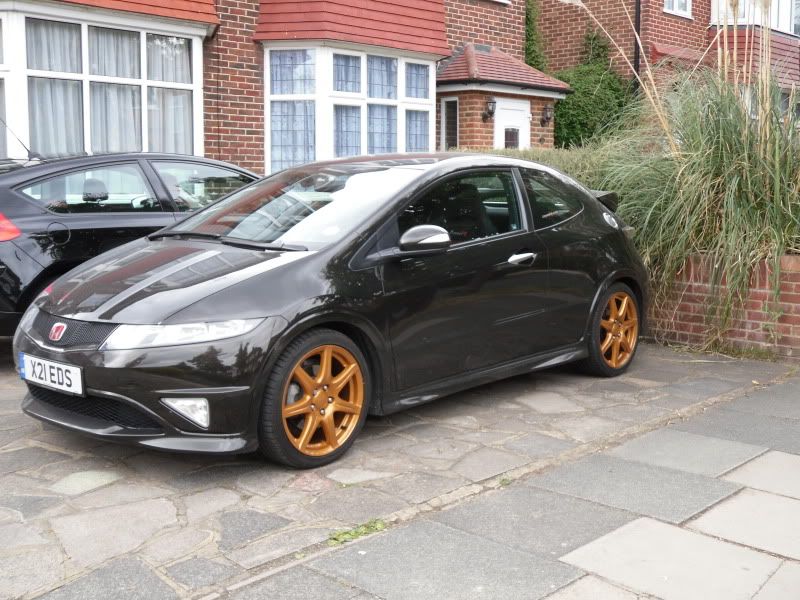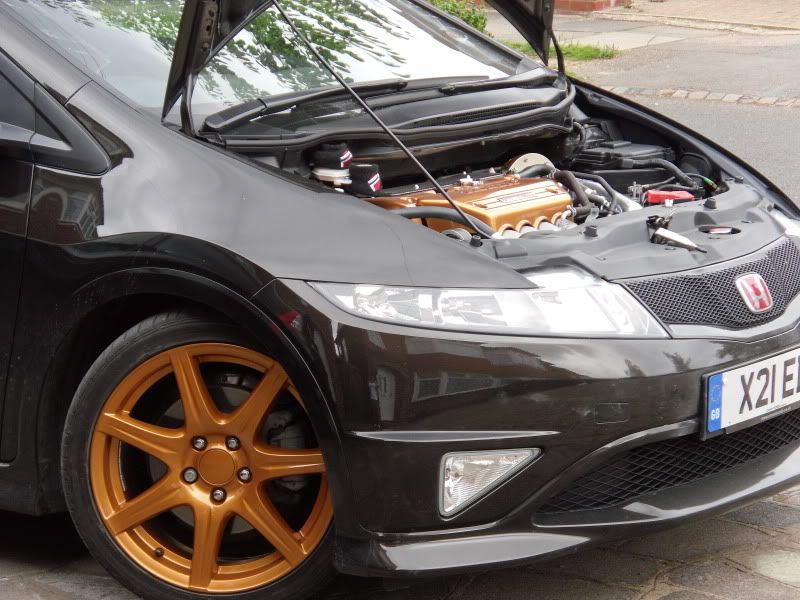 Then one sunday I logged onto the site (which is unusual as I dont really log on on weekends unless Im at work) and a set of brand new Eibach Pro Kit springs had just gone up for sale at a very reasonable price so I got them snapped up.
Whilst my mate was fitting the front springs, I got cracking with something else........
I had brought some EK9 fitment ARC winglets through SRB Power on the hope they would fit. The first time I offered them up they were way way off which was proper gutting.
As you can see..
I actually put them up for sale and nearly sold them to F4tay untill he saw how off the fitment was. Now with the front jacked up I was going to have another go. This time I pivoted the winglets on the corners of the front bumper untill the fitted.
For a couple of reasons we only managed to get the front springs fitted so now its sitting nose heavy but Im hoping to get the car into the mechanic who looks after the Mustang on Tuesday to get the rear springs fitted and sort a nasty rattling sound I've got in the front. I have a feeling the oe bumpstops dont like the Eibachs and are floating loose.
Picture from Trax the following weekennd
Now I'm just trying to be a little different and now I looked to the USDM scene for inspiration. Now we all know that the Type R has an option from Honda for Type R stickers on the rear 3/4 panel. Now the USDM SI coupe has a different decal. They get i-Vtec DOHC decals. I found a decent pic on the 'net and sent it off to my mate who works for a signworks company. This is what I got back
Thats as close to the oe ones as I could get. Although I need to get new ones as I managed to put one side on at an angle. But next time Im going to get them in the same caramel colour.
And I finish this installment with a pic from JAE....
So near future plans??
I've got a Seeker shifter on order as the Blox one I recieved was damaged so thats gone back and I've paid the extra for the Seeker one. I also managed to get some poly exhaust mounts at JAE this weekend as one of my tailpipes is knocking on the trim and is pulling on the oe rubber mount.
I want to get the car through its M.O.T and service and then the mods will start again in the new year....
-More paintwork: door handles, wing mirror caps & the centre of the fuel filler in caramel and something trick for the grille
- TopOne Aero side skirts (need to order them from the US but will go well with the ARC winglets. They are in an EP3 fitment so fingers crossed lol)
- Seeker Canards
- PasswordJDM Tow Hook (sprayed in caramel)
- Calipers painted gloss black with caramel on the lettering
And Im really considering removing my spoiler and running no spoiler at all. Its become popular in Evo & Subaru circles and Im convinced it could work, Type R looking like a Type S??