Discussion Starter
•
#1
•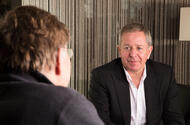 Steve Cropley talks to Brundle about his F1 predictions​
When Martin Brundle talks about Formula 1, everyone listens. We quiz him about what the 2015 season holds for us Despite the pretensions of the 20 top racing drivers who will line up on Melbourne's Formula 1 grid in a few days' time, for around five million of us who will ?watch it on TV, enjoyment of the 2015 season's first grand prix will depend heavily on the efforts of a grand prix driver ?from a different era.
Martin Brundle gave up racing in F1 at the end of 1996, having raced both Michael Schumacher and Ayrton Senna wheel to wheel in the course of a 12-year career, but he has since become a lot more famous as the country's foremost F1 TV pundit.
His secret weapon is an ability to describe things in a way that appeals to the sofa crowd, with injections of know-how that could only have come from F1's inner sanctum. In 2009, these skills led The Times to describe Brundle as "the greatest TV analyst in this or any other sport".
Those who know him say a media career always beckoned. He started receiving offers even before he stopped driving, joined ITV as soon as he retired and learnt the job alongside doyen Murray Walker. "It was like having Pele teaching you to kick a football," he says. When the BBC won back the F1 franchise in 2009, he followed.
Then in 2012, it became bizarrely clear that the Beeb would no longer broadcast every race, so Brundle joined Sky, because he couldn't bear to miss any action.
Nowadays, he reinforces his deep knowledge of F1 by regularly driving the cars for TV features, honing his skills in sportscar races and visiting the gym often enough to be sure he can fit into F1's confined cockpits.
The day we met in London, he'd been to Silverstone for a Force India seat fitting and a session on the simulator, and was berating himself for being 2.6sec slower than ?Nico Hülkenberg, who brought the car home sixth in the season's last race. (Even for a capable club racer, the margin would have been 10 times as great).
Once Brundle has sampled the Force India's Mercedes engine, he'll have driven modern F1 ?cars with Renault, Mercedes and Ferrari engines, one of the very few to do so.
Back in 1997, Brundle pioneered the famous 'grid walk', a risk-laden dash with a cameraman through the pre-race throng to see how many ?stars he could interview before they stepped into their cars.
He regards this TV high-wire act as ?a decent substitute for the adrenalin rush of ?racing – which he still misses – but strenuously denies that the person you see on the small ?screen is the true Martin. "He's my alter ego," he says. "Butting into conversations and pushing people aside really isn't me. But we're live for ?nine minutes and you really don't have any alternative – especially since there are now so many other TV crews doing the same thing."
Brundle can't wait for the new season to start, despite the fact that it now runs to 20 races and leaves little respite. The eternal appeal, he says, is that there are always fresh questions to be answered.
We settle down in the foyer of his London pad to discuss some – starting with the prospects of the British driver who doesn't need a surname. Will this be Jenson's last year?
"I wouldn't say so," says Brundle, "although it could be if things don't go well. He's still a very good racing driver, which he proved again in 2014. Talking to his gang and watching his body language, there seemed a real chance he would leave – and then he didn't. But after what's happened, I'm giving up forecasts. For instance, I'd never have said Fernando Alonso would work for Ron Dennis again…"
This raises another discussion point: can
McLaren
-
Honda
succeed in 2015? The heritage?is with them, surely. And Alonso has the ?necessary skills, even though he'll miss the first race due to the after-effects of a testing crash.
"Giving your car a famous name doesn't ?make it fast," says Brundle. "McLaren's chassis wasn't great last year, so they've got to improve that. And Honda has a lot of catching up to do. They've had a nightmare so far. You'd have to ?back them to get it right, although estimating the ramp-up is tough. But I still wouldn't be surprised to see a McLaren-Honda threatening the podium this year."
What about Alonso at McLaren? Brundle won't place a bet on that. "He's an extraordinary driver, but he's also a difficult character. Look how he's departed from teams. He's often engineered his own difficulties. In a way, you've got to feel sorry for him, though. He should have won the championship that first time at McLaren. And there were two near-misses at
Ferrari
.
"But sooner or later, a driver has to take responsibility for what happens. You can't keep saying they've given you a bad car. Look at Schumacher: he motivated the talented group around him, and together they delivered all ?those championships. He even had a flat inside Fiorano so he could work longer days."
Do any of the current crop work as hard as Schuey did, I wonder. "Probably not," says Brundle, after several seconds. "Mind you, everyone works hard. [Nico] Rosberg is pretty well plugged in at
Mercedes
, and I'll bet you Valtteri Bottas is in the factory most days. But what Michael did was special. He knew the wives' and kids' names. He appreciated how much F1 mechanics give up to go racing. Yet he managed not to get too close. In the end, it's victories you want, not 600 new friends."
We move to the Sebastian Vettel question, with all its confusions. How did Daniel Ricciardo, a relative newcomer, come to beat the four-time champ all season? Does that mean Vettel's 2010-2013 successes weren't as good as we thought?
"In 18 years of commentating," says Brundle, "the person who confuses me most is Sebastian Vettel. He just can't seem to handle the new F1 cars. It's not that he's a poor driver. On Fridays before races, I always stand beside the track, and in his four championship years I know what I saw and it was extraordinary. I could close my eyes as the car went through a corner and know it was Vettel.
In the era of blown diffusers and massive downforce, he carried speed into corners brilliantly.*"But he has different tools now. And he's been a bit like a spoiled child about it. He started moaning early last year and he's still doing it, which is disappointing. The rules are the same for everyone – and it's not such a bad job, is it?"
Brundle reckons disaffection with the rules led Vettel to change to Ferrari. "He wasn't enjoying the car and reckoned the
Renault
engine might have difficulties for another year. Along came Daniel Ricciardo with his let's-push-the-throttle-and-see-what-happens mindset and well and truly kicked Seb's backside. Vettel didn't have an ?answer, so he took the Ferrari opportunity. ?Another bad season and his value would have ?gone down further."
Next we consider Hamilton and Rosberg, so nearly equal in 2014. Will Lewis's victory affect the closeness of the competition? Brundle is sure it will. "I believe Nico will find it harder this year," he says. "He held the championship in the palm of his hand, then lost it. He'll reflect on that. What's more, he never passed Lewis and made it stick all season.
"The body language also tells you plenty. At one race this year, the drivers were taken around the circuit in old cars. When Nico came out, there was a bit of a kerfuffle. Then Lewis appeared and there was a massive roar. Nico can't have missed the difference. I know what that feels like. At Benetton in '92, I'd just beaten Schumacher in qualifying, but back at the motorhome I had to push my way through journalists waiting to see my German team-mate. That sort of thing does your head in. Hamilton will know he has to be at the top of his game to beat Rosberg. But if he is, he will."
Brundle's love affair with F1 certainly doesn't mean he's uncritical. Willingness to state his concerns about the sport is another reason why the audience identifies with him. He wishes Bernie Ecclestone would step back and be more presidential, because the leadership job is now too big for one man. He's worried about the cost of competing, because it prevents the emergence of new teams.*
He'd like to see F1's earnings better distributed, because the present 20-car field (half are paid drives) means far fewer opportunities for fledgling drivers than in his day. In 1989, he points out, there were 38 cars on the grid. And he wishes technology would go faster in some areas. Why, for instance, do F1 cars still run 13in wheels?
However, on the big technical question, today's hybrid powertrains, Brundle is broadly positive. "We've allowed costs to run away and we've made the engines too quiet, but I still think we were right to do it. The cars would otherwise have become dinosaurs.
"Honda wouldn't have come in. Renault would have left. Mercedes would have no one to race and would leave. We'd be back to Ferrari racing a bunch of Cosworths and Judds. Some people reckon those were the golden days, but they're quite wrong. For four years, we've had the most exciting races ever. Let's have more of the same."
Brundle on today's F1 cars
If you're in a good F1 car, you'll know it by the time you're halfway around your out lap, says Martin Brundle. Everything just comes together. You'll feel the difference in driveability between the best and worst cars in that time, too. "I'll bet the Merc-engined Force India is going to be silky smooth," Brundle says, "as soon as it leaves the pitlane."
Not that modern F1 cars are easy to drive. "The combined torque of the electric motors and the turbo kicking in makes them resemble the turbo cars of the '80s," says Brundle, "even down to the 11,000rpm gearchange points. You're allowed 15,000rpm today,*but you tend to change at around 11,000 to keep control of fuel consumption.
"Quite a lot of drivers find them difficult. They've come from karting on super-sticky tyres, then probably moved to GP2, where you have mega-grip and not a lot of power. The technique with one of those is to get the nose into the corner, then slam the throttle down.
"But in today's F1 cars, you have to learn to squeeze the accelerator. You have to control the car right through a corner, and you're still controlling it when the corner's 100 metres behind. Some drivers don't like that, because they've never had to do it, but the best of them - like Lewis [Hamilton] and Fernando [Alonso] - can acclimatise."
Get the latest car news, reviews and galleries from Autocar direct to your inbox every week. Enter your email address below:
More...