Finally, some nice weather.
Managed to give the Civic a decent clean today.
Washed, then polished with AG Super Resin Polish, then waxed with Collinite 476s. Did the wheels with Collinite too, and tyres done with Meguiars Endurnace gel.
Looks so much better when it's clean.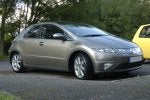 Saving up for the Image Pack now!