So this weekend I decided to start repainting my cam cover as it was flaking quite badly as you can see in the photo below.
I used nitro mors to strip it with then used a wire brush drill attachment to remove the last remaining stubborn bits. I then put it in the dishwasher on a red hot cycle, much to the Mrs and the dishwasher's dismay. Got the dishwasher working again now though!
I masked off any areas such as oil cap sealing area & washer seats as well as the dipstick hole.
Painted with three coats of VHT wrinkle red spray then put under the grill for about half an hour. (wouldn't fit in the oven) removed the masking & left for 24 hours to fully harden. Today I have sanded the raised lettering to remove the paint as this was way too hard to mask up.
I've fitted new spark plug / coil pack seals & a new gasket. Had some new washers with the seals too so I ordered some black nuts to complete the fresh look.
Will refit it tomorrow and get some more photos.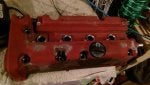 Sent from my HTC One_** using Tapatalk