Discussion Starter
•
#1
•
Well I've had the car since October and have been making subtle changes since then so thought it was about time I got round to logging them in a mod thread.
Bought the car as a standard 1.8 i-shift EX from Letchworth Honda and did not expect to make any changes to it, I've loved the 8g since it came out and always wanted one. This is the day I picked it up......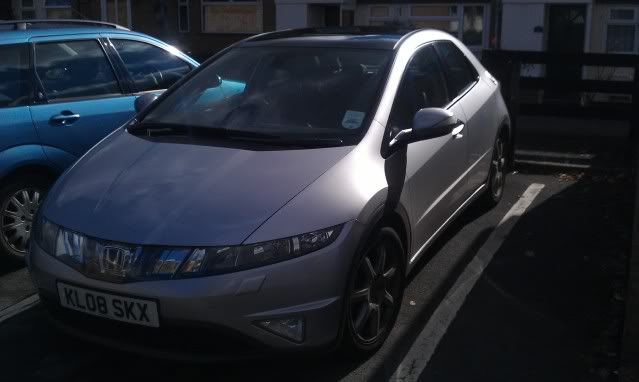 ..... then I found civinfo and my wallet started trembling
First modification was of course the Civinfo sticker....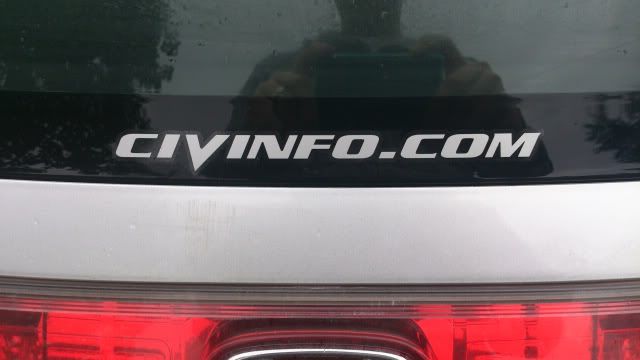 Then almost straight away I went for a set of Wayne's fog lights, for some reason I always had a blue on silver theme in mind....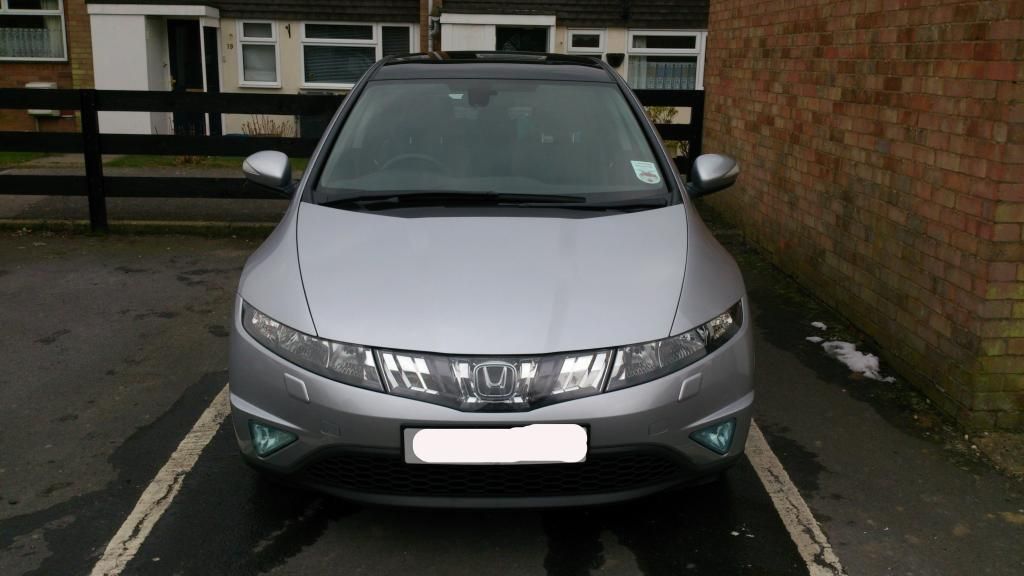 Then I found Gers and all of his goodies! First off was the blue civic insert...
..... then the blue H's for the wheels (excuse the state of my alloys).....
...... then it was time for the brake light cover....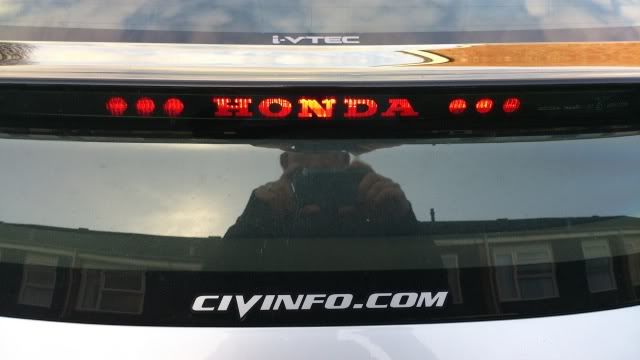 ...... and finally I went for the blue/silver H for the rear panel.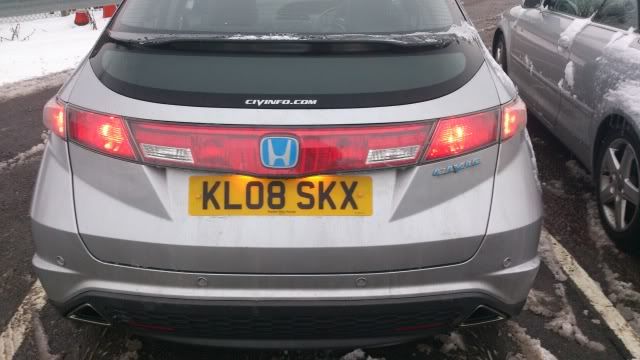 One day I walked out to the car and some little herbert had done this to my civinfo sticker...
needless to say I was rather annoyed but was quite happy to repay full supporter fee again to keep this wonderful site going and got another sticker.
Next mod was not really photo worthy but decided to opt for a :kandn: panel filter. I know there has been a lot of discussion on these on the forum before but I can certainly feel a difference in the engine since installing it and the sound definitely has a bit more of a growl to it.
Ok, so next was to get a set of Quantum's wing mirror tints, again keeping in with my blue theme, not quite an exact match for the fogs but looks good enough to me....
Then this forum struck again and I decided to get a bit more serious about the cleaning of my car! This was after a good 3 hours of effort with a jet washer, bucket of shampoo, then a coat of AGSRP and then a coat of AG Extra Gloss Protection......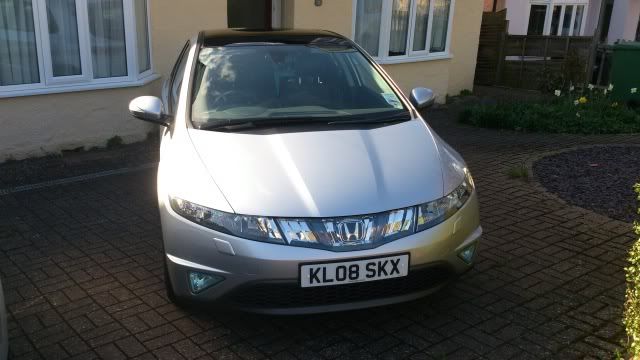 This was also the day before my first meeting with a member off the forum so decided I had to make a good impression before I met up with Syx for a beer on the way home from work
Next up was the Mugen Factory tour, I must admit I didn't make much of a cleaning effort for that as it involved a trip up the M1!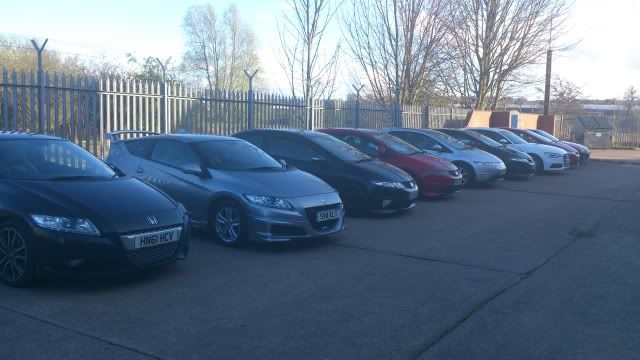 And that then brings me to last night when this was waiting for me at home......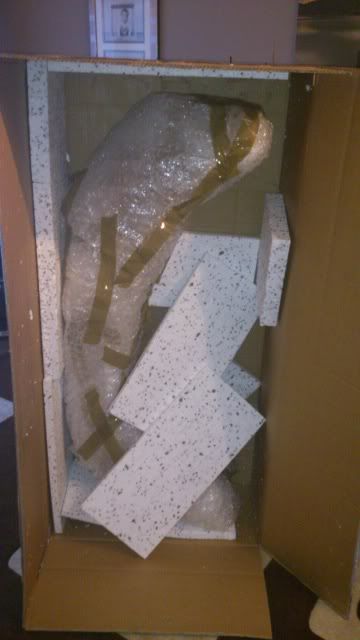 I can't thank Daz_CTR enough for his help in selling me his Type R spoiler and he went out of his way a lot to ensure it got to me in the best state possible.....
This was my testing last night before I get round to fitting it tonight...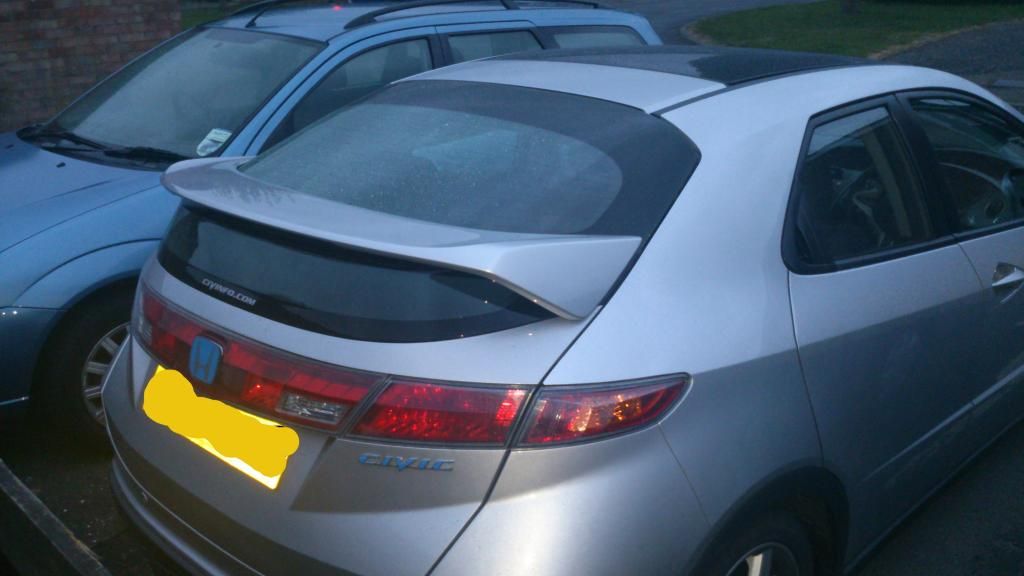 To be continued..........