Discussion Starter
•
#1
•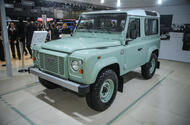 Land Rover is selling these special limited-edition Defenders to mark the end of production​
A new Koenigsegg hypercar, McLaren's Longtail tribute, a Bentley show-stopper… the Geneva motor show has given us plenty to talk about. Here's our pick of the best from the show floor The 2015
Geneva motor show
gave us new metal in almost every sector of the market: supercars from Koenigsegg,
Ferrari
and McLaren, hot hatches from
Ford
and
Honda
, sensible crossovers from Infiniti and
Renault
and a show-stopping Bentley concept car.*
Here's our pick of the best new metal on display.
Land Rover Defender
-
Steve Cropley
How could I pass up the chance to select a 67-year-old stalwart that won't be there next year? Land Rover's beautiful green Defender from the Classic range was mobbed all day and looked better than ever. It will die a good death at the end of this year.
Porsche Cayman GT4 - Andrew Frankel
If I sat down to configure my perfect sports car, it would be a compact mid-engined, two-seat design powered by a large, normally aspirated multi-cylinder engine driving through a six-speed manual gearbox. And it would be tuned by the best people in the business. In short, it would be a Porsche Cayman GT4.*
Vauxhall Viva - Jesse Crosse
Geneva was busting at the seams with exotic technologies this year, but it's the new Vauxhall Viva that gets my star of the show vote for its amazing interior package, impressive feature list and low starting price of £7,995. The Viva proves that affordable no longer has to mean cheap, and this classy little car takes a lot of beating when it comes to practicality and good value.
Aston Martin DBX - Julian Rendell
Bold and challenging, Aston's DBX opens a new chapter in which high-riding four-seaters are as much the future as low-slung sports cars. *Plus it's the show car we will all remember from Geneva 2015.*
Infiniti QX30 - John McIlroy
Infiniti has been guilty of trotting out overstyled concepts too often in the past, but if the QX30 really is as close to the production model as everyone says it is, it looks like the Japanese firm's most credible offering yet. If anything is going to give the firm even a minor foothold in the European market, it could be this car.*
Lotus Evora 400 - Jim Holder
More performance was the headline, but the biggest news was the step up in quality, from panel gaps to leather quality and well thought through button (and lever) positions. It's not going to herald a new dawn at Lotus alone, but it does reaffirm that the leadership in Norfolk is both tenacious and ambitious.*
Seat 20V20 - Mark Tisshaw
The 20V20 was the last car I stopped by to look at, but it left the biggest impression on me in a sea of exotica at Geneva. Seat has finally got direction and clarity in what it's doing, what with an impressive range of Leons, a new Ibiza and a range of stylish SUVs to come in three different sizes. The beaming faces of all the staff on the stand were testament to a company that has its mojo back.*
VW Sport Coupe GTE - Greg Kable
The Sport Coupe GTE reveals a fresh new direction for Volkswagen's future production models, while showcasing the sort of hybrid technology they will offer.
Kia Sportspace - Richard Webber
The Sportspace concept will help Kia to plug a glaring gap in its range: that of a D-segment wagon. In a sector where estates outsell saloons by about three to one, Kia needed to build such a version of the next Optima, but that it also managed to make this realistic concept look so good speaks of the company's current confidence.
Nissan Sway - Richard Bremner
Sometimes you see a car that just looks right; this is one. From its dramatic, arrowing nose to the reverse swoop of its tail-lights, the Sway strikes satisfyingly from every angle. Apparently it's pretty close to what Nissan's next supermini will look like. And that's a load better than today's wheeled shortfall of a Micra.
McLaren 675LT - Darren Moss
You've got to give McLaren credit, because as far as homages go, the 675LT's tribute to the mighty F1 GTR 'Longtail' is pitch perfect. It was a fitting sight to see the two placed close together on the show stand, too.
Audi Prologue Avant - Hilton Holloway
Amazingly, it's 21 years since Audi overturned the estate market with the Porsche-tuned RS2 Avant. The bombastically magnificent Prologue suggests Audi, after its success with conventional SUV models, is again embracing the niche that it made its own two decades ago.
Porsche 911 GT3 RS - Matt Prior
Easy show star for me. Make a list of the best driver's cars ever and plenty will include the suffix 'GT3'. Adding 'RS' usually only makes things better. Hard to imagine that it won't be the case here too.
Koenigsegg Regera - Vicky Parrott
It'll sound like the V8 hypercar that it is, yet the plug-in hybrid and 'direct drive' system means that the Regera has the single-ratio, continuous power delivery of a pure electric car. I can't help but think that, with 1549lb ft going to the rear wheels, it might be apocalyptically edgy to drive on the road, but I'm willing to be proved wrong. Even so, it's a proper engineering and design achievement.
Bentley EXP 10 Speed 6
-
Lewis Kingston
Here is a concept that manages the neat trick of retaining all of the key Bentley hallmarks, such as a beautifully trimmed and elegant interior, while adopting modern engineering and production techniques. I love the idea of a more sporting Bentley, too. Must admit that I'm not convinced by the current front-end styling, though.
What was your star car from the Geneva motor show? Let us know in the comments section below, and read more Geneva motor show news here
Get the latest car news, reviews and galleries from Autocar direct to your inbox every week. Enter your email address below:
More...