Discussion Starter
•
#1
•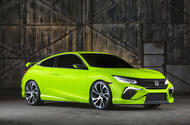 Honda Civic concept​
Honda has revealed a conceptual version of the new Civic at the New York motor showThe tenth-generation
Honda Civic
will take its design cues from a concept which has been unveiled at the New York motor show.
Swindon will remain the home of Civic manufacturing and will build five-door Civic hatchbacks for the US market as well.
The next generation five-door hatch will join the coupe and saloon versions which are already sold in America.
US buyers will also have the chance to buy the next generation
Civic Type-R
.
Philip Crossman, managing director of Honda UK, said: "This significant announcement demonstrates the opportunity available to the Swindon operation and reinforces the quality and reliability of the product coming from our UK facility."
The production version of the next generation Civic isn't expected to arrive until 2017 at the earliest.
Read more New York motor show news
Get the latest car news, reviews and galleries from Autocar direct to your inbox every week. Enter your email address below:
*
More...