Discussion Starter
·
#1
·
Or to put it better, how to
access
the spark plugs on an FN2!
I've found text based guides on the forum which I found very useful, but nothing with pictures.
And for changing the plugs themselves, only picture and video guides for a 7th gen Type R (same engine I know, but they don't seem to have the access issues we do).
So while doing a change on my FN2 I thought I'd try and capture some visuals, match it up with the existing wording and (hopefully!) be of assistance to some other members who want to have a crack at some basic DIY maintenance.
In terms of when to change your spark plugs, the book says around 70-75k miles. I'm at 55k and my car has been very lumpy and juddery of late. That's a story for another thread, but changing the sparks was among the suggestions for getting a smoother ride. And I'm glad I did.
Quotes from Honda are around the £150 mark. Sounds a lot, but actually having done it now myself I can see why they need to charge a fair whack for labour. It is quite fiddly and therefore time consuming to get into the plugs (change itself is quick and easy). All in all, taking my time, allowing for the engine to cool and wrestling with some very stiff / stuck plugs fitted from the factory, it took me two hours. I am a novice and was pretty cautious. I'm sure others could nail this within an hour, perhaps less.

Tools
Ratchet
10mm socket
6inch and 10inch extension bars
16mm spark plug socket
Copper grease
Replacement spark plugs from Tegiwa:
NGK LASER IRIDIUM SPARK PLUGS HONDA K-SERIES F-SERIES
Product SKU : IFR7G-11KS



Getting started
Ideally tackle this with a completely cool engine. You don't need to disconnect the battery (don't laugh, I Googled it! Like I said, DIY newbie).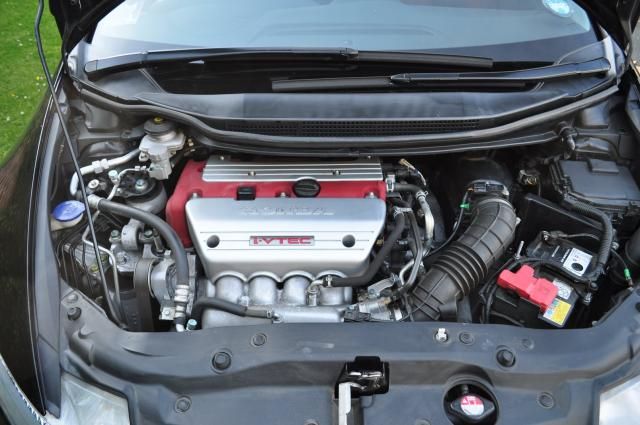 First thing you'll notice on the FN2 is how the coil pack cover is tucked away. No room to work or get a socket in. You need to remove the windscreen cowling and heat shield first. Credit to RevMoneky for a useful explanation given here:
http://www.civinfo.com/forum/engines-transmission/108464-changing-fn2-spark-plugs.html
Scuttle panel
Three plastic trim clips need removing. Gently lift and pop them out with a flat blade screwdriver. There is one in the centre, and two others far left and right.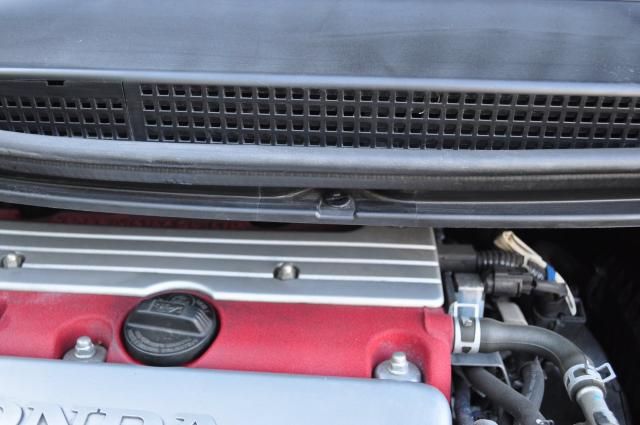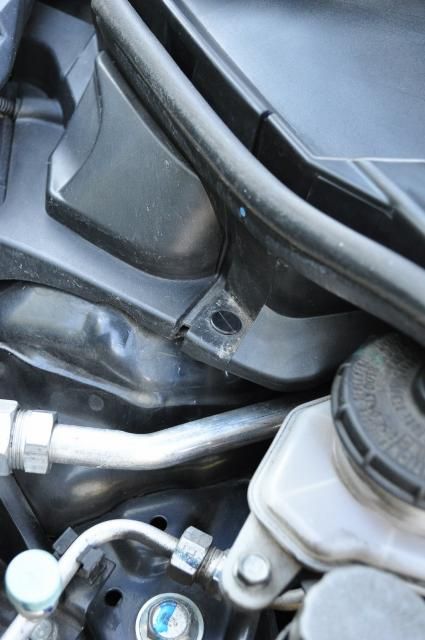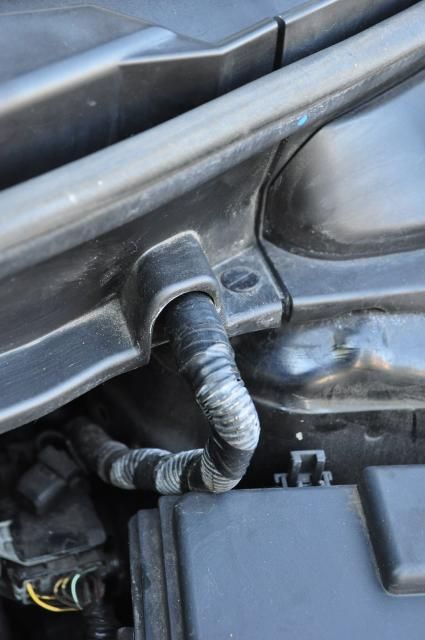 Peel off the rubber bump strip from the scuttle panel.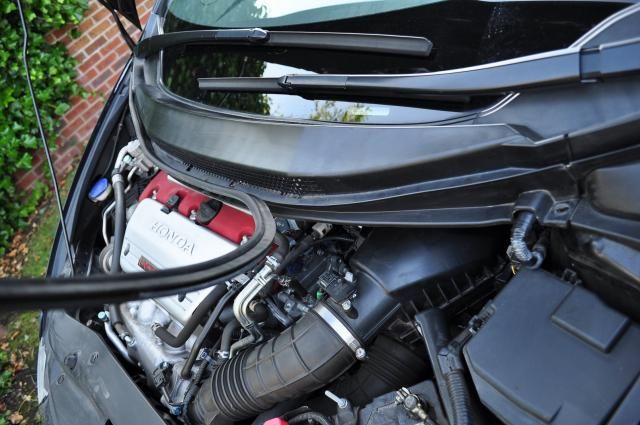 The panel is held in place by a plastic lip which clips under the metal heat plate. Pull the panel down and towards you, and if needed also gently tug it upwards from the sides to free it. But don't remove the panel completely yet.
On the left hand side you'll see a rubber pipe that feeds the windscreen washers. Find the connecting point then twist the sleeve and unsnap the two parts. Once freed, you can remove the scuttle panel completely and move it out of the way.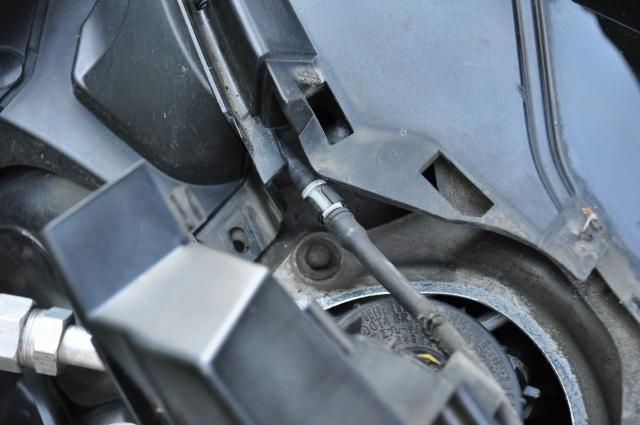 Heat plate
Now exposed, you can see the various bolts that need removing. The centre, far left and far right ones are obvious and easy to remove with a 10mm socket.
More tricky are the ones to the back of the plate. There are three more you need to locate and remove – making six bolts in total. I used both the six and ten inch extension bars to get to these. Just be careful with the nuts once loosened – don't drop them, try and get your hand it to act as a block.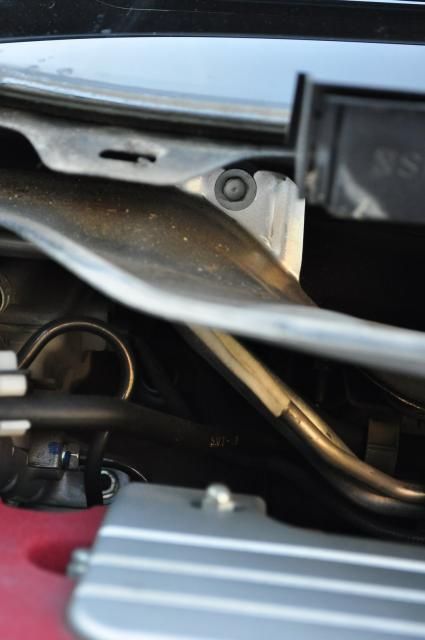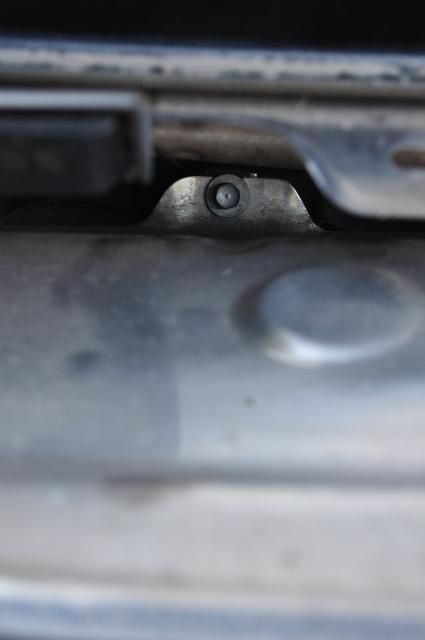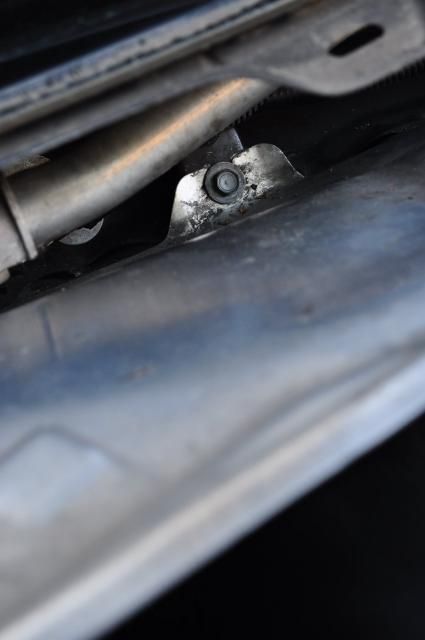 Before you try and remove the plate you'll find a cable on the far right hand side. Gently lift this and you'll see the plate is tucked in to that taped block you can see in the picture. Pull it free.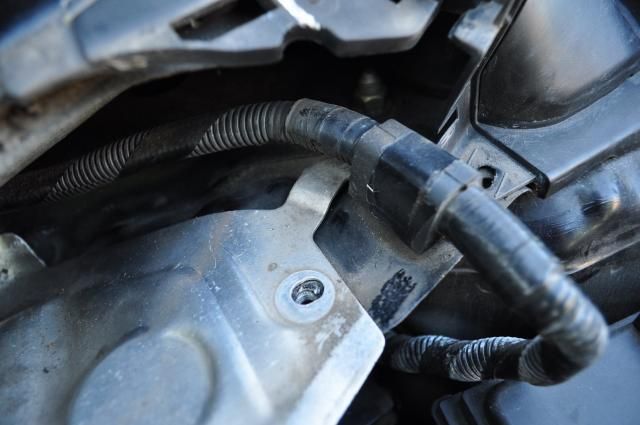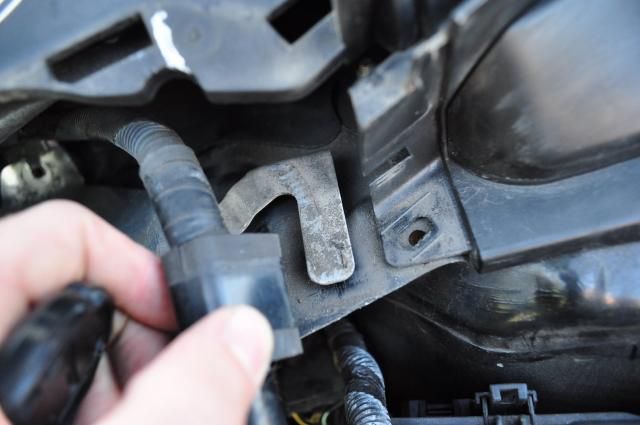 I found the plate a bit stiff to remove (was even checking for hidden bolts!) but in the end it came away OK. Manoeuvre it out and place to one side.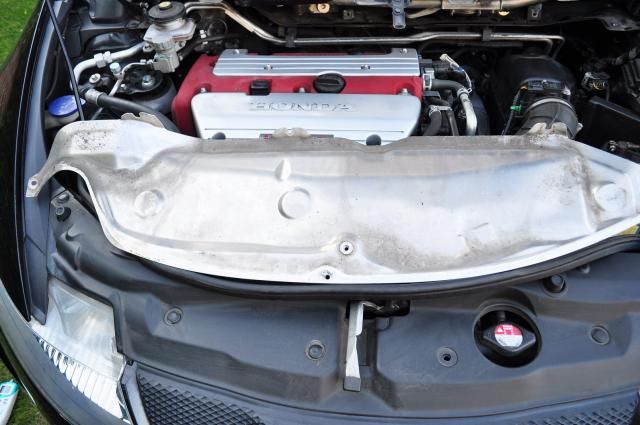 Finally you have some space to work in!



Coil pack cover
First off, two useful links – Type R owners and You Tube
Just done service - my quick How-To
Yes, these aren't for FN2s but similar enough and I found both very helpful.
Back to the job in hand, and you need a 10mm socket to remove two long and two short bolts that hold the cover in place. Lift it away and remove it. Now the coil pack is exposed.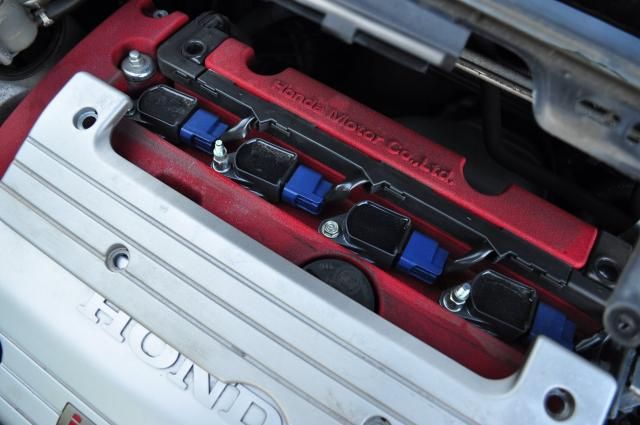 Coils and plugs
Coils one and three are again removed with the 10mm socket. I used a spanner to get two and four out – the bolts are longer as they form part of the cover attachment.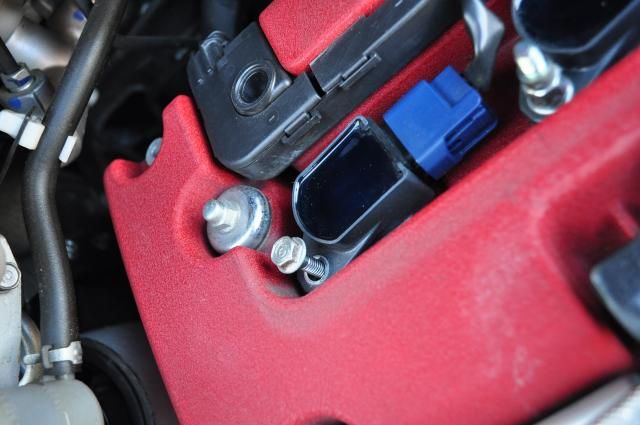 Work through the coil packs and spark plugs one at a time. Lift the coil pack up slightly, squeeze the blue clip and disconnect the coil connector. Take the coil pack out completely and now you can look in and see the top of the spark plug.



Plug removal
I'll admit it, I struggled here! My factory fitted plugs were extremely tight and I had to try all four before one was freed slightly and I knew which direction I should be turning to. Worse than that, I was using a 16mm spark plug socket with a rubber bung and an extension bar. Because of how hard I was having to pull, the bar popped out of the socket and left it in the chamber attached to the spark plug.
Panic!
But I managed to reattach the bar, wriggle it and get the socket out again. Solution? A back-up tool I had seen in Halfords, purchased but kept to one side because it was fairly expensive (£14) – and if not required, I'd take it back. Stupid idea – don't compromise on tools. This socket is excellent, rock solid, heavy duty and a good fit for the FN2. It's also magnetic, so grips the plug much better than the rubber bung.
Halfords | Laser Magnetic Spark Plug Socket 10mm
Here it is in action. I didn't photograph each stage of removal as you can see that on the other thread I linked to or the video. I applied copper grease to each of the new plugs to make removal easier should it be needed. And I didn't over tighten the plugs (unlike Honda!).
Once all four are completed, re-fix the bolts and ensure the connectors have clipped back in.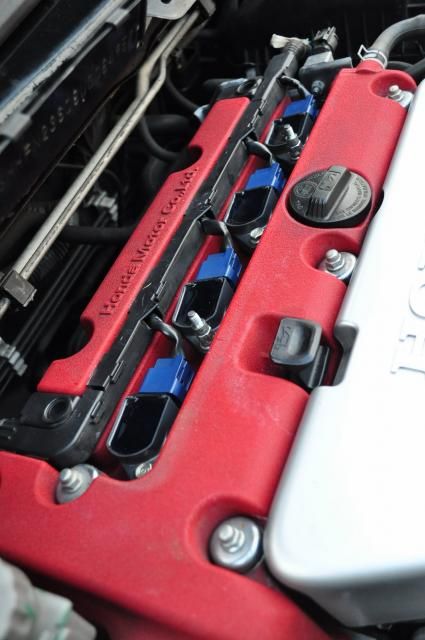 Work your way back!
Basically, follow the above steps in reverse to re-fix the coil pack cover, heat shield and scuttle panel. A word of caution! I sheared one of the smaller bolts when securing the coil pack cover, it snapped as I went to tighten it with my socket wrench. Just take it easy. No drama, the cover is secure with the remaining three bolts. But obviously you want to avoid this if possible.



Fire her up
Once everything is back in place start the car and let it idle. Make sure everything is smooth and there are no misfires. I was pleased with the improvement after a quick test drive. Car felt very sprightly and accelerated cleanly.
Did I change too early? Here are pictures of the removed plugs, pretty dirty and blackened.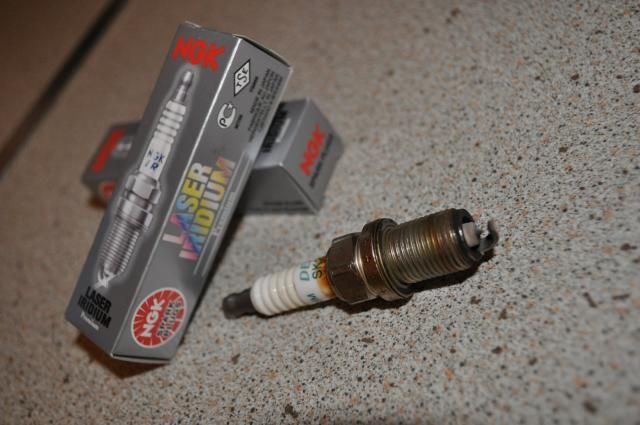 They may have a bit more life in them, but I still think 75k is a long time to wait. Besides, it gave me a chance to experiment with some DIY and save a good chunk of cash versus a trip to a garage.
Good luck everyone and I hope you found this useful
Cheers
Nick