·
*Lisa* Alabaster Princess
Discussion Starter
•
#1
•
Right, so as most of you probably know, I said goodbye to my FN2 of 2 years a couple of weeks ago.
We're looking to move somewhere bigger in the new year, so we needed to release some funds to aid this hence the sale of the car.
I wanted something fun and a little different so went for this 2.0l Sport MX5 (really wanted an s2000 but fuel and insurance would have been worse than the FN2), fondly known as "Joey" due to the number plate, even though my private plate will be back on soon.
Now, I knowwww, this isn't a civic! But even though I've moved on, I've made some great friends through the forum and still think its a great place to be and I'd like to join the other ex-honda owners who continue to contribute to the forum, so I hope this new build thread will be welcome here.
Anyway, I did promise that there would be absolutely NO modifications until after the new year and even then they would not be expensive as the whole reason for selling the civic was to save money not spend it!
However, I went for an MOT on Monday evening and the guy said the car was spot on, apart from a snapped coil spring on the rear
, great...MOT fail!
So this was the PERFECT excuse for the coilovers I have been wanting so badly! So the BC coilovers will be delivered tomorrow ready for fitting at the weekend
. I will get some before and after pics up.
I won't carry on babbling, here is the car:
Got it home
Debadged the rear for a cleaner look
Oil change and bulb change (this meant removing the front bumper and the headlight to get to the bulb! Got pulled over by the police on the day I collected it for having a headlight out grrr!)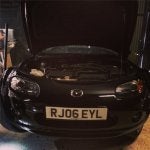 BEST thing about the car is the furnace of a heater and the heated seats. Actually enjoying the colder weather now