Discussion Starter
•
#1
•
OK, so this is a totally unfair comparison, but I might as well make it because I did 4 weeks in the Discovery and it's in the same market, isn't it?
Image
As good a place to start as any - mostly because even though we may not have driven a Disco3 (or even a Range Rover Sport which is mostly the same car), we
know
a few "facts" about this car:
All Disco drivers either own stately homes, or really wish they did.
All Disco drivers should probably be burnt at the stake.
The car does 7 mpg.
The car handles like a blancmange.
The car is a pointless, extravagant waste of time, metal and petrol.
It uses up loads of road and parking space, normally with just one yummy mummy aboard and possibly Tarquin in the rear.
It weighs 10 tonnes and can barely make it to 60 in a week.
It is made in the UK, so must break down a lot.
I too "knew" most of these, but it turns out only one or two are true.
When stationary
Walking round the car it is clearly big and well equipped. A vast boot with a very clever third set of fold down seats, that really are gone when they're gone. The interior is very nicely done with good quality leather seats (electric, with memories, in the front). Each passenger gets an audio control panel for their individual headphone output, and there are loads of good storage spaces all round the car (something Honda have yet to learn about).
The satnav was there, but was a bit pants. No TMC, and a really frustrating interface. And try scrolling around the map with the touch screen! Hilarious, but absolutely no good.
The driving position was great, with huge arm rests (Honda take note again, the CRV is a joke with the door too far to the right for small girls and the unadjustable rest on the left fixed in the wrong position). You get good visibility, augmented by the expected array of cameras and beepers. I could quickly get the seat adjusted to make me feel I was king of the castle, or maybe the captain of a supertanker.
On the move
Firstly fire up the huge petrol V8. It woofles into life with that fantastic grumble, and when you rev it up a bit it sounds like someone blowing noisily between their lips. Fantastic! Pop the ZF auto into Drive, give it a squeeze and that V8 monster surges you forward with an effortless lazy torque that so impressed Carroll Shelby, and indeed Daisy Duke. At constant speed, the engine was silent. No vibes. Nothing. When accelerating, it was just that muted Rover V8 woofle, which turned into a growl at high revs. The car had loads of low-down go, but ultimately, when pushed, was let down by the sheer weight of the car. Under normal driving it would seem that it
could
be quick, but when you gave it a whirl it wasn't. But, for regular Disco driving, it was perfect.
After a little bit of woofling around with your massive V8, single handedly destroying the planet, you may dare to risk a quick peek at the average mpg reading:
Shurely shome mishtake? In fact, on the motorway, I was getting a solid 34 mpg. A miracle maybe, and indeed a lot less planet-destroying than a certain 2 litre hatchback that popped into my mind.
Then you come to fill the thing up, and a numbing moment. The word printed on the fuel flap:
"
Diesel
".
A wander round to the rear will also confirm that you are 2 cylinders short of your expectations too. A V6 diesel auto, that I managed to fool everyone into thinking it was a petrol V8. Great game though!
Then the next revelation, the suspension.
You will notice that when you climb in and switch on, the car moves up or down a bit. With a boot full of camping gear, the self-levelling was obvious. And when you really want to play with the big rotary knob between the seats and decide that because you are on a gravel drive you really ought to select "rock crawl" mode, the suspension rises up a load.
Computer controlled air suspension.
As soon as you travel your first hundred yards, you will realise why people buy this car. It is quite extraordinary. The road has gone, and is replaced by a magic carpet, or air cushion, that clearly only the very wealthy are allowed access to. It is astonishing. The car is silent, the V8* is woofling and the ride is perfect. Ah yes, you think (or at least I did), we have yet to get 2.7 tonnes of car around a corner...
But again, odd things happen. As you go into any corner, you get the beginnings of roll. As you'd expect from a high CofG monster truck on massive wheels suitable for ascending a small mountain. But then the roll stops, and the car remains nearly flat. Computer control! It is brilliant. And while throwing it around, the damping remains perfect, the steering is precise and stable - it's only the large dish of kedgeree on the back seat (ready for the boys as they return from a spot of beagling) that you will have to worry about.
Now get on the motorway to see how far you can get this off-roader from it's natural habitat. And, depressingly and predictably, it's possibly the best motorway car I have driven. Certainly better than any Accord or 3 series, possibly even 5 series. Think more S class or high end Jag. Totally smooth, totally stable, and almost silent. No camber bias even, just perfect. And any bumps, ripples and jiggles are absorbed by that incredible suspension. Oh yes - don't forget to watch the mpg creep up to a totally reasonable 34 mpg.
I got home after my first drive, and just had to have a look underneath. And what did I find... NSX-style double wishbone suspension, all round. Someone, probably Brummie, has done some work we can be proud of here.
I never did any proper off-roading. As mentioned I used rock crawl mode on my gravel drive, and noticed the steering indicator on the dash:
We went camping and got rained on. A lot. At the end of the weekend cars were stuck in the mud. I just selected "mud" and drove round the lot of them, as expected (there were two other Discos pulling people out, so I didn't feel too guilty).
But...
Reliability
So far the car is fantastic. Perfect suspension, brilliant engine, solid build, filled with toys, economical, silent, practical and uses less parking space than a Mondeo saloon.
opcorn:
So what went wrong?
The driver's side electric seat lost one of it's motors.
All the audio panels on the left side of the car failed. The little lad had to move his seat to the right side to continue listening to Dr Seuss.
Every so often the car would "ding" and flash a warning, only for it to disappear.
At the end of the hire, the engine management light came on, with a rather severe warning.
The suspension failed.
Driving along, the air suspension failed, and when it does it drops the car onto the rubber bump stops and it tells you not to go faster than 30. In fact, 20 is about right - we were in hysterical giggles as the car leapt all over the road. I tried stopping, and then a reboot, but no luck. Luckily we were only 5 miles away from home.
To be fair, what happened next was brilliant. We phone the AA number, they put us through to the special Land Rover team, they took our details and 45 minutes later a bloke in another Discovery (laden with parts) turned up and after an hour had replaced the faulty ride height sensor on the front left suspension, and we were away.
But with all those bits not working on a pretty new, 5,000 mile car, I'd not want to own one outside of warranty.
Suspension set at max height:
Suspension failed: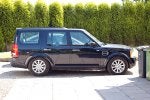 Conclusion
A totally fantastic car, that once sampled will have you wanting one. Now I can see why people buy them, and I understand how serene it is for the families I see passing me on the motorway, loaded up with camping or holiday gear, on their way to somewhere far off.
When it had to go back, I could see the disappointment in Jayne's face. "Can we get one...?"
It is not big, it is more economical (and so less polluting) than many saloons, it is comfortable, it is brilliant on the motorway. Oh yes, you also get a great view.
But everyone will hate you, and they look at you like you are scum. The solution is to just not look down.
But do not ever, for one moment, think of owning one outside of the manufacturers warranty!
Compared to the CR-V
This is the unfair bit.
The CRV ride is good, but not as good as the Disco.
The CRV engine has less grunt and refinement, but gets the car moving better.
The CRV has better toys and equipment.
The CRV is not a real off-roader like the Disco.
The CRV on the motorway pulls to the left (a bit) and is a bit noisier.
The CRV is smaller inside (and out!).
The CRV drives more like a car.
The CRV
has
to be more reliable.
But...
The Disco V6SE I was in was exactly
twice the price
I paid for the CRV EX.
Twice.
Is the Disco better than the CRV? Yes. Twice as good? No way!
I still want one though.