I've been a member of this site now for almost 6 years and don't think during that time I have had a question that hasn't been answered in one way or another. So with that in mind I'm hoping that this thread will be as helpful to others, as other mod threads have been to me.
It all started in the fall of 2007, I began looking for a second hand FN2 after loving the shape of the 8th gen civic, but there wasn't many around and the prices weren't very competitive so in January 2008 I picked up one brand new in NHB.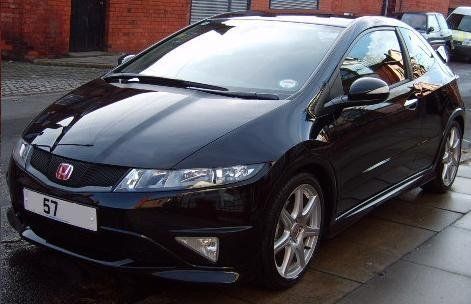 Got a really good deal from a garage over in Hull (that and the fact that Honda Liverpool wouldn't let me test drive a Type R because I was 21 so I took my business elsewhere), usual GT spec.
For the first couple of years not a lot happened with the car, had no intentions of doing any mods. Got some mats and some fog light protectors and that was it. Car was mostly used to travel backwards and forwards to
Manchester
and
Wales
to visit girlfriend in her various uni posts.
Heard about TDI north through here and took it to them to get it serviced every year as there was no way I was going near Honda Liverpool unless I had to. Turned out that TDI were reasonably priced and knew their stuff so was more than happy to take it to "enthusiasts" to look after my car.
Anyway after four years of owning it I started looking at other cars, still loved the FN2 but just fancied a change. Looked at all kinds of different cars for 6 months or more and couldn't find anything (within my budget) that put a smile on my face the way the FN2 does. So I decided that maybe I could keep the car for longer and as it hardly gets used during the week, because I have a work van, it would be a waste of money changing it. I then started thinking about tracking it as I'd never really taken the car to its limits.
So last summer I booked a 20 minute taster session at
Oulton
Park
. Totally loved it, quickly realised that the OEM brakes were useless on track, as soon as they got any heat in them they faded massively. Was pleasantly surprised at how well the car handled on track overall though.
After deciding that I was going to keep the car and make it into a track toy, I thought my first mod would be to make it sound a bit sportier. Didn't want anything too loud, as the car would still be used for trips to
Wales
with the Mrs, so anything too loud and droney would not go down well. After a bit of research and seeing a for sale thread on here I bought and fitted a HKS cat back.
Noise on start-up is slightly louder but under normal driving pretty much resembles stock. Give it a good boot with right foot though and push it through vtec and it gives a much better sound.
Next mod I had planned was to sort out the brakes ready for some full track days in 2013. I noticed that Staffs Deltic was organising a track day at Oulton Park and was really up for it so this made me pull my finger out and make sure I got my brakes sorted. Looked into a few options such as Ksport BBK, Stoptech BBK, Stoptech touring kit and Spoon. Instantly decided against the touring kit as I knew with the direction I was taking I might regret not having the larger kit to handle the heat of heavy track braking. Ultimately decided on the Stoptech BBK as the Ksport's had a massive wait and the fact that the Stoptech used a pad fitment that was readily available. One phone call to TDI later Stoptech BBK was ordered along with a set of ferrodo ds2500's. At the same time I ordered a set of do luck 6 line braided lines from sumo power.
Now that I was going to be doing regular track days I thought it was best I looked into getting a baffled sump to prevent oil starvation when on track. After looking up the options I bought the Tegiwa baffled sump kit that needed welding into place. I also managed to pick up a new ish sump bargain price of £50 on eBay which had been removed from a race prepped FN2. Mine had taken some damage whilst on a recent holiday in
Wales
after hitting a rock in the middle of the road so was the ideal time to get it replaced.
Couple of weeks later all parts arrived and got booked into TDI to get them fitted.
Before
After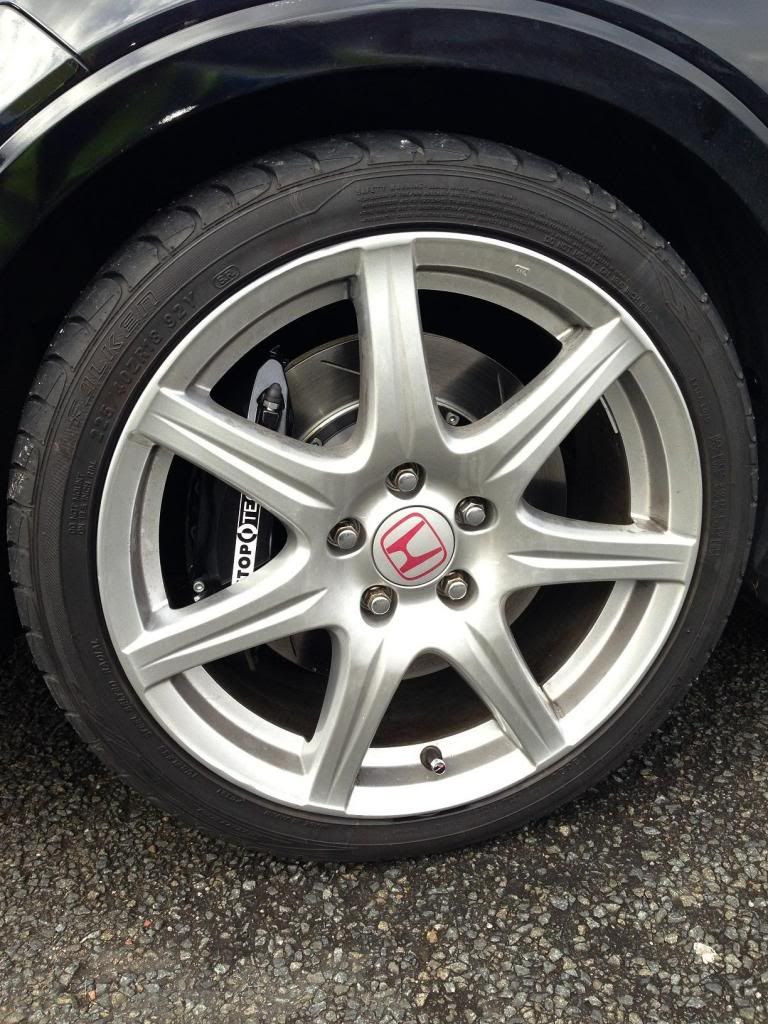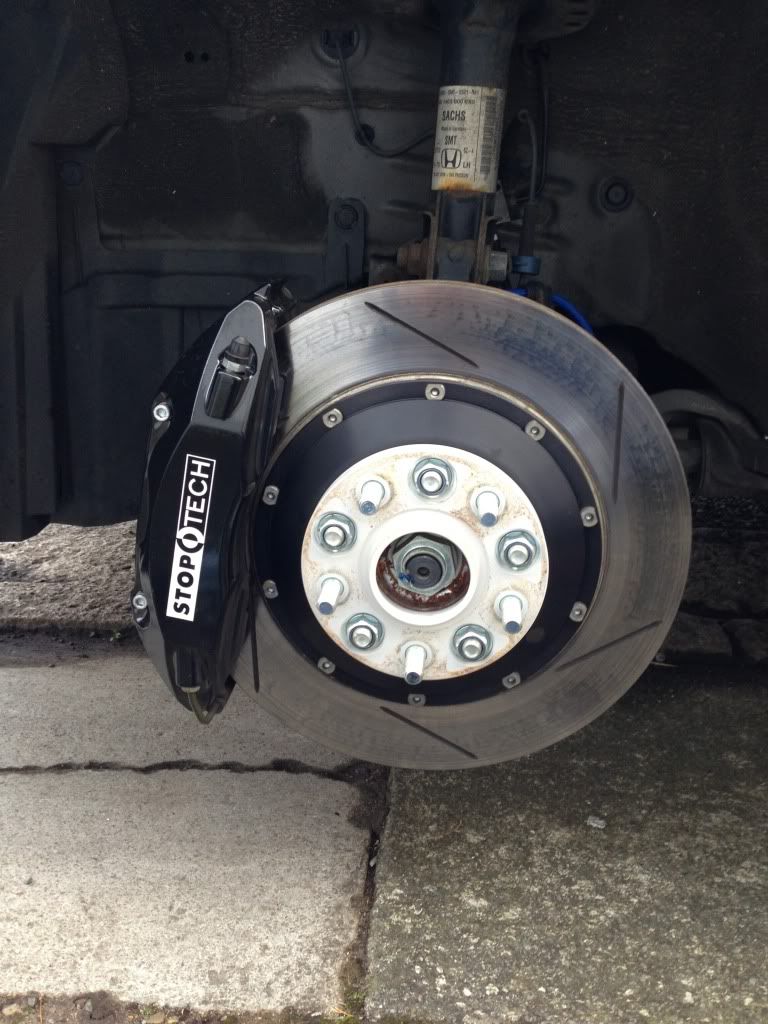 Few pics from
Oulton
Park
.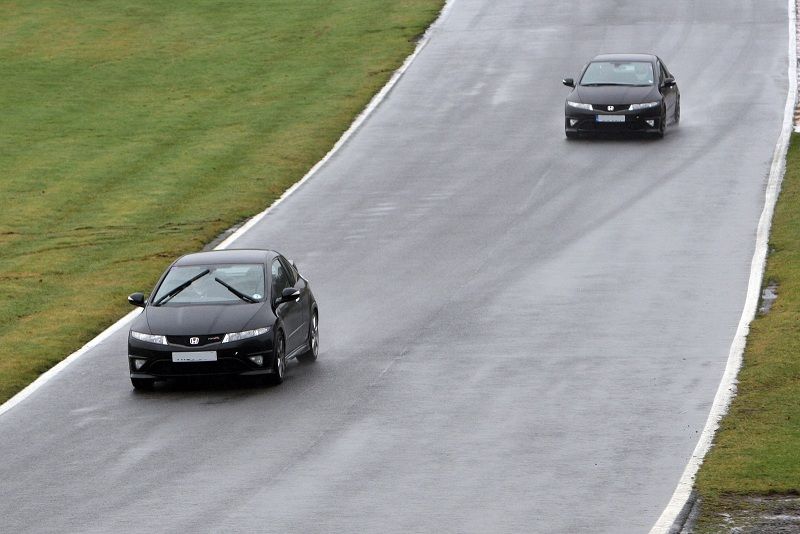 Had a brilliant day despite the rain, slowly got to grips with the track and the amount of grip available and felt my laps getting more consistent and quicker. Was very impressed by the Stoptech's although I don't believe I managed to use them to their full potential due to the wet track. By the end of the day I realised the car was quite unsettled during heavy braking and cornering. The amount of body roll and under steer was pretty poor. There was a fair few FN2's on track that day and all the ones that had either coilovers or eibach springs seemed much more settled and able to get the power down better, leaving me for dust.
This led me to wonder about my next mod, LSD to combat some of the under steer coming out of the corners or coilovers to help with all round handling. After some thought and research it was clear that I would see more benefits from coilovers than an LSD for the time being.
In the days following
Oulton
Park
I gave the car a check over, all was fine apart from the rear pads were running low, something I suspected anyway so Stoptech grooved discs and ferrodo ds2500 pads to match the front were ordered from Tegiwa and fitted.
Before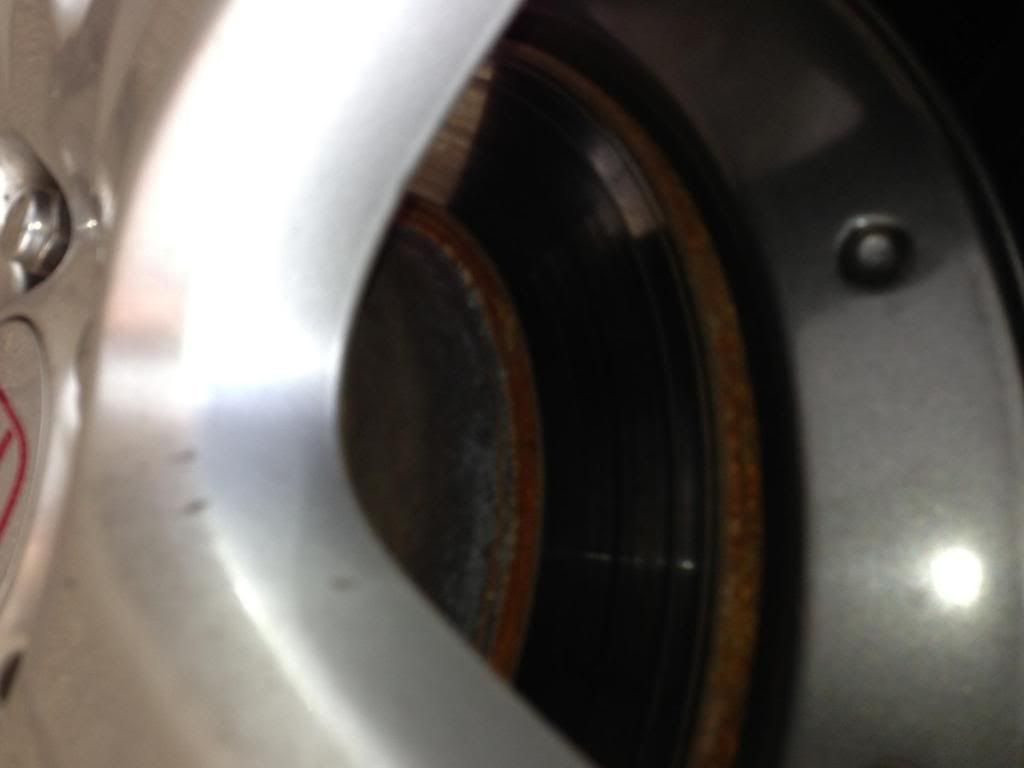 After
After reading some reviews on comfort and performance of MeisterR's and the fact they are so reasonably priced, my order was placed.
Ride quality was a big factor for me because it was no good having the performance on track if on the road it was unbearable.
Ill
go into this more later on.
My plan was to have the coilovers fitted and some dedicated track wheels for my next track day, Anglesey circuit on June 23rd.
I really liked the multi spoke design of team dynamics pro race 1.2's but hated the way it was embossed around the edge of the rim. Didn't really want to spend a lot of money on rims but was also worried about the quality I would get by buying cheap. Looked around for second hand black rims that were around 8kg, which cleared the Stoptechs without the need for spacers. In the end I found these.
Judd 17x7.5 et42 8KG. Few phone calls later to a helpful guy called Julian at Turriff tyres to confirm weight, fitment and more importantly calliper clearance. Order placed along with some Syron Street Race tyres from tyre traders.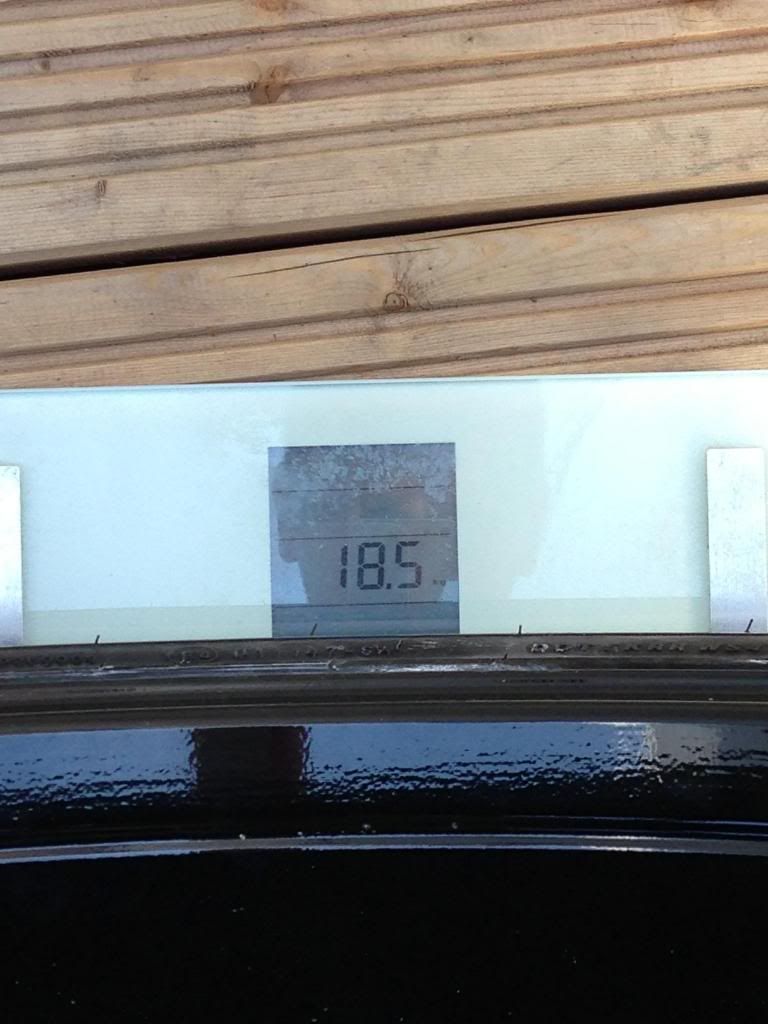 Just over 4kg per wheel lighter than OEM setup
Few pics of them fitted.
Before
After
Silver lugs sent with the rims were soon to replaced with black.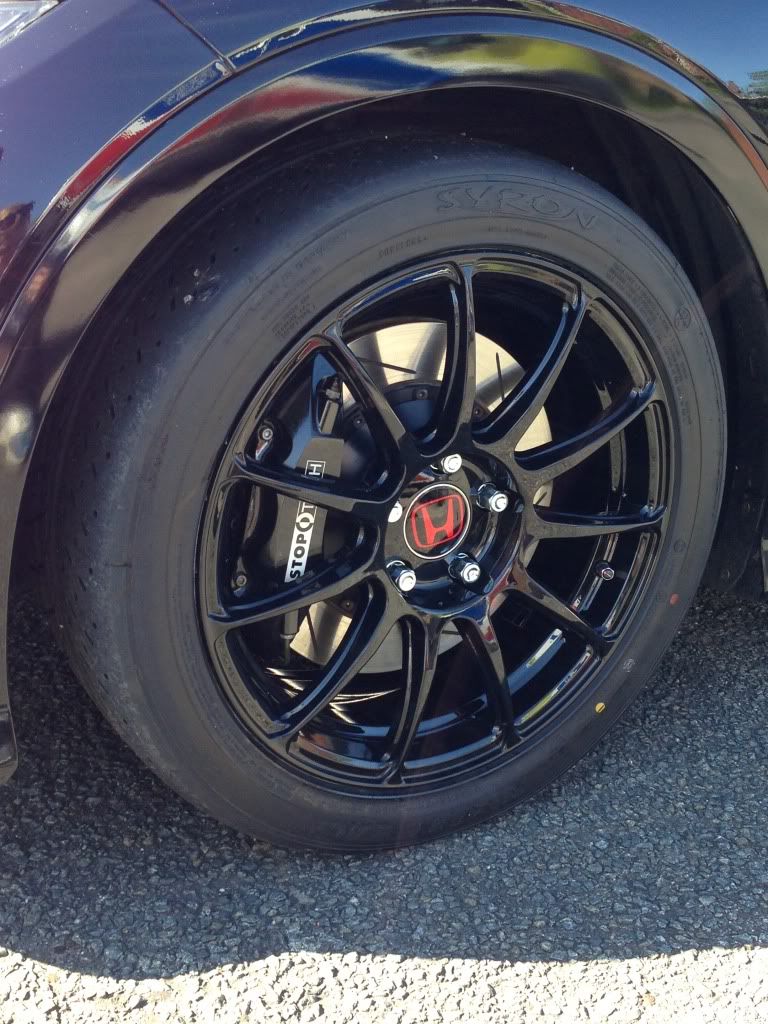 Calliper clearance
I went with the Syron's after reading some good reviews on them. I knew they weren't everyone's cup of tea but I find tyres are quite subjective and different tyres suit different driving styles. For the price I thought I would take a pop at them as their main use would be for track/summer use, if they got destroyed it wouldn't matter too much.
After giving them a couple of hundred miles to bed in, I started giving them a bit of stick. Having never driven this style of tyre before I wasn't sure what to expect.
Tyre
noise was much louder than the falken's I had been running, but wasn't bothered about that. Now I am not somebody that floors it out of junctions or from lights, I always try to pull away smoothly rather than looking like a knob. With the falkens I would get the odd bit of tyre squeal when pulling out of a junction quickly into traffic, and the ABS would kick in quite easily under heavy braking.
Not a hint of any of that with the Syron's. I found myself driving like a bit of an idiot (which I have now put an end to) for a while just because I couldn't believe the grip I had available. No tyre squeal and had to try very very hard for to make ABS kick in... Mighty impressed.
So that was my plan. Rims, tyres and coilovers………. until Loxy decided to sell up and put his gearbox with LSD up for sale. Was such a good deal and didn't want to miss out on what was a half price Wavetrac. Offer was made and accepted, then a couple of weeks later it was off to Grinspeed for the gearbox swap. Whilst I was there an offer was made for his clockwise lightened flywheel and polybush engine mount inserts.
The drive home from Grinspeed felt very different to the drive there. Lots of vibration from the engine mounts, engine felt very rev happy with the new flywheel and would drop revs quite quickly, almost stalling at a couple of junctions. Soon got used to this and headed home in search of some familiar roundabouts to test out the LSD. For a while it felt very strange and took a bit of playing around to get used to, enter roundabout, squeeze the throttle and feel the car being pulled in rather than slide out. Very strange feeling.
Whist at Grinspeed a conversation took place about the possible fitting of the MeisterR's, FRSU etc. It turned out that a bump I had in the snow and ice about 4 years ago would pose a bit of a problem when it came to setting up the car. At the time of the bump I bent the rear torsion beam, enough to knock out the steering. At the time I took it to TDI who fitted eibach shims so that the rear wheels were aligned correctly making the steering wheel centred when driving in a straight line. Just to be clear I'm not knocking what TDI did here, this is exactly what I asked of them at the time as a cheap fix alternative to replacing the expensive rear beam (not many FN2s breaking back then).
So after the discussion at Grinspeed I set to obtaining a second hand rear beam
Couple of weeks later it was back to Grinspeed with a replacement torsion beam and some extra goodies...
Full polybush kit, rigid collar kit and MeisterR's (spring rate 5 front 6 rear)
Initial coilover settings were, from hardest 24f 26r. First drive was so smooth, really surprised at the level of comfort and the level of steering response. After a couple of days of playing around I found them a bit too soft so upped the dampers to 20f 22r. Car drove really well putting a big smile on my face.
Couple of weeks later I was off to
Anglesey
circuit with Jay (FN2CUB) and a chance to test out the new mods.
Few pics from the day.
Initially set the coilovers to 10f 14r from hardest. This gave me chance to learn the circuit and after a while realised I could go with harder settings so I cranked them up to 6f 10r...... But then the rain came and I found it too slippery so put them back down.
Overall was really impressed with the changes made to the car. The Syron tyres were super sticky and incredibly grippy (if not a bit quick wearing). The car felt planted at all times and handled brilliantly. The LSD took a bit of time to get used to as I had to alter my driving style a fair bit to get the best out of it.
Also a quick comment on the brakes. SUBLIME is the only word for them, no fade at all and extreme stopping power whilst getting as much punishment as I could give them.
The only issue I had on the day was a bit of rubbing on the arches under hard cornering but it was only minor and I might just need to alter the ride height slightly…. Maybe whiteline ARB in the future, but for now I'm happy.
In summary I am extremely happy with the mods I've spent my money on. The car is much nicer to drive and easier to drive quickly. The steering response and feel has improved massively, the car is far more composed at high speed and has much less body lean.
And that's it for now, for the time being haven't got any more mods planned yet apart from sorting out some seat harnesses, as I just want to take the car on track as much as I can and learn more about how the car handles, improve my driving and having as much fun as I can in the process.
Don't want to go near any power mods (yet) as I am satisfied that it would be wasted with my skill level on track and it wouldn't encourage me to learn how to drive quickly on track.
Just like to finish with a big thanks to all the lads at TDI and Stevie and Granddad at Grinspeed for all their help creating the car that it is today.
Thanks for reading, sorry it was a ridiculously long post.