Right guys I thought it was about time I put together a build thread. I've been driving now for thirteen years and in that space I've owned 31 cars as I general like to change my car often, but in the time I've owned the Type R I've love every moment and can see me keeping this for quite a few years to come as it is a proper drivers car that involves you and not forgetting the VTEC noise that always puts a smile on my face
J
In August 2011 I was getting bored of my car (Seat Leon Cupra TDI) it was very fast for a diesel but made you very lazy as you didn't need to use the gears due to the amount of torque it produced (340lb to be exact) and I drove past my local Honda dealer and saw what could only be described as a gorgeous Championship White Type R. I had to go look at it as you don't see many on the roads which appealed to me as I generally like to be different. After the first test drive I must say I was disappointed with the performance, but the next day I went back to test drive it again and drove it how it was designed in vtec and I had a massive smile on my face so when I got back to the showroom agreed a price for mine and the work I wanted doing on the Type R. Two weeks later once the jobs were finished and my plates were swapped over I went pick the car up and all I can say the drive home was far more enjoyable than the drive there.
The next day it went down bank as the car wouldn't start (flat battery) after calling the AA out they said the car needed going back due to having a bad drain on the battery, this was later fixed by Honda turning out to just need a software update on the ECU, after that I signed up on this forum and looked for other faults that were common to the civic and type r and checked my car for them, low and be hold mine had them as well (squeaky clutch pedal, squawk on the clutch in 1st gear, squeaky rear suspension, rust on top of doors etc) car went back in to have the jobs done under either warranty or recalls and do to the issues I had and complaining I got an extra 12 months warranty, 12 months AA cover, my third year service free, set of genuine type r mats free and a fuel tank of fuel.
Since then (touch wood) the car has been great and regained my love for the car after the initial issues I had. Here are a few pics of when I first got the car:-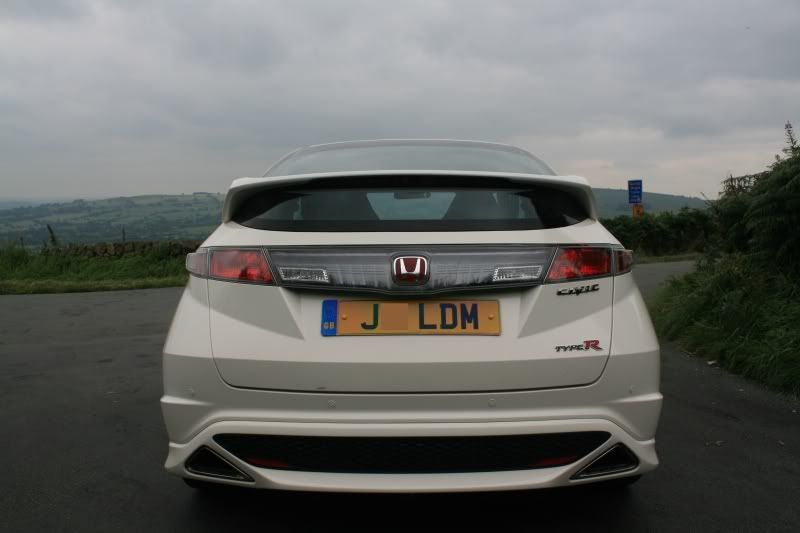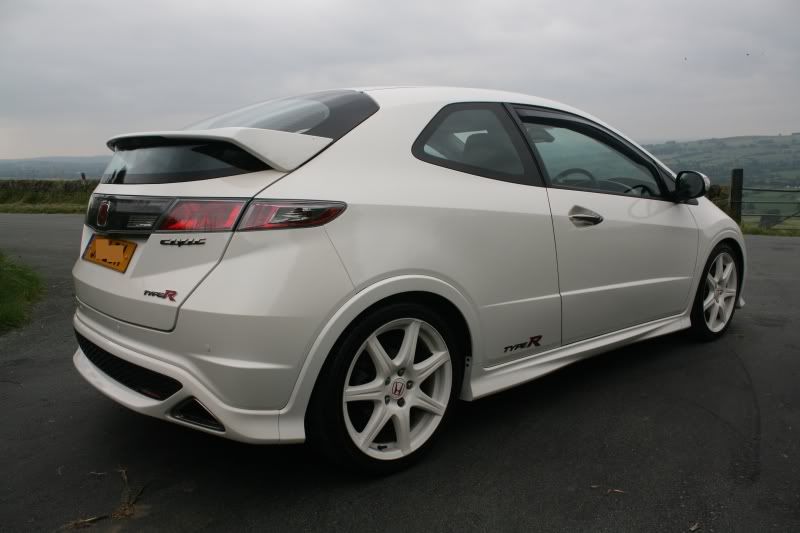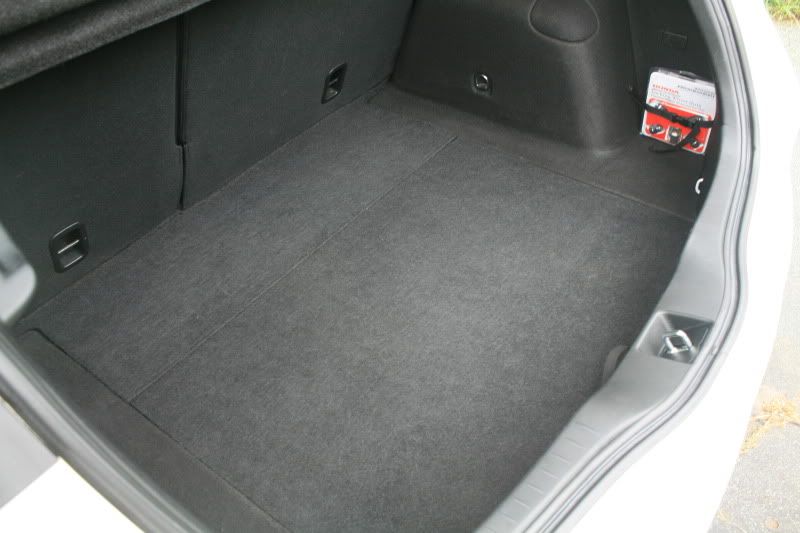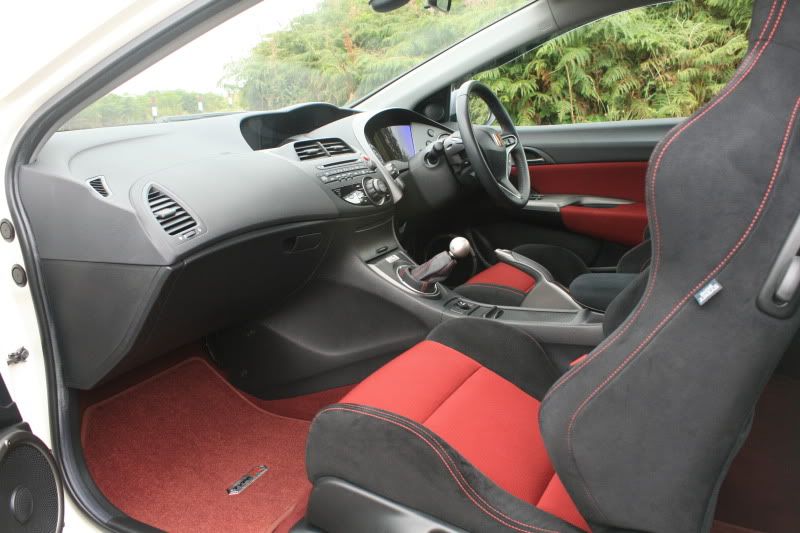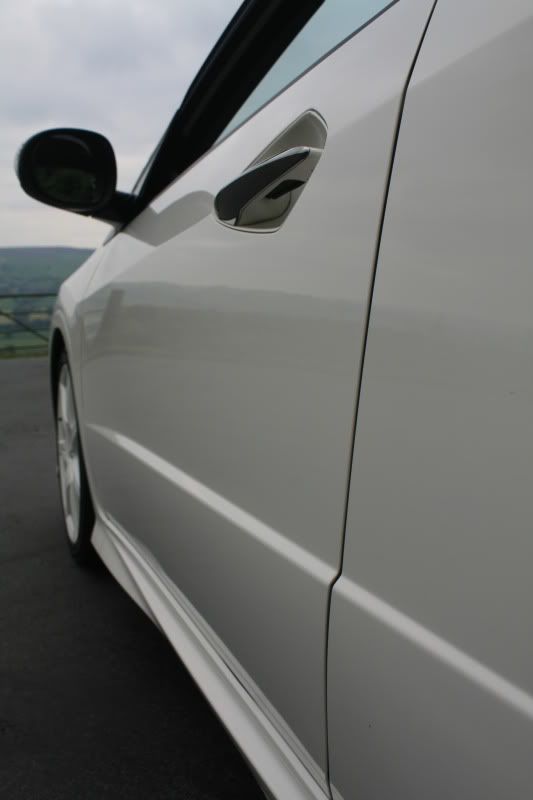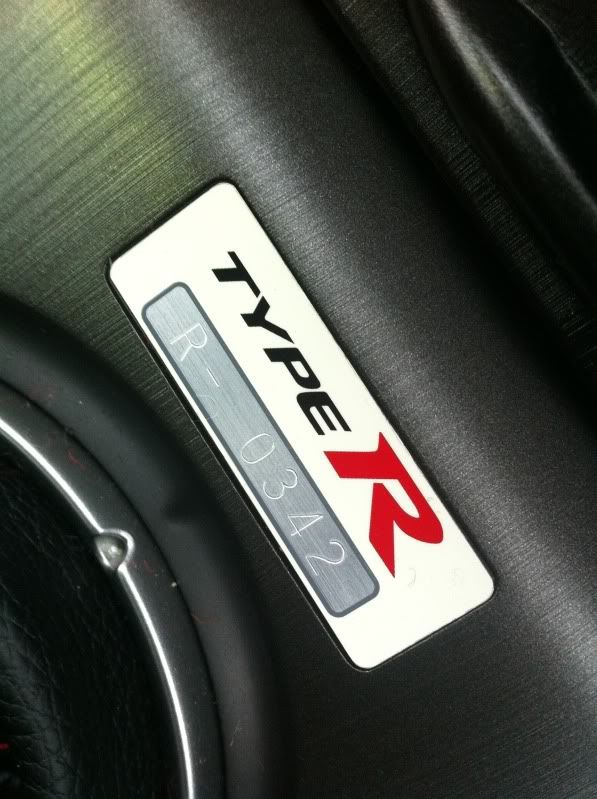 My intentions were to keep the car standard, but all I can say this forum soon changed my mind and the modifying started lol
First up was a bit of bling for the engine bay, so I brought a Mugen oil cap, radiator car and socks:-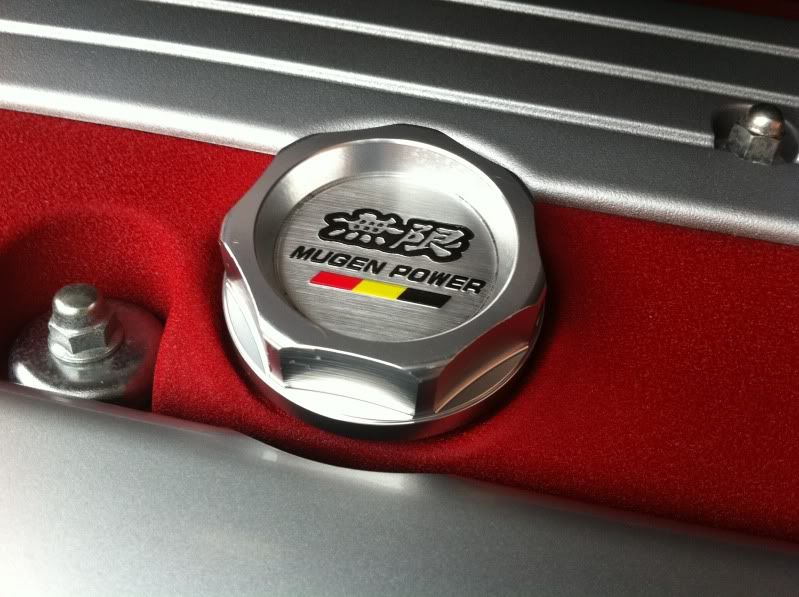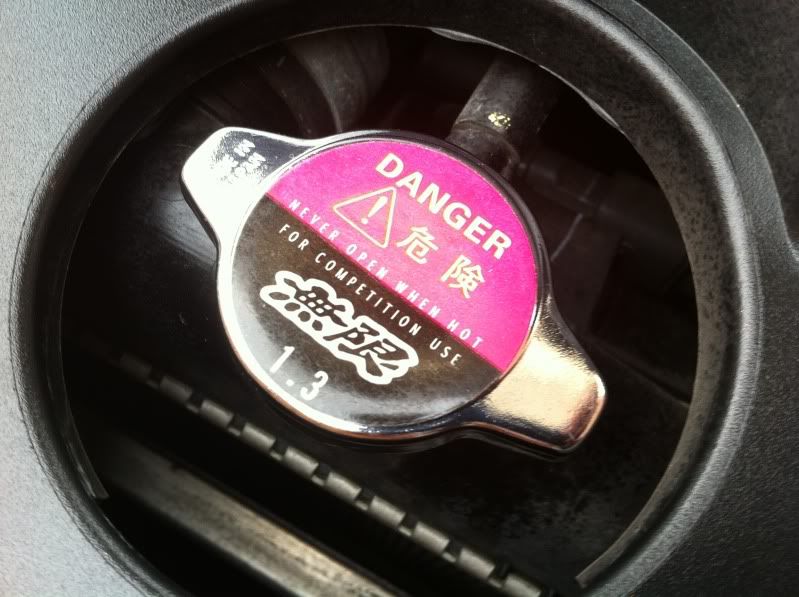 Next up due to how good the site is, the people on here, the advice and helps you get, thought I'd return the favour and become a supporter and purchased two civinfo badges. When they come I only ended up fitting one:-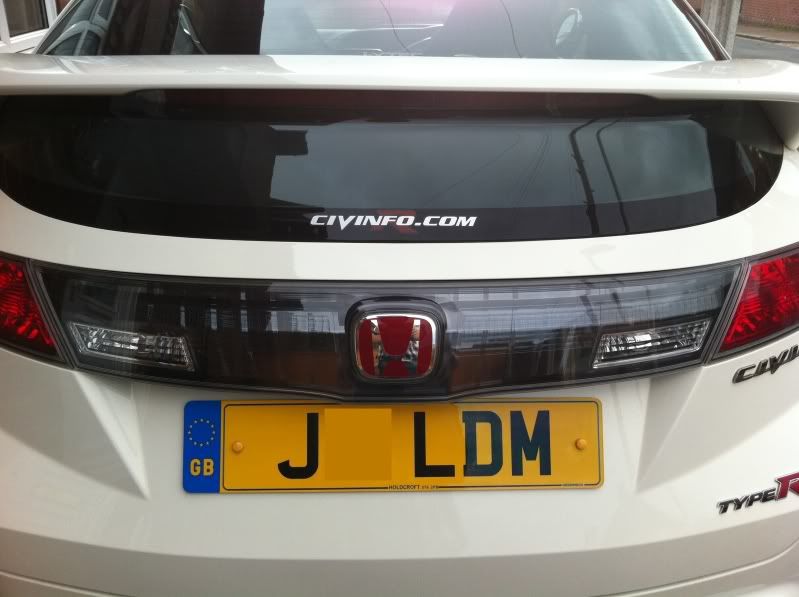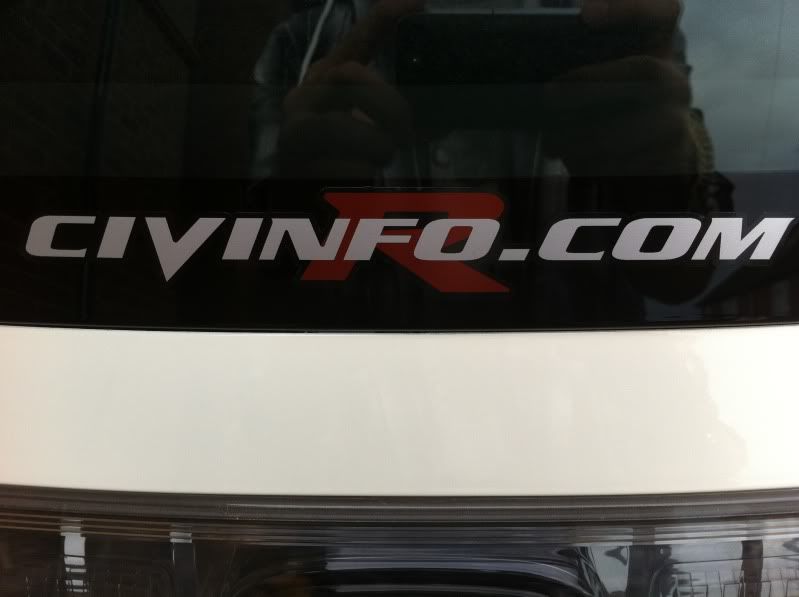 Next up I thought I'd make a change inside, going off peoples feedback about the skunk2 and the leather gaiter off ebay that was my next purchase as my gear knob had a few general wear and tear marks and due to wanting the car to be immaculate I had purchase:-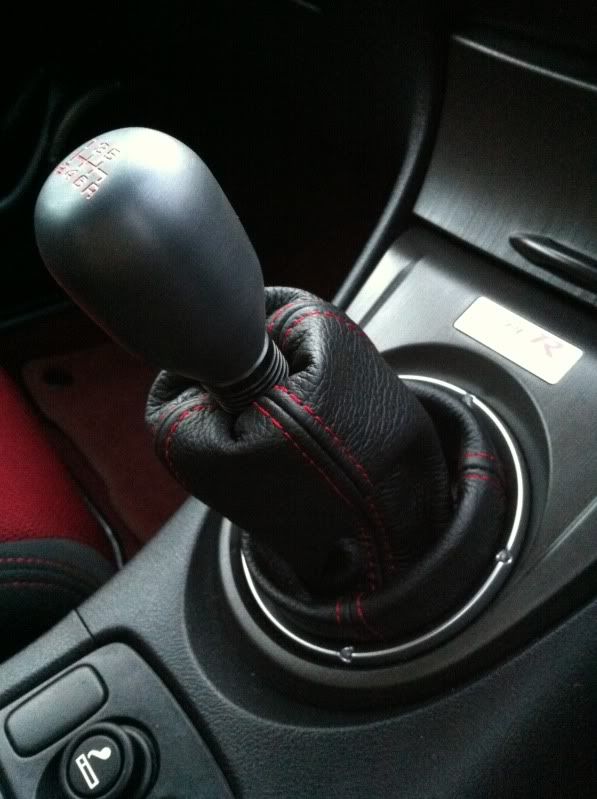 When I went for the first drive after fitting I really did think I had a new gearbox fitted as the gear change was a lot smoother than before, which I can only put down to the extra weight of the gear knob.
I knew I wanted to fit a different intake and the one I set my mind on was the Gruppe M as it just looks great as well as good performance gains, no flat spots or heat soak, but wasn't willing to buy new so kept an eye on the forum and ebay. In the meantime I fitted a K&N panel filter to help the car breathe a little better.
Next up was a tow hook for the rear as at some point I would like to do a few track days and didn't want to risk my bumpers being damaged plus it also helps if my rear parking sensors lie to me haha got this off the forum:-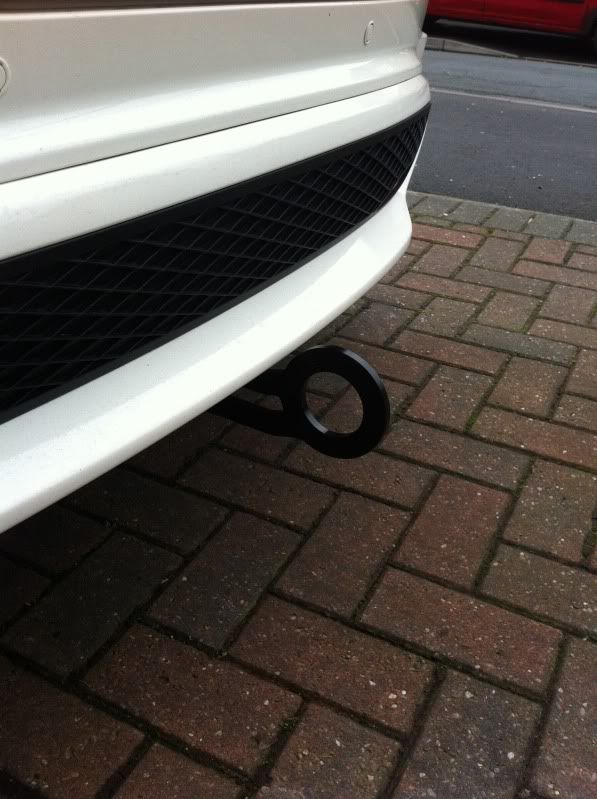 Next up I was getting tired of the rock hard, crashy ride of the type r and after doing my research on the forum decided springs were the next item along with FRS. Initially I was going to go for the eibach springs after Paul (staffs Deltic) let me drive his, but then I read great reviews on the Tein springs and they had the benefit of lowering 15mm front 20mm rear to make car sit better. After calling around I managed to get myself a brand new set delivered for £127.20 from Demon Tweeks. Three weeks later once they arrived from Japan I got myself up to Grinspeed to get them fitted and FRS. Stevie really knows what he's doing and explains it all to you and even told me how my car handled just by the current setting which he was spot on. I took it for the test drive and it was like a different car gave me loads more confidence to push it on bends and roundabouts.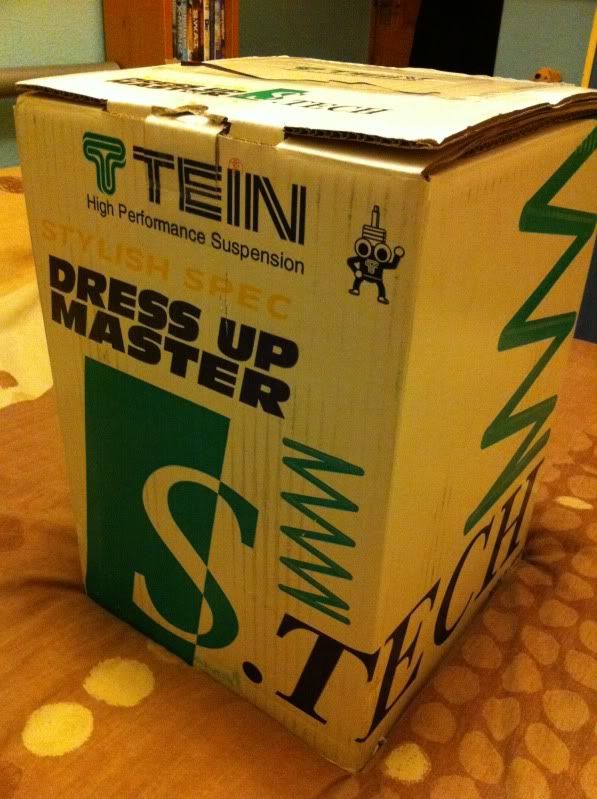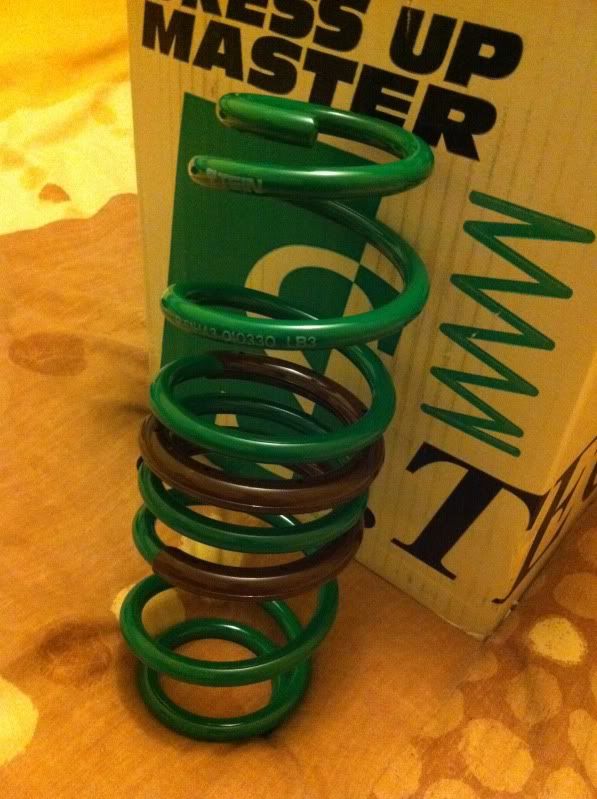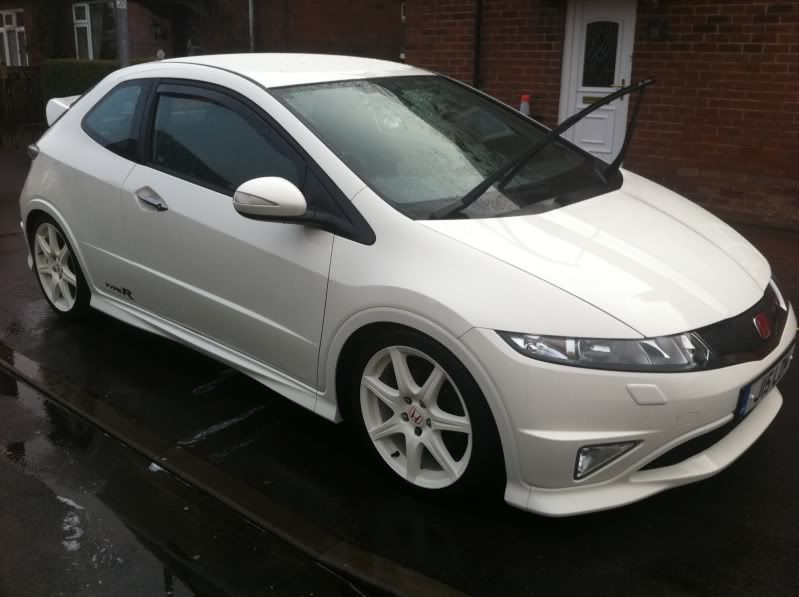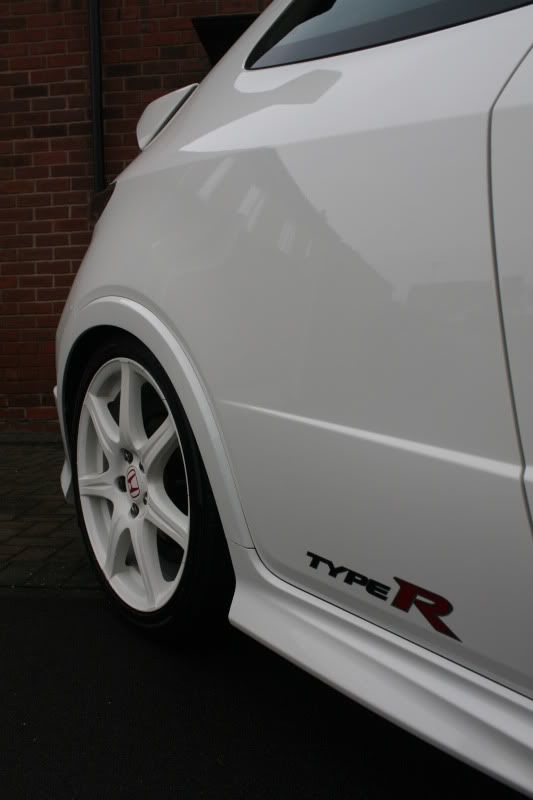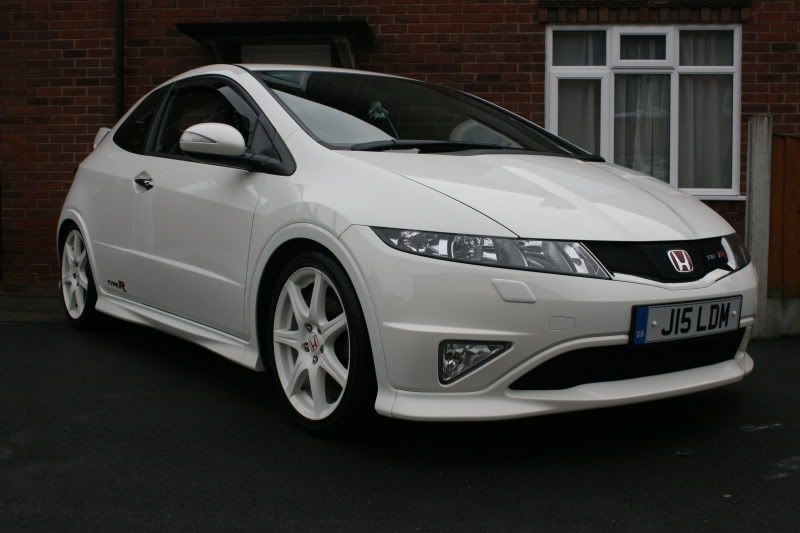 Next up I wanted a stainless steel exhaust to improve performance and the sound. I didn't want anything too loud as there is nothing worse sitting on the motorway with a drone from the exhaust. Ideally I would have gone for the HKS, but was unable to get hold of one at a decent price. One day searching on ebay i come across a non res milltek exhaust which was only 6 months old, I agreed a deal outside of ebay and picked it up. I spent a few hours cleaning it up before fitting:-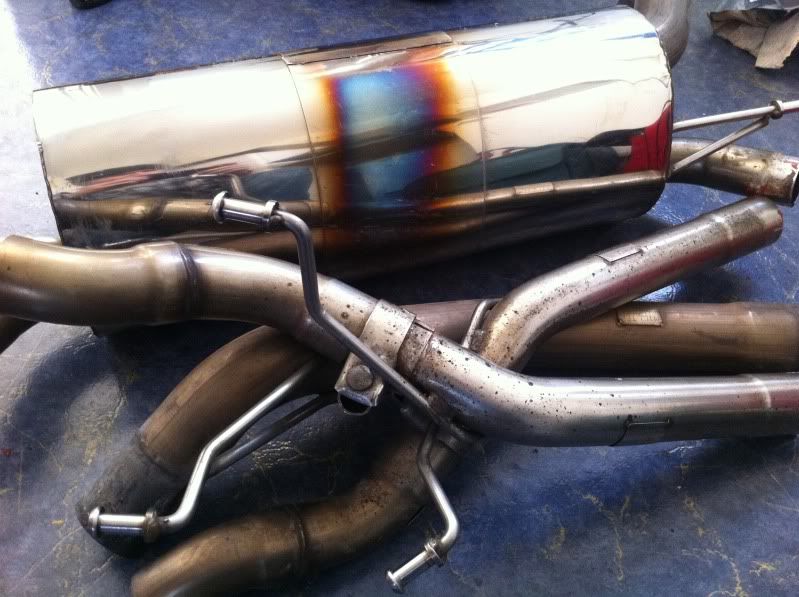 I was over the moon with the sound it's quite when I need it but open it up and vtec it sounds great
J
After months of waiting my luck changed and managed to pick myself a Gruppe M up off ebay that was like new, local to me so again agreed a sell outside ebay and went pick it up. Before fitting I knew I wanted a bit more colour in the engine bay so I got on the phone to Demon Tweeks and ordered myself Red samco hoses for the intake and breather pipes. Once they come I set about fitting it all, which I must say was an easy job and looked great. I then disconnected the battery to reset the ecu for the new intake and went for a drive. People have said the Gruppe M isn't very loud, but I found that it gives a great noise and actually drowned out the exhaust. The car defiantly pulls a lot harder than before, but to get most out of it I know I need the flash pro which will be at some point in the future.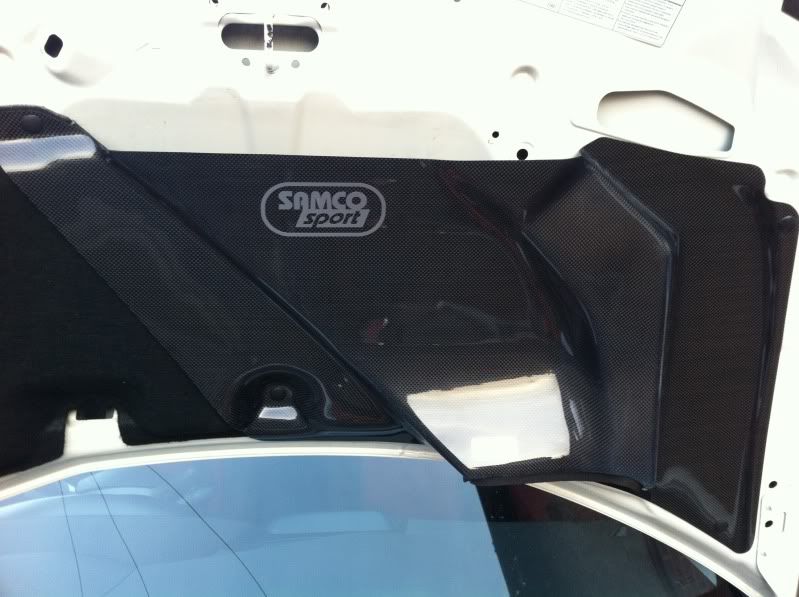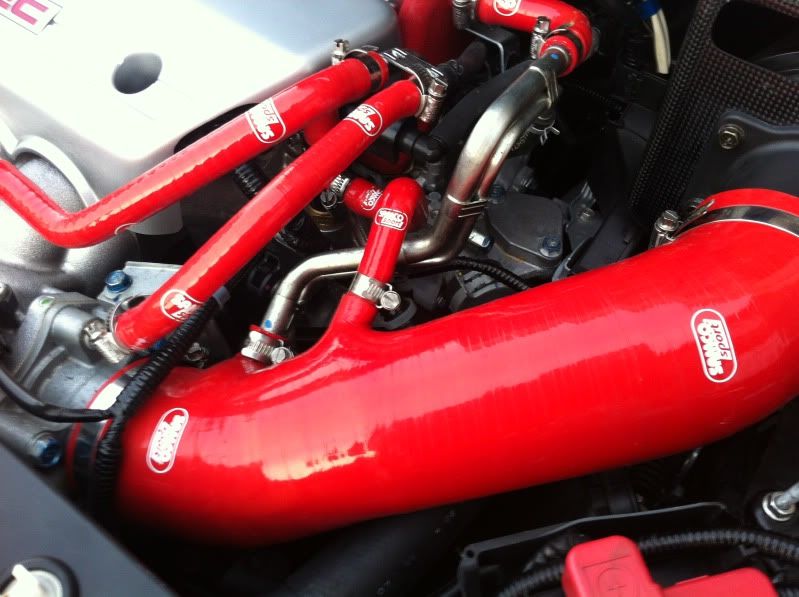 Next I wanted to change the styling on the car and have always loved the gp kit especially on the white type r, so after a few phone calls to the Honda dealer I brought the car from I managed to get them to supply and fit me the kit at not much more money than the cox group buy.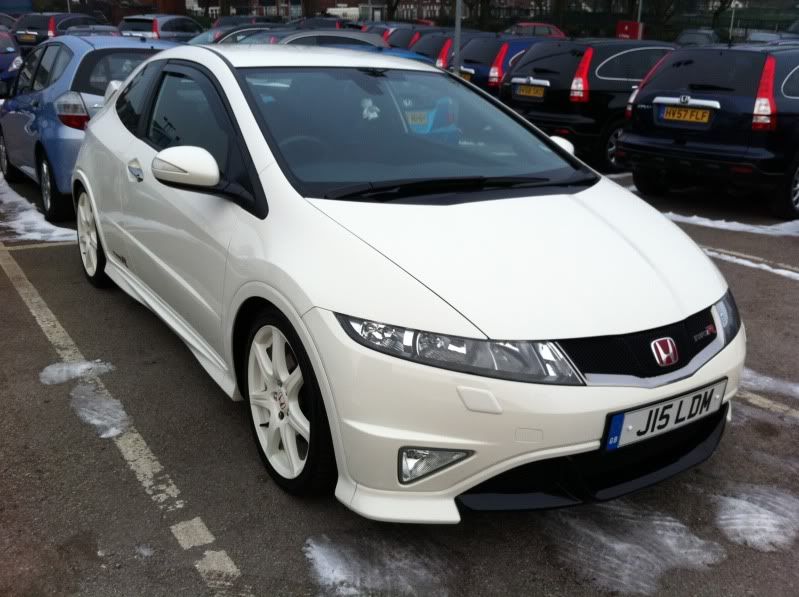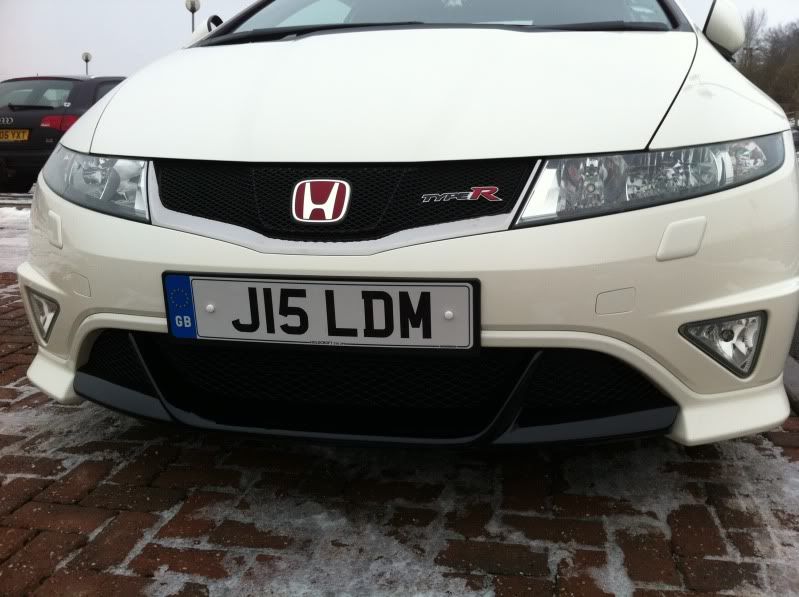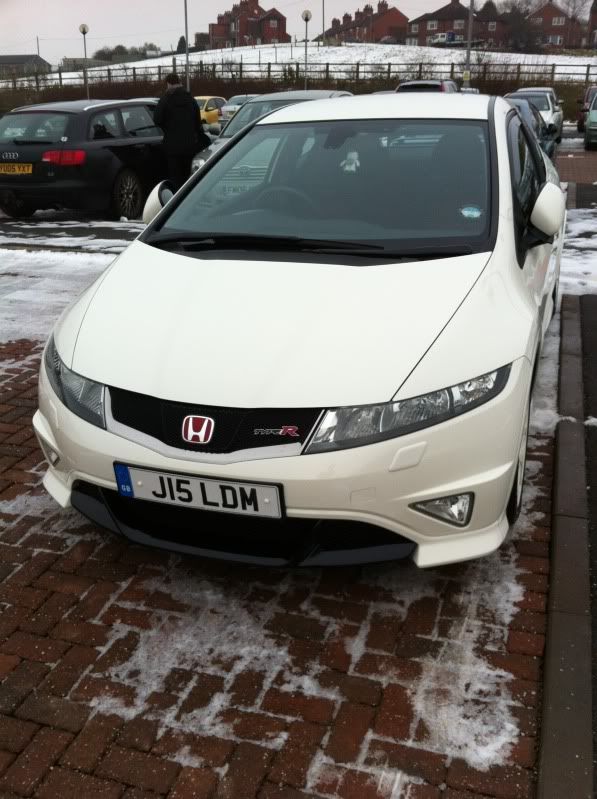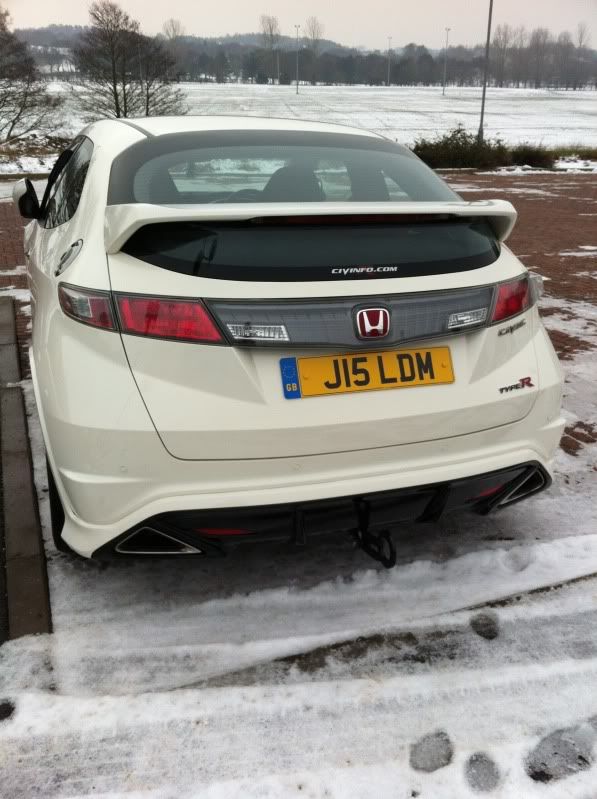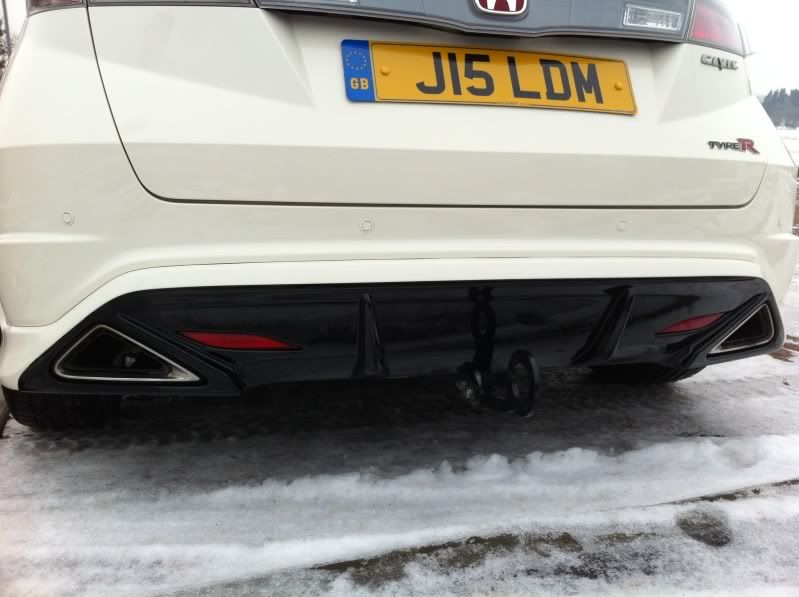 Next up was changing the rear indicator bulbs from the orange to chrome to improve the look of the rear:-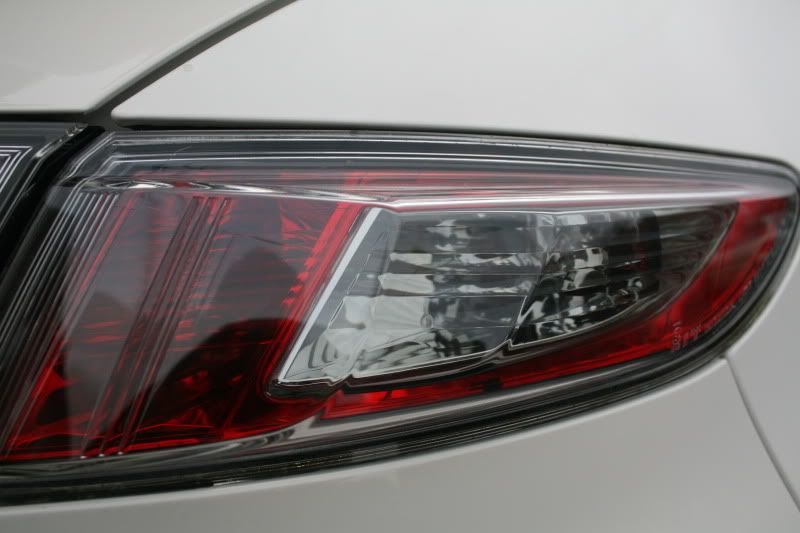 Next up was the rally style mud guards as I thought they looked great and most importantly I wanted them to try and cut down the amount of dirt on the car, which hasn't happened but that's a price you have to pay having a white car lol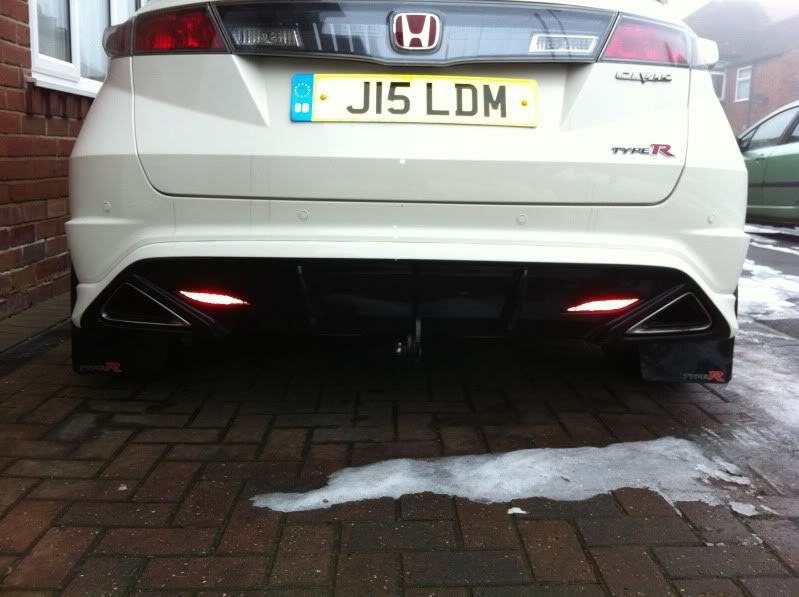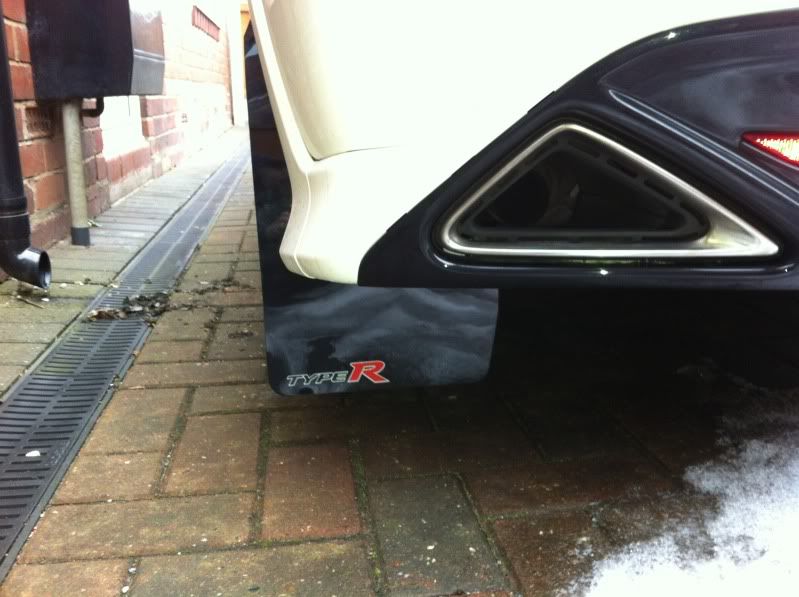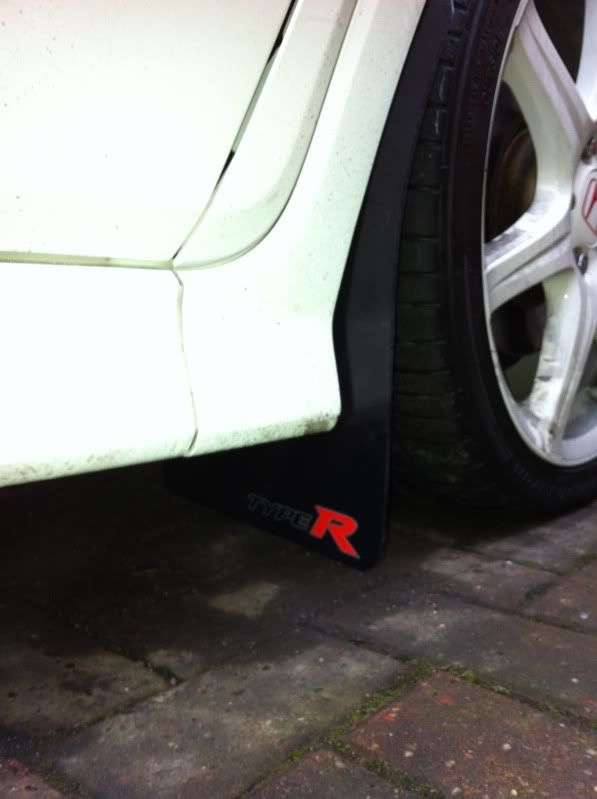 Another small mod made was the Honda sticker for the fuel cap.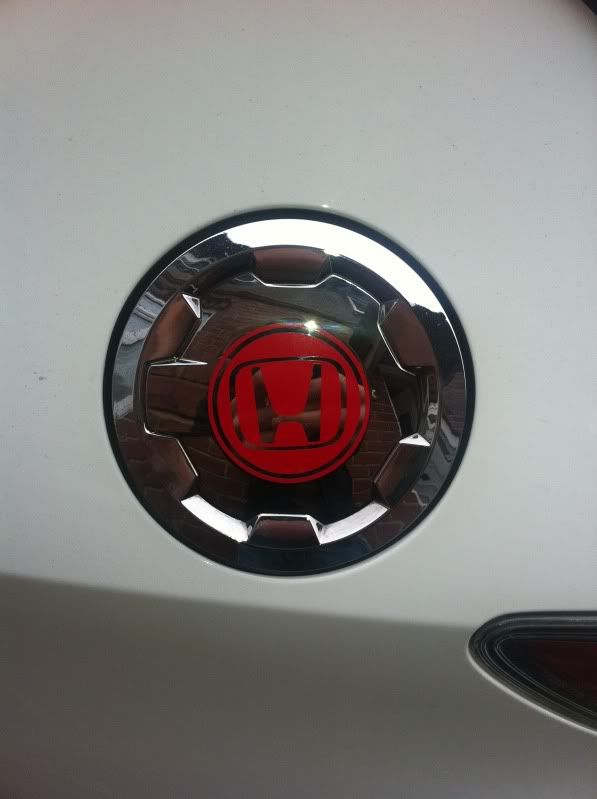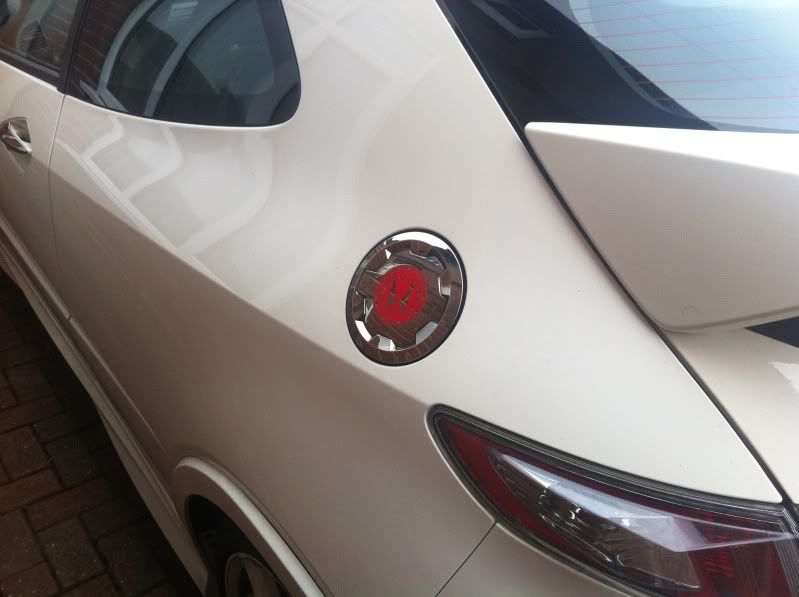 Next up was new number plates and surrounds, the plates I got from Demon Plates as I wanted the gloss black raised lettering to go with the gp kit and the surrounds I got from ebay as I didn't want to drill the new plates and be able to put show plates on the car when attending shows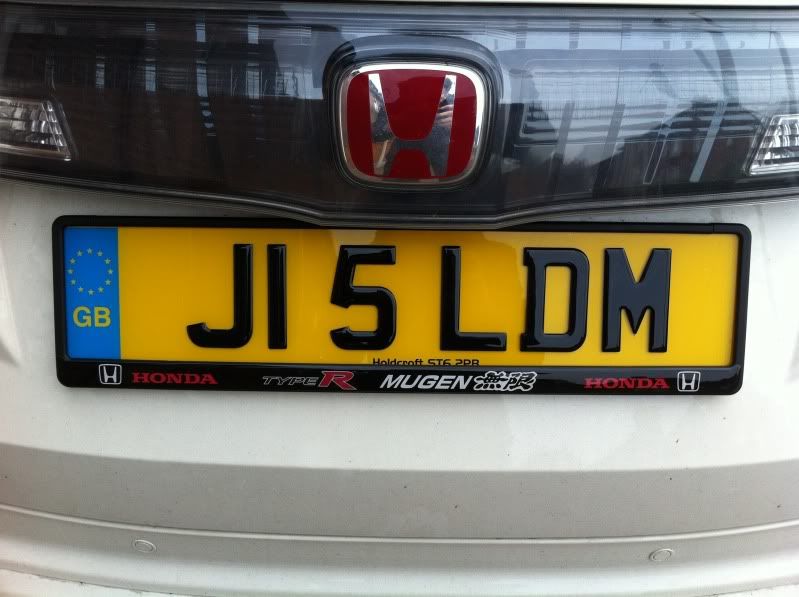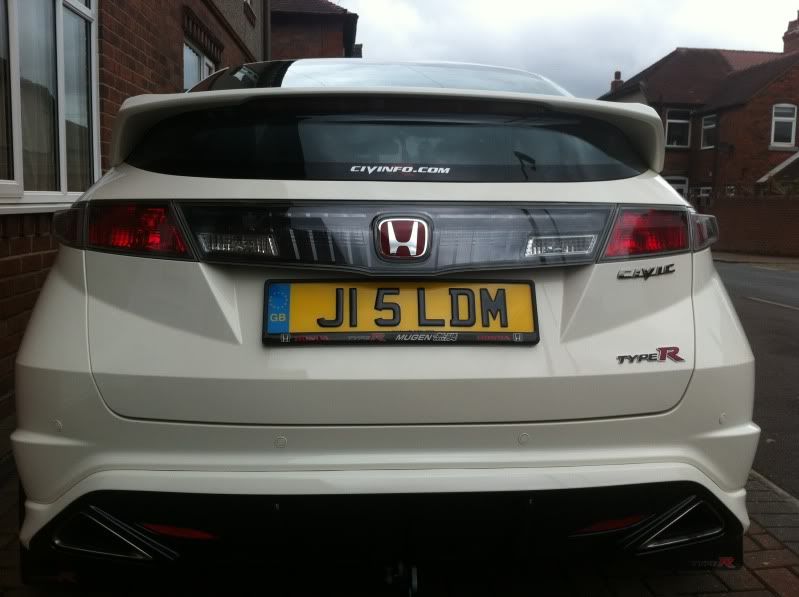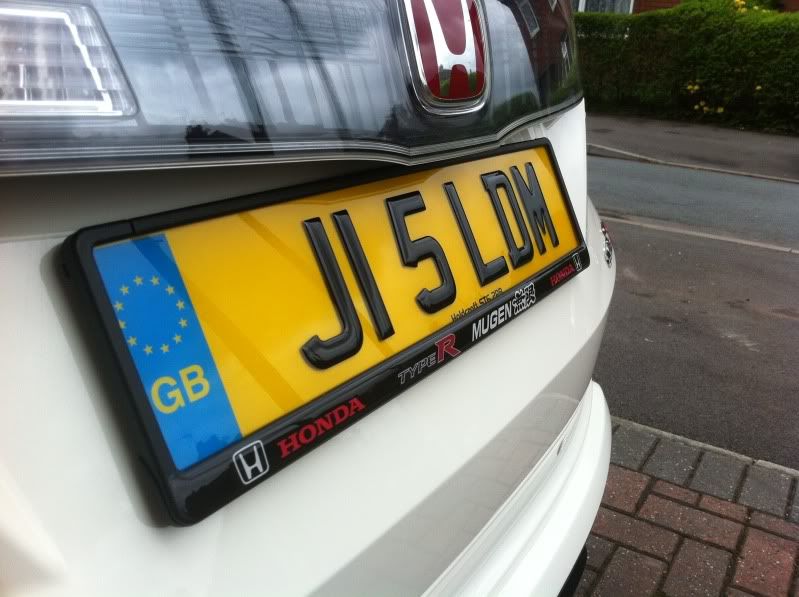 With Japfest getting close I wanted to make a few changes so off I went to Honda and purchased NHB skull caps and then off to Tegiwa to purchase the carbon fibre cooling panel and finally my dark smoked fog light covers arrived in the post so I then spend next hour fitting these items:-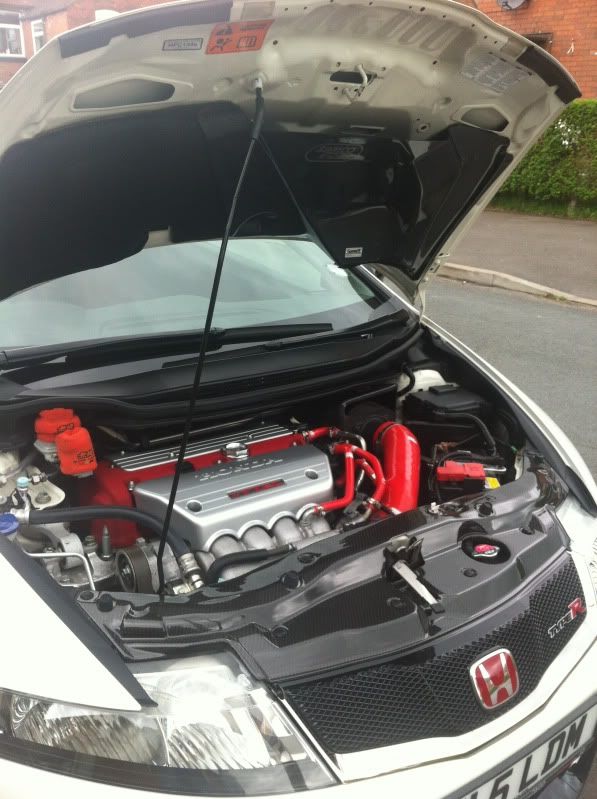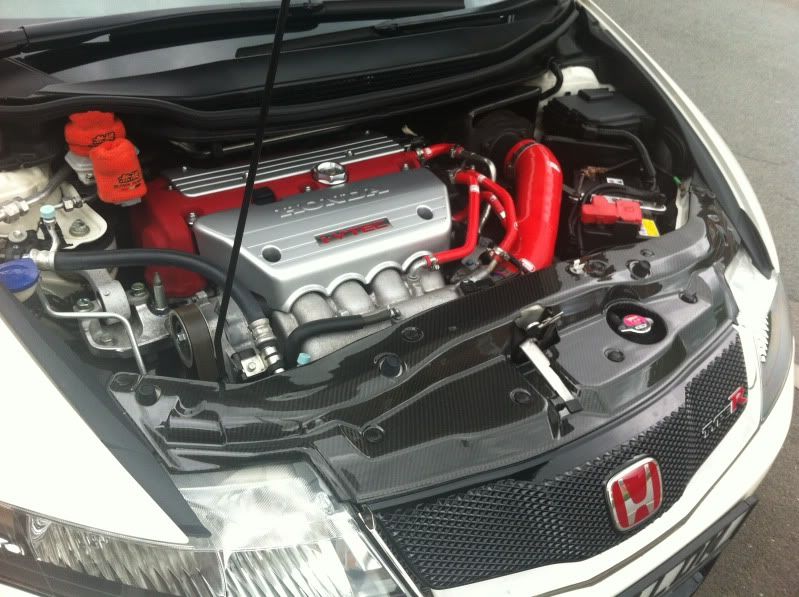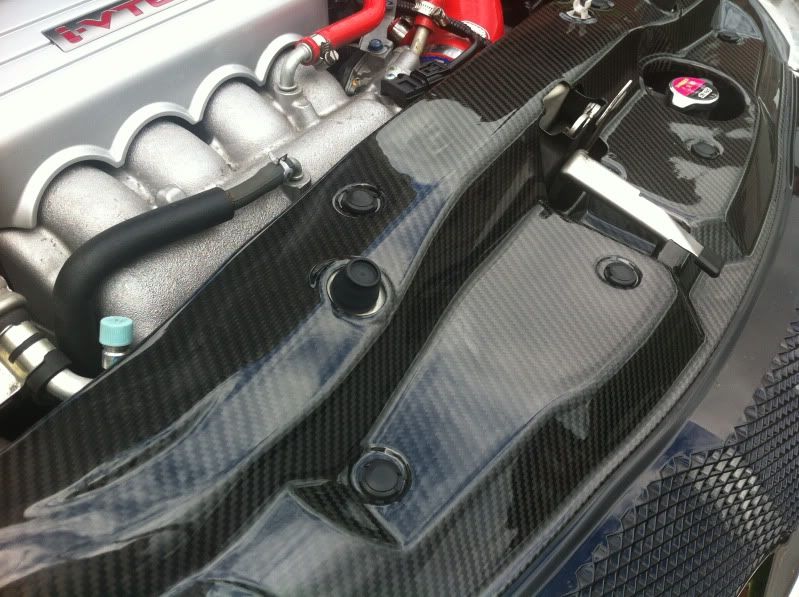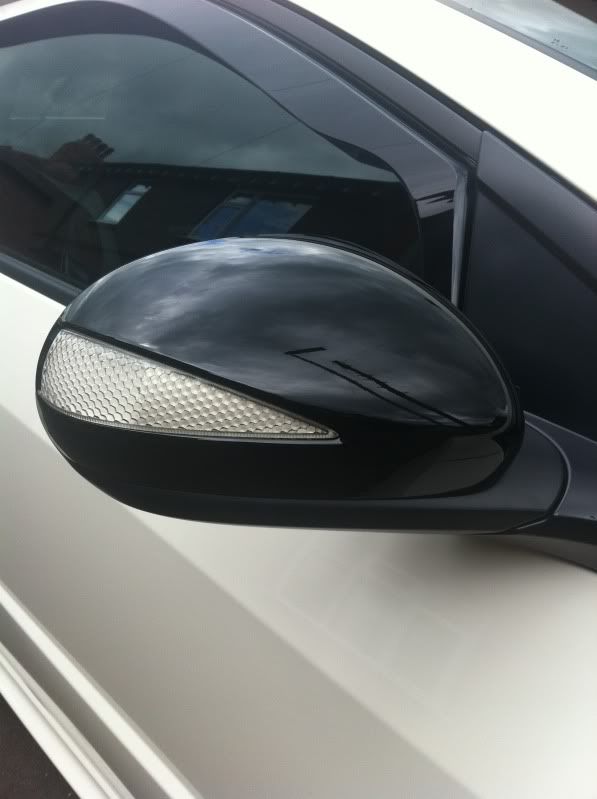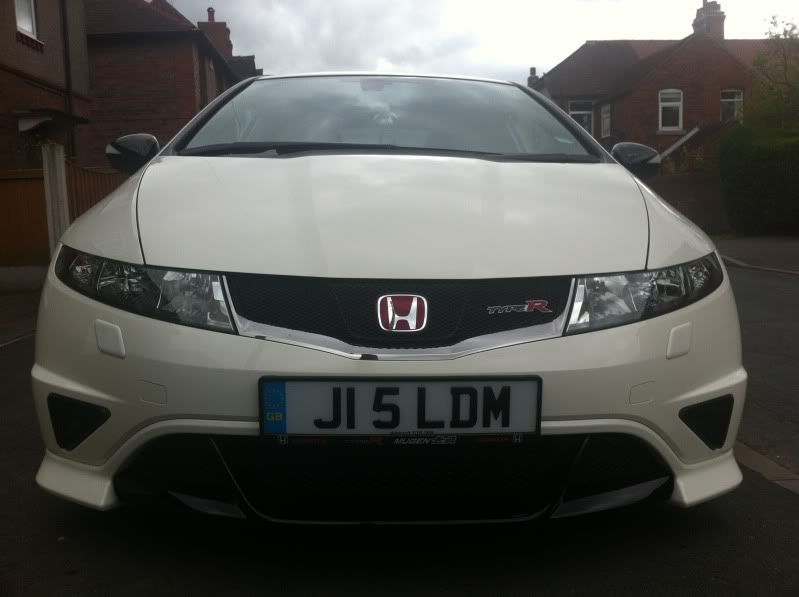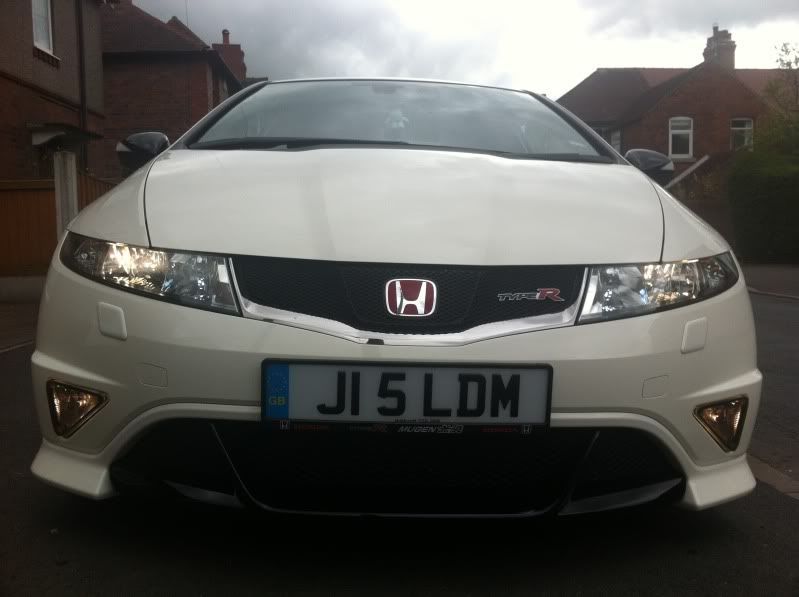 As my current brakes are getting worn out and need replacing I did want to get the Stoptech BBK kit again after talking to Paul (Staffs Deltic) but funds wont stretch that far as I require new wheels first, then mugen wing and grill to complete the outside. So I ordered a new set of zinc plated 40 groove discs, redstuff pads, Motul RBF 600 fluid and Do-luck lines (awaiting delivery) and hope to get these fitted in next couple of weeks.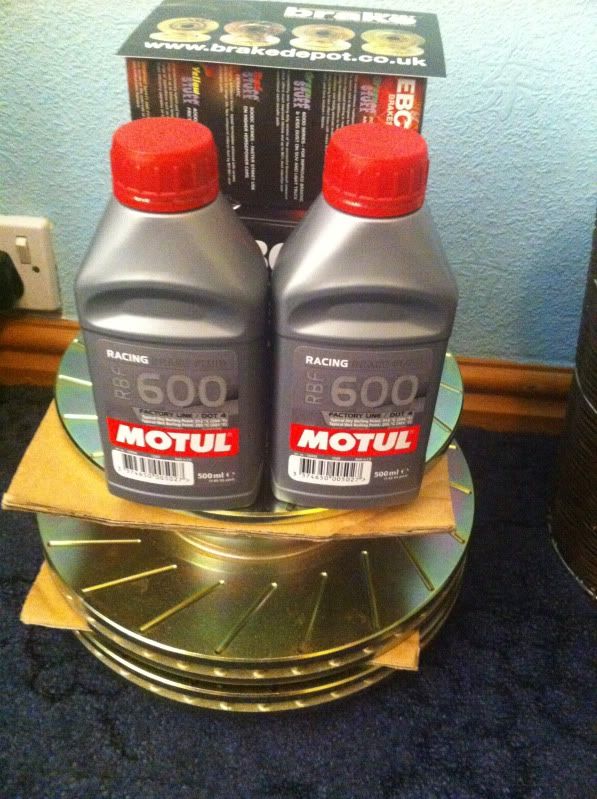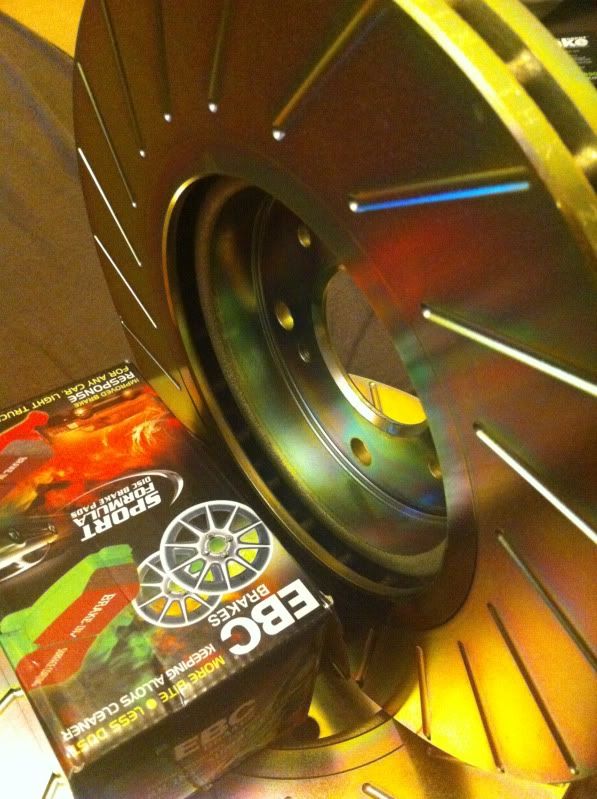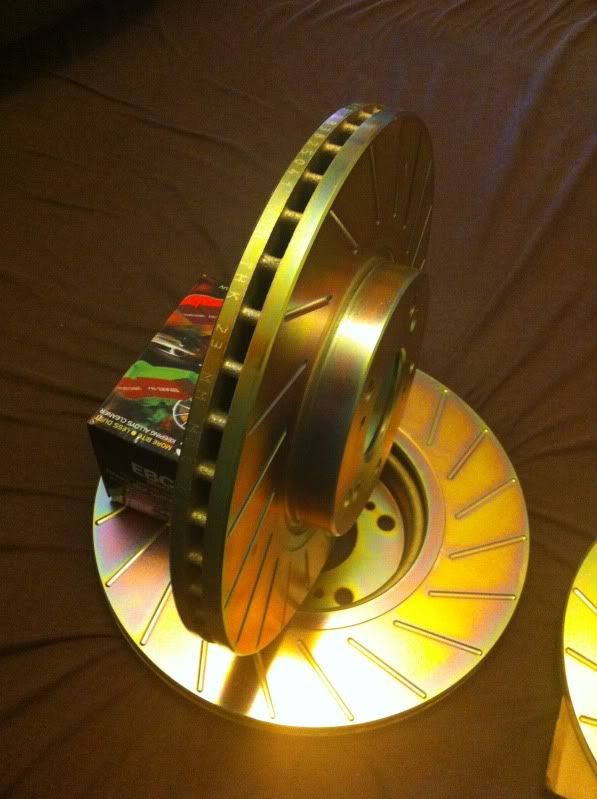 Also I'm currently arranging a group buy on a set of Team Dynamics Pro Race 1.2's, originally I was going for gloss black to go with the other black items on the car, but then due to Cra1g_manutd I was tempted to get them in green to be different.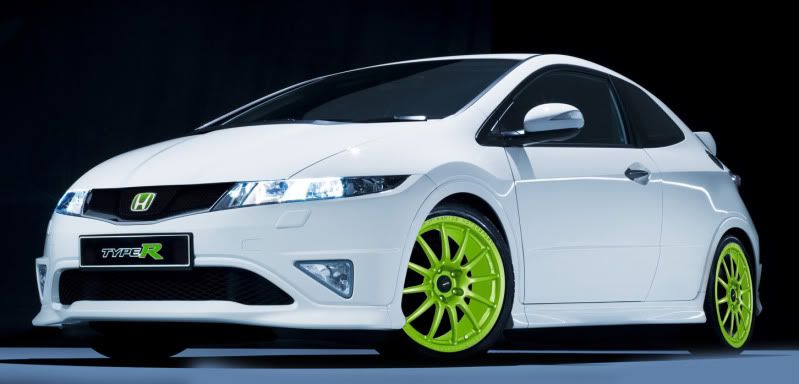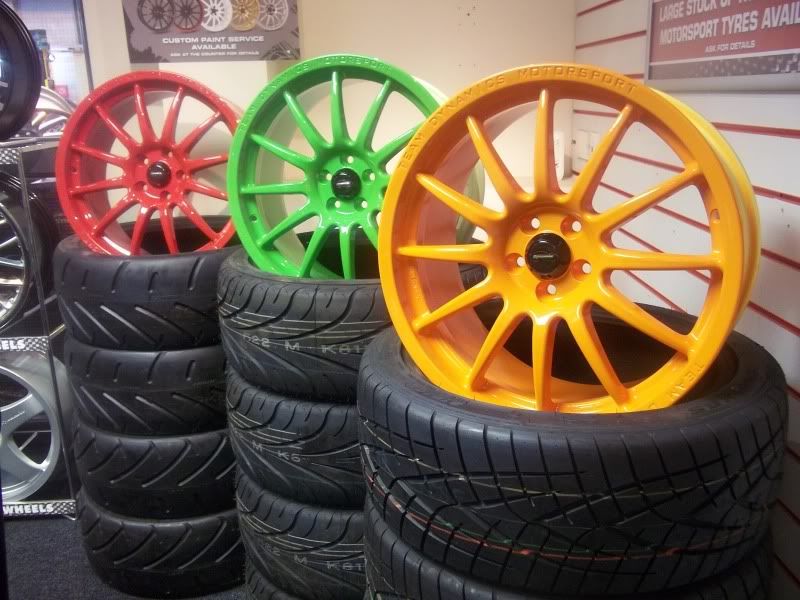 But even though I like them I'm defiantly going to be getting the gloss black now as boring as it may be lol, hopefully these will be fitted mid-June ready for japfest 2 and then I can sell my championship white wheels. Along with the wheels I'll be fitting TPI SD lightweight nuts in red to add a bit of colour and then paint all the calipers red to tidy things up
J
Future mods that I can think off the top of my head I'll be doing at some point in the future are:-
Mugen Wing
Mugen Grill
Harnesses
Uprated inlet manifold
Uprated Throttle body
Uprated cams
Tegiwa manifold
Sports cat fitted into the milltek
Hondata Flash Pro
Custom map done a TDI North
Tegiwa carbon fibre spark plug cover
Tegiwa carbon fibre inlet manifold cover
Stoptech BBK kit
Here are a few pic's taken of my car on the way, during Japfest and how it stands at the moment:-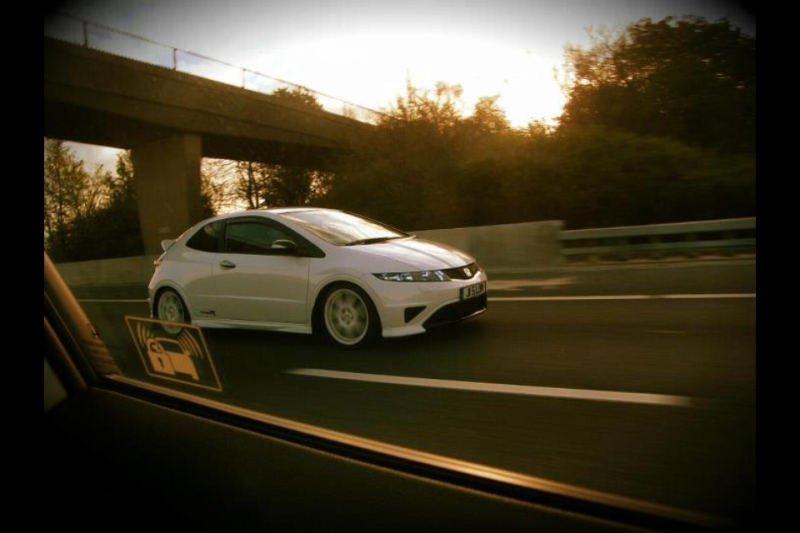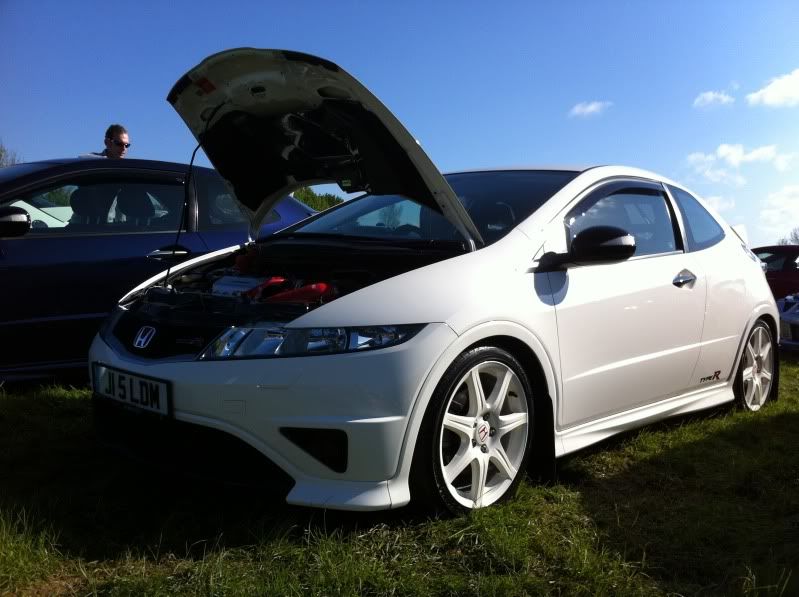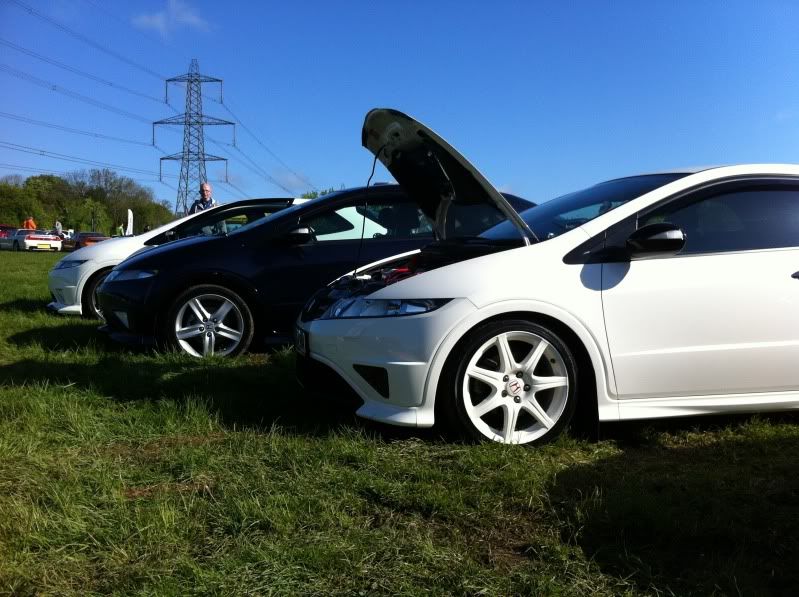 That's it for now, thank you for taking the time to read through all this. Hope it wasn't too boring lol any comments welcome whether they are good or bad, like with everything I know it's not going to be to everyone's taste as we all have different views but that's what makes car modifying so good that we do different things
J
I'll update the thread as and when I make changes from now on.
Many Thanks
Leigh