Discussion Starter
·
#1
·
Like most on here, I dont like most aftermarket DRL installs. They either look completely out of place or just not bright enough
The LED strips are just too dim during bright day light hours to be proper DRLs and having them on at night is more a styling choice for many. A lot of the LED DRL units are also not really bright enough either.
I bought these and whilst I quite like the look of them, they are just not bright enough during the day and was still conscious of them stuck on the front of the car.....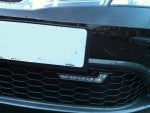 The problem is that a lot of the units available on ebay etc. are Chinese and use either 0.5w SMDs or 1w SMDs. Some of the newer designs use the brighter but very cheap 5050 SMDs with 40 lum/watt per bulb, but still look dim in comparison to OEM DRLs such as those on Audi's or Merc's. The reason is that the OEM's use Osram LEDs (
http://docs-europe.electrocomponents.com/webdocs/0dc7/0900766b80dc7993.pdf
) rated at 1w or 1.5w with 90 lum/watt and dedicated focal lenses.
Osram DRLs are very rare, but I have sourced some which give an impressive light output and will be offering them for a sale soon. The will easily fit to the grill of the Civic or can be mounted into the new style Type S fog light blanks. They come with a control box which turns them off when the side lights come on or dims them to 50%, E-Marked and good quality OEM wiring...
A friend of mine at a local garage put me onto these, a customer with a Discovery had them fitted when he was in France. He showed them to me and they are very bright. Unfortunatley I did not have my camera with me
but these example pics show them well...
The pic of the Civic is of DRLs offered by a German site for 300 euros, but the LED units in them are the same as the ones I have sourced (and mine are much much cheaper!)... The pic is just to show what to expect
In the mean time I have modified my Fog lights for my up coming trip to Slovakia (where DRLs are mandatory). I have installed H11 68 SMD Bulbs and connect the to the DRL Control Box that came with DRLs above. So they switch on when the ignition is on, but turn on when the side lights/head lights/auto lights come on. I can turn them off with a master switch under the dash and they still function as Fog Lights. As fog lights they are very bright at night, but wont be as effective at cutting through fog as standard halogen bulbs. I dont mind as I hardly ever use the fogs anyway.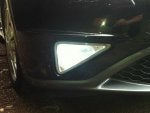 During the day, they are not as bright as I would like, but are still very visible during bright sunlight (eqv to a 20 watt bulb) and will be more than adequate for my trip. The photos don't really do them justice. I will put together a 'How to' soon...
Really simple to do!