Discussion Starter
•
#1
•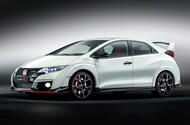 2015 Honda Civic Type R​
Honda's 306bhp, front-drive hot hatch sprints from 0-62mph in a claimed 5.7sec and runs to 167mph; on sale this summer, priced at around £30,000This is the definitive production version of the
Honda Civic Type R
, the fastest and most powerful front-wheel-drive hot hatch in existence.
The new Civic Type R is revealed this week at the
Geneva motor show
ahead of a summer launch, when it will be priced from about £30,000. At its heart is an all-new 306bhp turbocharged 2.0-litre engine that enables it to cover the 0-62mph sprint in 5.7sec and hit a 167mph top speed.
To help the car get its prodigious reserves to the road, it gets a special 'Dual Axis Strut' front suspension system and a mechanical limited-slip differential. An extensive aerodynamic package also features to complete the Civic Type R's extreme track-bred positioning.
The most dominant feature in the Civic Type R is its new VTEC engine. The direct-injection turbo unit's 306bhp arrives at 6500rpm and peak torque of 295lb ft is at 2500rpm. The engine hits the redline at 7000rpm.
The 2.0-litre engine drives the front wheels through a six-speed manual gearbox. There is no automatic option. The 0-62mph time and top speed are both class-leading.
Honda says the Civic Type R has been fitted with "a number of innovative new suspension systems" that are designed to "maximise power transfer to the road".
Chief among them is that Dual Axis Strut front suspension system, which is similar to Ford's RevoKnuckle system. It's a version of a MacPherson strut front suspension set-up that features an additional steering knuckle, so the wheel steers around a point closer to its centre line, reducing torque steer by up to 50% compared with a standard Civic, according to Honda.
The rear suspension is an H-shaped torsion beam design but has been modified over the standard Civic's to include a new 'crushed pipe', which, Honda says, improves roll rigidity by 180%, and enhances high-speed corner stability. Adaptive dampers also feature at each corner and the electric steering has been retuned for greater response and feel.
To access the full potential of the chassis and powertrain, Honda has equipped the Civic Type R with a '+R' driving mode. This increases engine response, provides more aggressive torque mapping, reduces the assistance on the steering and firms up the dampers by 30%.
Stopping power is provided by bespoke high-performance Brembo brakes, which feature four-piston calipers and drilled discs that measure 350mm in diameter at the front. The brakes sit behind 19in wheels shod with 235/35 tyres made of a bespoke compound.
Chassis tuning for the Civic Type R has taken place at the Nürburgring and Suzuka circuits, as well as at Honda's own Takasu test track in Japan. The Nürburgring is significant because Honda has stated its desire for the Type R to be the fastest front-wheel-drive car to lap the circuit, eclipsing the Renault Mégane RS 275 Trophy-R's 7min 54sec.
Extensive aerodynamic work has taken place in the wind tunnel at Honda's dedicated motorsport facility in Sakura, Japan, where it develops its Formula 1 engines.
The result is exterior styling that has been heavily influenced by aerodynamic demands. Most striking is the large, fixed rear wing, which has been redesigned from that of the Civic Type R concept car seen at the Geneva and Paris motor shows of 2014. Its height, shape, angle and end plates have all been modified to provide enough downforce without compromising drag at higher speeds.
Also notable at the rear is the large diffuser, which works with the flat underside to 'suck' the car to the road. There are four exhaust tips, two on each side of the car, and a more aggressive-looking rear bumper design.
Other new design features compared with the standard Civic on which the Type R is based include a new front bumper that has been shaped to reduce turbulence around the front wheels, a wide front splitter, flared wheel arches, which at the front allow air in as extra cooling for the engine, and larger front grilles, also for increased cooling. Further outlet vents for the engine feature on top of the front wings.
There are five exterior colour choices offered on the Civic Type R, including the Championship White colour seen here and shared with other Type R models.
The sporty interior features sports seats trimmed in a suede-effect fabric, a gearknob machined from an aluminium alloy, black headlining and black trim with red double stitching.
Read more Geneva motor show news
Get the latest car news, reviews and galleries from Autocar direct to your inbox every week. Enter your email address below:
More...