So i've been very excited cruisin a couple of days with my new ice install ;-)
Now u see it!
Now u dont! heheh...talk about stealth!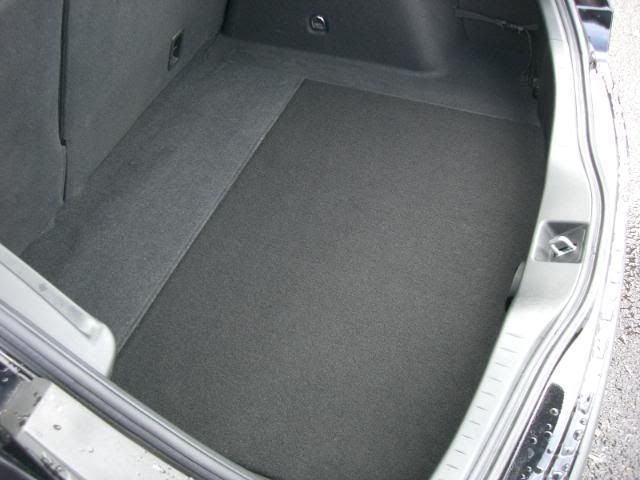 My objectives were a medium to high end build for maximum sound quality with the following constraints
1) Everything to be housed discretely in boot under false floor, then carpeted over.
2) Equipment selection should not impact limited altenator capacity, previously flagged as a possible concern on a 1.8 petrol type s gt by an expert doing a multimetre test on the car with all systems running (full load)
3) Factory head unit functions and steering wheel control of audio (including factory ipod install, factory sat nav install, factory parking sensors etc) should work as normal.
4) The work undertaken should not impact the wiring on the type s gt so as not to invalidate the warranty
( acheived with S0T cable and some ingenuity from the team at AI Audio )
5) Soundproofing of boot, sub box and doors with dynamat extreme
6) Everything should be able to be returned to factory spec prior to sale without too much effort.
7) Split Charged with standard battery and Stinger SPV44 ( to protect main battery for when i feel like crankin ;-)
8) Good quality wiring used throughout ie JL Audio.
9) Components to be run active
So I went hunting for the correct parts and for the best installers i could find i came up with:
Equipment:
Amplifier - one 5 channel for all solution - Audison LRX 5.1K Amp - allegedly the best amp for the budget, competition quality.
Talk Audio - Audison's Amps Are A World First
Sound processor: Alpine PXE-H650 (provides pre-outs for factory head unit and equalisation with imprint software, with remote control for sub and preset equalisations for soundstage changes)
ALPINE - PXE-H650 from Extreme Audio
BASS: 10" Rainbow Vanadium - i figured since i wanted SQ i didnt need to go mad on the bass.
Rainbow Vanadium 10 [audiojunkies]
Components - Hertz Mille 165 6.5" (i bought these without demoing them and i wasnt dissapointed heheh)
Hertz Mille MLK 165 - Aftermarket Products - Car Audio & Electronics Magazine
Installers Chosen for the job:
AI Audio (fourcars master installers)
http://www.aiaudio.co.uk/
Now for my choice of installers i looked far and wide, i was willing to travel. I rang round got quotes, made comparisons. Checked out sample work. I wasn't going to give my new civic to just anyone. In the end i came across
FOUR :: Car Hi-fi & In car Entertainment - ICE specialists
These guys provide a network of audio installers throughout the UK. But theyre not just a network, i spoke with Brian who runs it, his mandate is to create a UK wide body of recognised car audio installers who are par excellence in their field. A four cars master is a benchmark of good quality and experience. Good idea I thought, guaranteed peace of mind! So I visited a few and they were all differently sized and competent, and in the end i picked the best in my view - AI Audio. More importantly, if I took a job by a four cars master, i'd also be getting
a 21-day no quibble satisfaction guarantee
and a 3-year national warranty
Now AI Audio weren't the cheapest quote id had nor were they the most expensive, but they did one thing when i visited them, filled me with confidence and peace of mind like noone else did, through examples of their work at hand. They had come back, and guaranteed their workmanship. They had also done new Civics before! Hurray! Duncan More and Baz were great people to talk to, and they werent alone, it was a small team effort, each person specialising in one aspect of the install. The space they work in had 5-6 cars being worked on each of my 3 visits in their large workshop area. It was easy to sample their work. Each one an exciting project, some for shows and competitions...They came across as confident, able, enthusiastic and trustworthy. So i parted with my 1235 quid and waited 3 days....
RESULT!
I've been cruisin happily since i picked up the car 2 days ago! Boy have i been smilin...
The components will take about a month's driving to bed in. I'm a big gypsy kings and U2 fan and i havent experienced a car audio clarity of sound across the spectrum like these baby Hertz Mille's put out. Every string of the guitar is crystal clear. Puttin on classical music for a change and i can actually hear all the different instruments unlike before! The bass, the callow (how do u spell it? all come out vividly and distinct. I never had that level of clarity before. YAY! After a month, ill go in for re-tuning and it'll sound even better!
When i close the car door, it just feels so much more solid all round, now its soundproofed properly. Amazing job done on the soundproofing! The audison LRX 5.1K is being underused at the moment, but this baby gives clear non distorted output! When the system is bedded in im just itchin to crank it up! Hell yeah!
The alpine pxe-650 processor comes with a microphone and software for a laptop so different positions can be tested for best sound staging. Duncan and his team sampled 8 different locations before "tuning" using alpine imprint and their experienced ears. The alpine unit auto tunes the soundstage according to the accoustics of the civic interior. I was well pleased with the result!
I got a remote control for changing the sound stage optimised for drivers position and one centred. Wow. Couldnt believe staging would make such a difference.
What im impressed with the most apart from the startling improvement over the factory audio, is the great boot build these guys did and the time they took to "tune" it after to ensure the result was what i was looking for. Its all discrete, neat and tidily tucked away in a very nice boot build so i can use the entire boot for storage as needed!
I have tested the audio controls on the steering wheel and they all work fine. Also factory head unit works as normal and volume of the whole system can be controlled from it. Also the bass, centre, fading etc still work as normal from the factory head unit. I have yet to test the ipod out, am waiting for a new 80gb one. I expect it to work as normal as per the factory install of the ipod upgrade. The sat nav talks over the audio volume which lowers as normal too upon speech! They left the rear speakers in place but using the fader facility on the factory head unit, i prefer em completely faded out so as to ensure max SQ from the Mille's in the front D)
Since im not too tech savvy, i asked Duncan at AI Audio to specifically take some pics of the install in progress and below is a brief description from him about wots goin on. Hopefully some of you will find this helpful!
So here we go:
(from Duncan)
WIRING:
no.'s - 2246, 2306,2269,2279,2299
Here you can see where the 4 gauge power cable passed through the original grommet through the bulkhead. All the under bonnet cabling was protected with nylon braiding to protect the cable. All ends were terminated and heatshrunk. We also added a 4 Gauge earth strap as well as the original for better earthing. The speaker cable was run down each side of the car and run through the original door grommets and terminated at each end, the tweeter use 16gauge and the midbass use 12gauge speaker cable. The wiring in the boot was all cable tied and the wiring for the split charge relay was heat shrunk. All audio components were earthed at the same point in the boot, on a bolt in center of the floor. We also used an SOT lead behind the head unit to aviod cutting the original wiring.