Discussion Starter
•
#1
•
This How To will allow you to read the DTCs (diagnostic trouble codes) that the car stores. You don't need to spend £1000's on the Honda Diagnostic System, nor even £10's on special tool "MPCS short connector" (07WAZ-0010100). Instead, find some of the following:
Note: it is not critical to use recycled, though obviously it helps save the planet.
Do this entirely at your own risk. As usual, if in doubt, do not do it.
Scrunch up a small corner, and put it in the hole in the fuse box (by your right knee - RHD) as shown below. Make sure you don't touch it anywhere else.
Next turn the ignition on (position 2). Wait for 10 seconds, and your error codes (if any) will appear on the odo: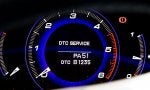 You can press
i
on the steering to go to the next one, until you see:
If you have no errors, it will say "DTC NO".
If you want to clear an error, press and hold SEL/RESET for more than 10 seconds. Doing this would be really dumb though, because then the dealer will not know about a fault, and will not fix it for free under warranty. It may even hide a fault that subsequently causes horrific damage, so this is really not advisable.
You can see I have a DTC "B1235" from module 51 (aircon). B1235 is "A Problem in the Driver's Air Mix Control Linkage, Door, or Motor" so a good job it's going in for service next week.
I'm not sure which modules this method will read from, but it certainly reads the MICU, gauge control module and the aircon.
If anyone has any DTCs, post them here and I'll see if I have the decode.