Hi everyone... my name is Sam and two years ago I became the owner of a 2008 2.2 Diesel Honda Civic Type S GT.
I went to the dealer looking to trade in my 2006 SE and a 2003 Ford Fiesta for something better. A CTR was never an option due to the mileage I do; but as soon as I saw her on the forecourt I new I had to have her.
Drove her home to and took a few pics...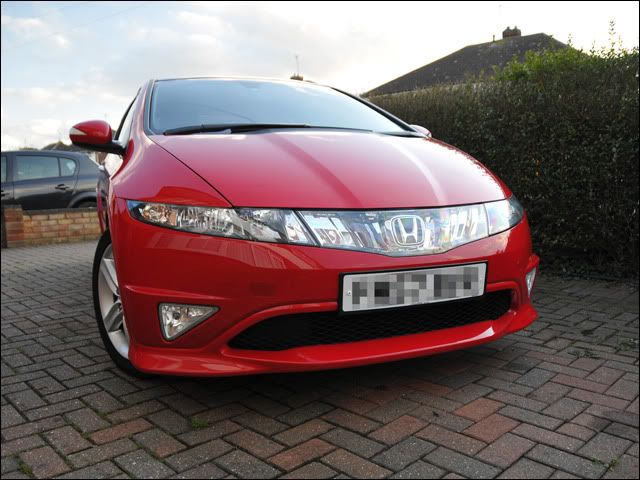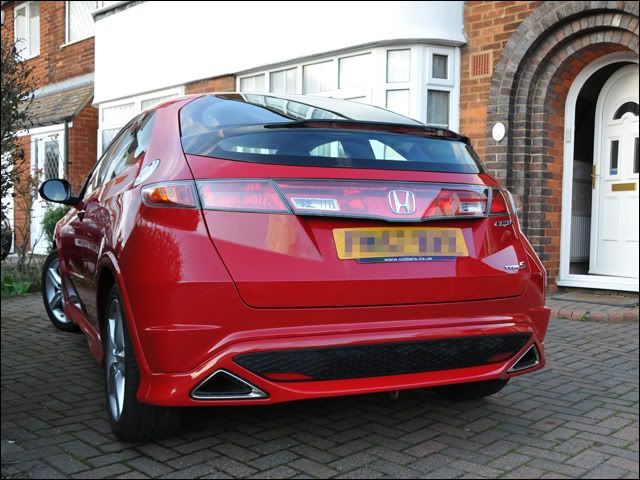 I first discovered Civinfo when looking for help with the EPS fault on the 2006 model... and once again after getting this model I had an initially problem with tramlining - both times found the forum very helpful and so made it more of a home!
The car was bought with the intention that I wouldn't do anything to it... after all who could upgrade the spaceship I'd just bought?
However the problem with this forum is that there are so many people having made so many excellent mods to their cars it's impossible not to be tempted.
So, first on the list was a set of interior lights.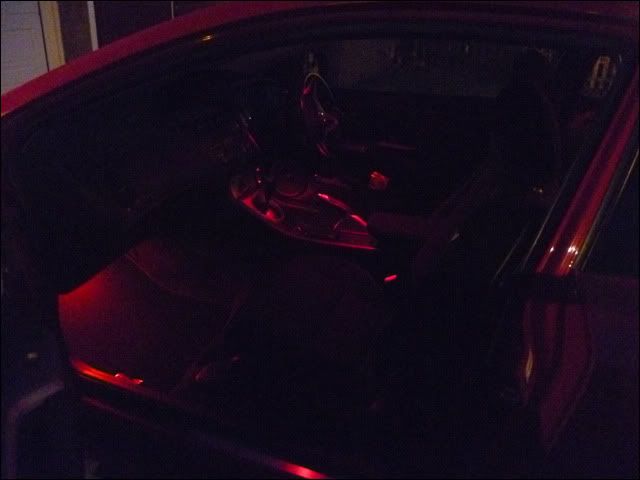 Straightforward to fit and totally transformed the look of the interior. Was difficult to choose between red and blue but went with the red due to the exterior colour. Still one of the mods I love the most!
At the same time I also replaced the boot light for an LED panel which significantly improved visibility when unloading the shopping.
Next were headrest logos from a forum trader; I understand these aren't available any more due to the alcantara being so easily damaged but happy with that as means it's just more unique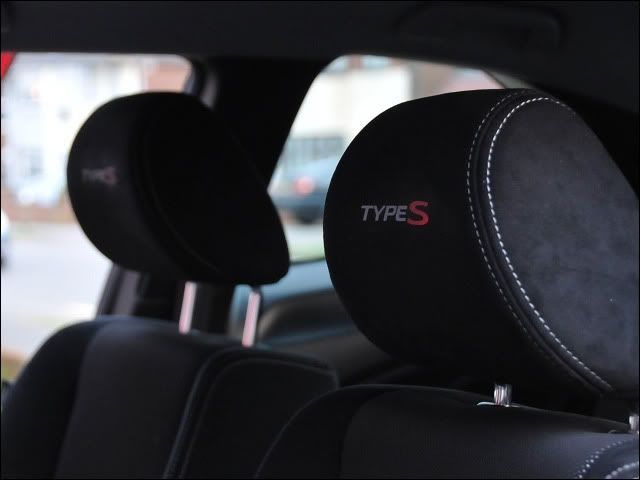 I was so impressed with these that I ordered a set of black badge decals from the same person.
After that it was a very long while until things started to kick off with further mods; I was very happy with the car as it was with the couple of small changes made. However it was an incident with a short wooden post that lit the modding touch paper - as after reversing into something I couldn't see the first thing up was rear parking sensors. Did some forum research and decided I could give it a go myself... so I did!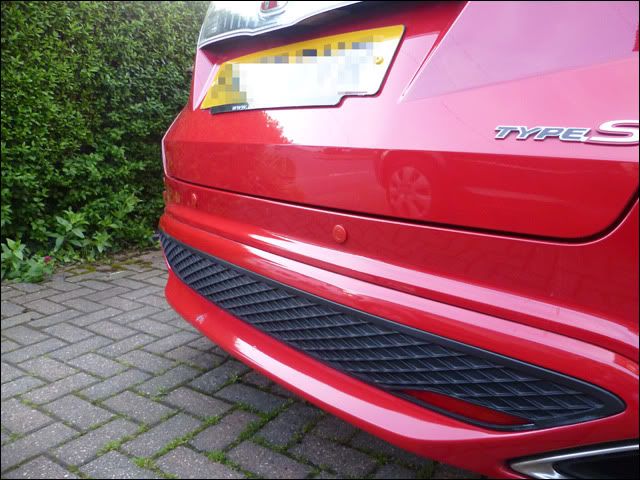 You can even see the damage to the rear in the above photo. :facepalm:
The next item of business was fog light covers from a Civinfo trader. I had a tough decision to make whether to go for clear or yellow... but decided with the yellow and really am pleased with the choice. Not to everyone's liking - including my Mrs - but that's besides the point as I'm happy with it!
This was then accompanied by a set of LED sidelight bulbs which look awesome, and a matching set of HIDs to complete the colour matching.
By this time I'd got in my mind a clearer picture of where I wanted to go - and that was down the Type-R bodywork look. As the car already came colour coded I had a big head start; however I also decided that as it wasn't an actual CTR I would not apply anything Mugen.
So the first step down this road was to obtain a set of CTR rear lights. I was fortunate enough to find the centre panel in the For Sale section after keeping my eye on it for a while, and this was accompanied by indicators obtained in the same way and, due to it being a 2008 model, the side lights from a CTR at a breaker's. I was also fortunate enough to get the connectors for these as they differ... annoyingly!
After installing these over a period of about a month, the rear was looking much improved but was still missing something.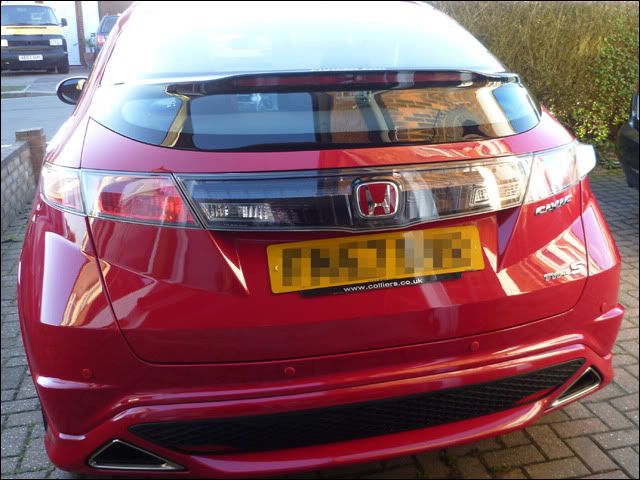 A wanted thread was already up for the missing piece to the puzzle, so I moved on to other things - namely the front end knocking. I decided that replacement of springs, bump stops and ARB drop links was in order so the parts were ordered and I spent a weekend fitting them... quite daunting at first as I'd never attempted anything like it previously. Nevertheless there was a success story at the end of it and the car sat much better whilst also improving the ride significantly over how it was before!
I also ordered a custom-painted grill for the front which arrived very promptly, and this was installed too. She was now almost there but still missing that aforementioned piece!
Was a bit stuck on where to go at this point, so painted my calipers and fitted a folding mirror module available from a Civinfo trader.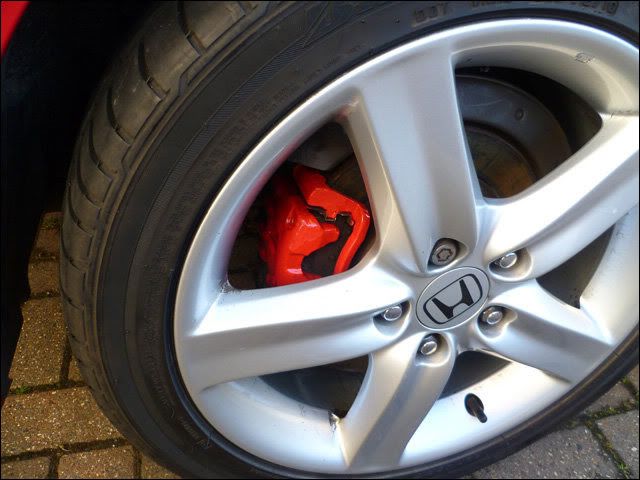 A very kind member of the forum then offered me the answer to my wanted thread... so a drive out to collect and some sikaflex later and she was finally done.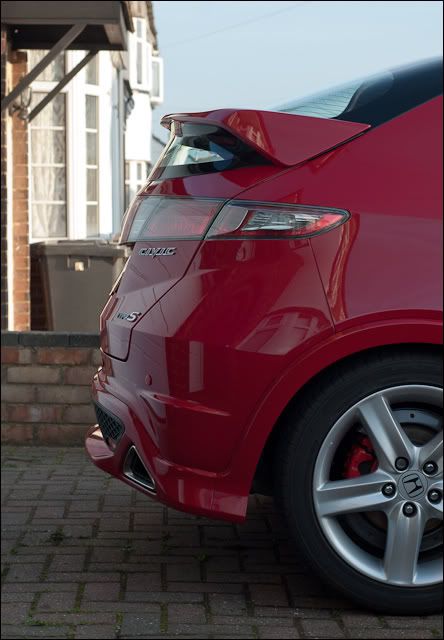 The only problem was that I'd not lost the desire for mods... if anything it was growing on a regular basis and I found myself constantly scouring the For Sale and Modification forums for ideas.
A simple modification was a replacement gear knob. A gaiter was fitted at the same time but I ended up hating it and so removed it. The new knob is heavier and screws down further meaning shorter throws for shifting and a much more satisfying feel.
The next thing to do was start looking at power delivery. Many options available for a remap and this meant that a significant gain could be had for comparatively little outlay. However to get the full benefit, why not do some pre-work and then get the car custom tuned? After all that means more mods
So after reading up extensively and getting a lot of advice from forum members, a custom FMIC was ordered; and installed. Without much difficulty - mainly due to the how-to that was available - it was up and running on a showery weekend.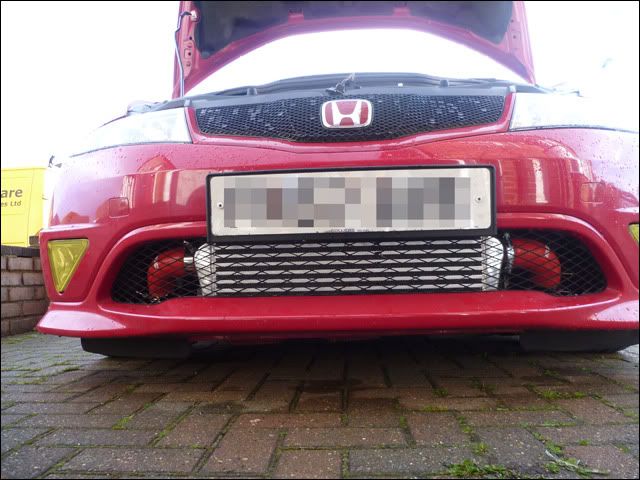 And that almost brings the list up to date; the most recent mod was the install of rebuilt Type-R front calipers, along with new Brembo discs, EBC Yellowstuff pads and a set of Do-Luck braided hoses - and a fluid flush replacing with RBF600. I decided that before increasing the available power I'd better do something about the poor braking performance from the OEM setup.
Still bedding them in but already the pedal feel is noticeably better.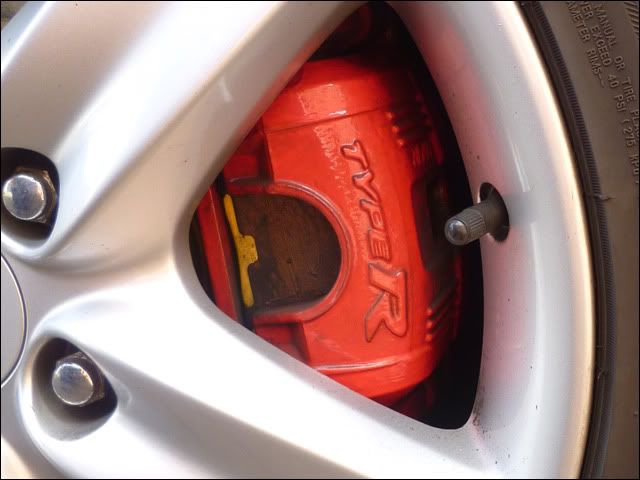 And that's the story
so far
! Every time I set eyes on her I love her more [smilie=hearts.gif]
Not the most recent photo as no FMIC...
Next on the to-do list (in no particular order):
Wheels - mine are kerbed to hell after the winter and so fancying a change
Exhaust
FRS
Clutch & DMF
Remap
Headlamp and Window tints
Heko's
ICE (Double Din head unit & speakers)​
plus anything additional that I come across!
There's already something sat in my garage awaiting install thanks to a forum member - hopefully next weekend more will be told