Discussion Starter
•
#1
•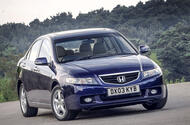 Honda Accord​
Supreme reliability and eminently practical - a used Honda is just about the best bargain purchase you can makeEvery single
Honda
is a top used car. I know this after spending some quality time in the cab of a recovery lorry recently. "Hondas?" says the driver "Nah, we never pick those up, ever."
To be honest that's all you need to know, really, that they won't break down especially if you are driving to work, your mum's house or the shops.
However, you might also want a car that is interesting to look at, own and drive, and in recent years that has been a problem.
So here you have it – my pick of some sensible Hondas and some seriously sporty sexy Hondas. The choice, as ever, is yours.
Honda Integra R
The Integra Type R was an uncompromised road-legal racer and totally unsuited to a quiet Sunday afternoon drive.
It offered shattering performance, pin sharp handling and lots of lovely race car details. Only hardcore enthusiasts need apply. However, Honda core values were completely intact so even though this is a Honda with a very raw edge, it is not a temperamental highly-strung special.
Honda Civic
Many families need look no further than the Civic. Space is always a priority and the Civic manages to provide a lot of it in a very compact package.Simply repositioning the gearlever on the dashboard creates a big floor area and the high roof adds to that wonderful feeling of spaciousness. Five can sit comfortably yet there is still room for luggage in what is a sizeable boot.
It is worth remembering that there are also sportier three-door models, especially the 2.0-litre Type R which is a very characterful performance hatch.
Honda S2000
At the heart of the S2000 is a wonderful engine which may be small in size but creates a huge amount of power. It links together brilliantly with a six-speed gearbox which is delightful to use and very precise.
Accelerate cleanly and easily to feel the power build up and propel the S2000 along at up to 150mph. The sophisticated suspension system means that the car has lots grip and tackles bends with complete ease; it always feels perfectly balanced.
Honda CR-V
This is essentially a versatile and practical family car, which is at home on the road and competent enough to cope with low demand situations off it.
Indeed, as the Land Rover Freelander (which followed the CR-V) has proved, the future belongs to the softer-roader. Obviously there is always going to be demand for hardcore, industrial strength, no nonsense 4x4s, but for the majority of us all we need is an estate car with a little bit of off-road attitude.
The Honda Jazz
This is such an ingenious little car that it's hard to find a rival model which is better. The well-proportioned small people carrier styling is one of the key reasons why the Jazz works so well.
It has a good-sized boot and the load area can easily be changed; simply fold the rear seats into the footwells for a completely flat floor or just fold the seat bases forward to effectively create two separate boot areas. That is very clever and all passengers appreciate the extra head and leg room.
Honda Legend
To be honest, this is just a great big Accord. At best it is Lexus lite, but at least there is a genuine rarity factor. It's as long as a BMW 7 Series, but it utterly lacks any semblance of prestige.
That's the fundamental problem for this Honda, which sells*only*on price and equipment. Great if you are starting an upmarket minicab business, but a little depressing if you thought you were buying something to make you feel special.
Honda NSX
Honda proved that it had learnt a lot over the years and this is a satisfyingly complex car, featuring an aluminium body, monocoque and suspension. The jewel was undoubtedly the 3.0-litre, quad cam V6 VTEC engine located in the middle of the car.
It produces 270bhp and that allows decent low-speed pull with full on 7000rpm-plus racing car madness. Except that it is not very mad to drive. The controls are light, there's an electric throttle and essentially an NSX takes care of you. Every part costs a fortune and the biggest bill will come at 60K miles when a new cam belt and platinum plugs cost you four figures.
Honda Accord
From 2003 comes this sharply styled, well-built executive quality car. Honda has always fitted brilliant engines and the Accord is no exception. The petrol engines are very sporty, the 2.0-litre is adequate but the 2.4-litre delivers very brisk performance especially because the manual gearboxes are so slick and easy to use.
Probably the pick of the range is the 2.2-litre I-CTDi diesel, which manages to be refined, frugal and quicker to accelerate than the 2.0-litre petrol. The Tourer estate is nice, too.
More...