Discussion Starter
•
#1
•
Recently I had the joy of a VW Jetta (to replace the CRV while it had some bodywork done):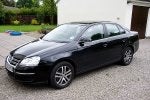 I was quite looking forward to commuting in this - it's just a Golf with a boot surely, and I know I quite like the Golf V.
When stationary:
Looking round the car it could easily be mistaken for a Passat. It's just smaller. Too small really - like a proper saloon, but useless because it's in fact a small hatch. With a tiny boot. It all looked and felt fine from the outside (no sign of any nachos from the factory), and the inside was standard drab VW Golf: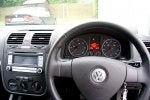 So, it's a Golf V. Should be fine on the move.
When moving:
There are 2 issues with this car. The front suspension, and the engine.
Firstly the front suspension. The Golf V suspension is normally very good. The multilink rear does an excellent job of providing comfort and no wayward steering input into the car. And the front is fairly precise, whilst maintaining reasonable comfort.
Not the Jetta. The rear seems fine, the ride is good, but someone has "optimised" the front for the saloon market. They have replaced all the rubber with Chivers Jelly and softened the damping. The net result is a rather nasty vague wobbly feeling - so you have to constantly concentrate on where it wants to go next (because it won't be where you want to go). Turn-in is poor, and the result when it comes is a random lurch.
Nasty.
The second issue is the engine (a bog standard 2.0 TDi 140 here). When you start it, all the diesel haters will (rightfully) laugh at your John Deere. It clatters and rattles and drones, and reminds you a little of the world's worst car - the original 70's diesel Golf.
Then when on the move, the rattles die down and are replaced with a deep throbbing drone. So you drone up and down the motorway, with your wobbly front end and drab interior, wondering when the journey will end.
Conclusion:
Recipe
: "Ruined Golf".
Ingredients
:
One perfectly good PQ35 platform Golf V.
Some marketing people.
America.
Jelly (10 tbsp).
A large sprinkle of engine noise.
Method
:
Take the perfectly good and practical Golf V and stir in the Americans and some marketing people (keep some behind - you may need them later). Keep stirring until all the practicality has been removed, and the soft peaks of a tiny boot will appear.
Make up the jelly using some extra water so it's really nice and soft. Knead it into the front suspension until all precision has been absorbed.
Add the drabness and bake for one year, or until it appears to have shrunk a bit.
Serve with the sprinkle of engine noise.
I sent it back after 2 days.